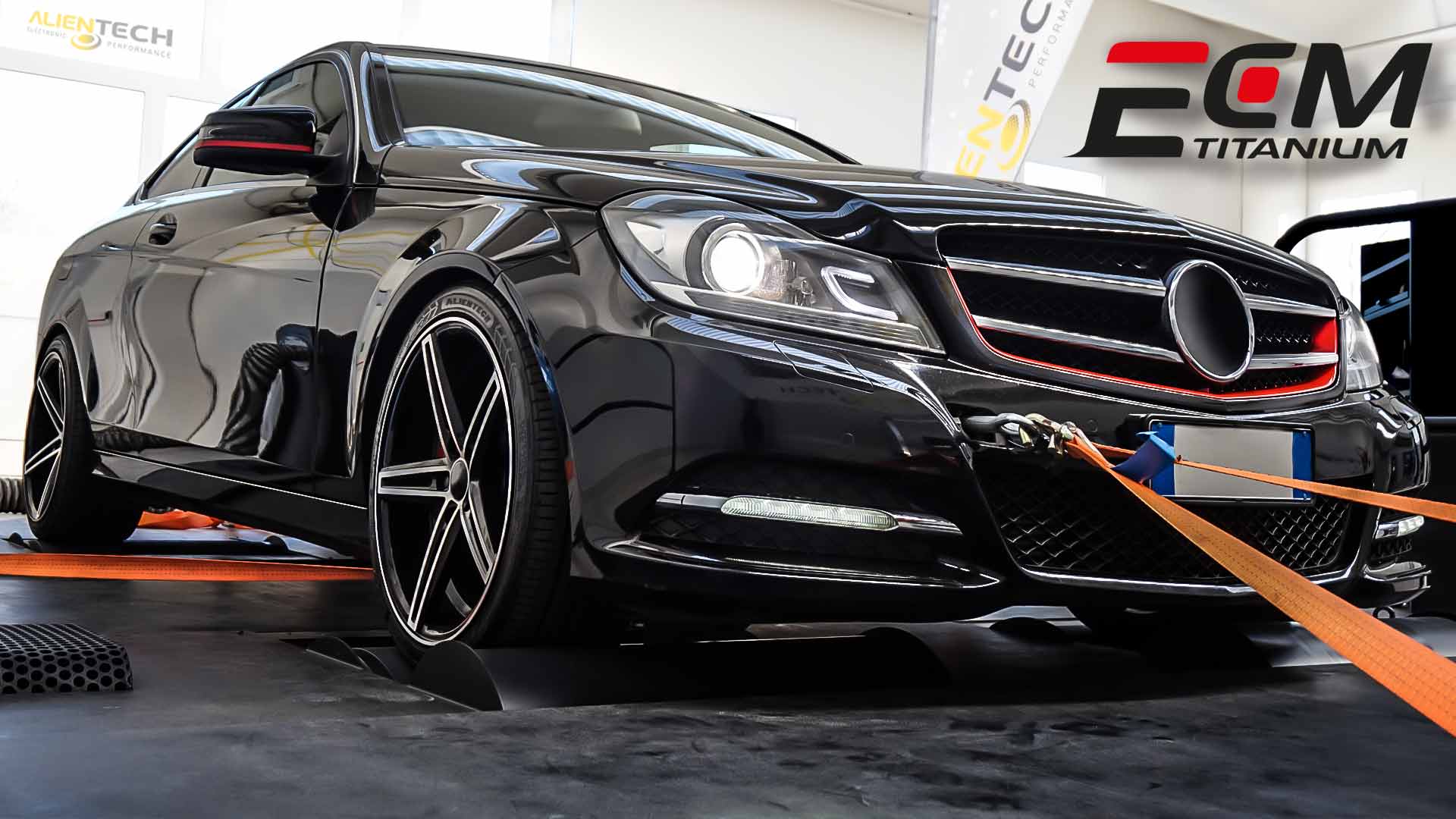 27 Jan 2017

Mercedes-Benz C-Class (W204) 220CDI 170PS

Today we propose an analysis for a better knowledge of our ECM Titanium software's Drivers, available for Mercedes-Benz Class C (W204) C220 2200 CDI 170PS but especially for its 2.2L turbo diesel engine and the Delphi control unit used for management purposes. Model 204 is not certainly the last for Class C, we perfectly know this. The last is in fact 205, already released in 2014. But the OM651 DE 22 LA turbo diesel engine, today's example, is used by Mercedes-Benz on a very wide range of vehicles and for an extended period of time.
| Model | Model Code | Fit out Period |
| --- | --- | --- |
| CLA | 117 | 2013-2015 |
| GLA | 156 | From 2013 |
| ML | 166 | From 2011 |
| SLK | 172 | From 2012 |
| A-Class | 176 | From 2012 |
| C-Class | 204 | 2008-2015 |
| GLK | X204 | From 2009 |
| C-Class | 205 | From 2014 |
| E (Coupé/Cabriolet) | 207 | From 2009 |
| E-Class | 212 | From 2009 |
| CLS | 218 | From 2014 |
| S-Class | 221 | 2011-2013 |
| S-Class | 222 | From 2014 |
| B-Class | 246 | From 2012 |
| GLC | 253 | From 2015 |
| V/Vito-Class | 447 | From 2014 |
| Vito/Viano | 639 | From 2010 |
| Sprinter | 906 | From 2009 |
As a result, control unit Delphi CRD3.xx or DCM3.5, if you prefer, is also very common (in its versions), frequently equipped with this engine code. In the past, the original Delphi files created many difficulties to the "tuners" because of the poor knowledge of maps or the different change procedures compared to the "old and good" EDC16 Bosch units, which many less expert mappers still miss. But you know…the world makes progresses and the technology of ECUs and engines is continuously evolving. Therefore, it is better to keep abreast of the new developments.
Mercedes-Benz Class C
Class C model is available on the market since 1993, when the Mercedes-Benz brand was still part of the Daimler-Benz group with item code 202.
From 1998 to 2007, the brand passed entirely under the control of DaimlerChrysler, precisely about two years before the release of model 203 (MY2000) and enough to see the development of 204 (MY2007) but not for its restyle in 2011.
In fact, Mercedes-Benz belongs to Daimler AG since 2007, a group arising out from the separation of DaimlerChrysler. Version 205 was released in 2014.
Mercedes-Benz Class C third generation W204 (MY2011 facelift) and fourth generation W205 (MY2014)
As just said, model 2015 was first released in 2014 in five versions: W205 sedan, special V205 sedan, S205 station-wagon, C205 coupé and A205 cabriolet.
Compared to the previous model (204), only three versions were available: W204 sedan, S204 station-wagon, and C204 coupé. We have tested for you Class C (W204) C220 2200 CDI 170PS (168bhp/125kW) with 7G-Tronic Plus automatic shifting gearbox, which performs in a manner totally identical to the new Class C model (W205) C220d equipped with the same shifting gearbox.
Characteristics of Mercedes-Benz Class C (W204 MY2011 facelift) C220 2200 CDI 170PS
2L twin-turbo 4-cylinder in-line DOHC 16v (4 valves per cylinder)
Fuel direct injection with Common Rail technology
RWD (rear-wheel drive)
7-speed automatic gearbox "7G-Tronic Plus" (Plus = with Stop&Start device)
170PS @3000-4200 rpm (168bhp/125kW)
400Nm @1400-2800 rpm (295 ft*lb)
2.2L OM651 DE 22 LA Engine
Mercedes-Benz uses a simple system to catalogue propellers mounted on vehicles:
OM: Oel-Motor.
651: three digits representing the engine version.
DE: fuel direct injection.
22: cylinder capacity in decilitres, or 2.2 litres.
L: intercooler.
A: turbocompressor.
red: additional acronym for reduced power versions.
The engine in issue was used in 2008 for the first time, precisely on Class C 204 and later on other models. Problems connected with the PIEZOTEC Delphi injection system were immediately found on those versions performing at 170PS  (168bhp/125kW) and 204PS (/150kW) higher powers. Also versions operating at reduced powers (OM651 DE 22 LA red) were not immune from that.
Due to the high number of vehicles showing problems with injectors, a few engines controlled by Delphi CRD 3.xx PIEZOTEC were built. For these reasons, Mercedes Benz opted for inductive injectors (SOLENOID) again using a Delphi, first on low power versions and then on those performing at greater powers.
Engine 2.2l OM651 22 LA is available in 2 mechanical configurations:
Single turbo-compressor at 70kW, 80kW, 88kW, 95kW, 100kW, 105kW hp (OM651DE22LA red).
Twin-turbo at these HP: 120kW, 125kW, 130kW and 170kW (OM651DE22LA).
DCM3.5 or CRD3.xx Delphi engine control unit
First of all, it is worth clarifying why Delphi control units installed on the Mercedes-Benz group apparently have two nomenclatures. It is necessary to say that Delphi uses the DCM3.5 code only to refer to the generation. It can be compared to the EDC17 abbreviation by Bosch.  This information is not shown on the control unit tag, where on the contrary it is possible to read the code CRD3.xx plus the type of injectors in use. PIECOTEC for piezo-electric injectors, and SOLENOID for traditional inductive-control injectors. If we continue with the previous correlation with Bosch, they can be compared to the EDC17CP and EDC17C codes.  Remember that CRD3 and the following two digits represent the nomenclature used by the manufacturer Mercedes-Benz and not by Delphi.
Characteristics of ECU Delphi CRD3.xx
Common
Rail
Direct-injection
3
.xx
We should spend some words more on the meaning of the last two digits, generically represented with letters xx. They refer to the specific version of the Delphi ECU. Like EDC17CP46 or EDC17CP57 and EDC17C66. The ECU mounted on the vehicle we have tested is a CRD3.10 SOLENOID.
How to read this control unit

Alientech offers two options: operating via the OBDII with KESSv2, or opening the ECU and connecting K-TAG
With KESSv2
In the CAR list, select: Brand "Mercedes", Model "C (W204)", Version "C220 2200 CDI" and Family 350.
Protocols button, select: OBDII and Family "MERCEDES DELPHI CRD3.XX CAN" or Number "350".
Posizione OBDII Mercedes-Benz C-Class (W204 MY2011 facelift)
With K-TAG
In the CAR list, select: Brand "Mercedes", Model "C (W204)", and Family 808.
Protocols button, select: "BOOTLOADER TRICORE" and Control Unit "DELPHI CRD3.XX" or Family 808.
The correct Plug-In is number "808".
Position of the ECU on Mercedes-Benz Class C (W204 MY2011 facelift)
To easily detect the Delphi CRD3.xx control unit, just remove the top cover of the engine. Impossible to go wrong…Isn't it?

Below is the photo of the control unit already open (TriCore TC1797 IROM microcontroller). It is not complicate to open the ECU. Remember to remove the silicon on the edges on the control unit and to apply new silicon. The container features two hollows next to the connector, where the screws are secured. If silicon is not enough, the printed circuit can be exposed to humidity.
ECM Titanium Drivers
Here we come to the most interesting part. Before describing the new maps available for the Delphi CRD3.xx files, we want to remind that updates we make periodically are often connected to the information reported by our customers. Who has been working with Alientech for many years knows that we operate to meet the most of requirements from our customers. Below are the maps now available on updated drivers.
Compared to the past, it will be easier now for Delphi files to understand the meaning and use of each map.
Maps listed below show the following units of measurement:
[Nm] for engine torque axles and maps.
[%Trq] for engine torque axles and maps expressed in percentage.
[km/h] for the management of speed limits.
[mbar] for turbo pressure axles and maps.
[%DutyCyc] for variable geometry control
[mg/Stk F] for fuel quantity axles and maps.
[us] for injection time control
[deg BTDC] for injection phase control
[bar] for Rail pressure control
Let's observe in detail some maps, but do not be surprised if especially torque limit values do not exactly correspond to those declared by the manufacturer. We have learnt from VAG that often one cannot totally rely on data declared by parent companies…
#5 and #7 Torque Limiter
Many of you know how important torque limiting maps are.
You can notice that the maximum value of 415 Nm is slightly above 400 Nm stated, while the engine rev range [RPM] – where available – completely corresponds to what Mercedes-Benz declares for Class C W204, equipped with the 7G-Tronic Plus gearbox. Remember the map which always contains the limit with the lower value is the one that really obstacles Tuning operations.
Maximum Torque Limiter f(APS)
The following is a torque limiter that depends on engine revolutions [RPM] and on turbo pressure measured on the intake manifold [mbar Turb]. The maximum value represented is 570 Nm.
It is often possible to understand what is the limit to increases, based on maps including the upper limit value.
Turbo pressure #1
Have you ever wondered how much pressure can reach a 170 PS Twin-Engine?
It is not the case to further increase it to increase power. Limits to the performance of a turbo diesel engine often depend on the engine torque or on the quantity of fuel injected.
Quantity of fuel injected f (RPM, Trq)
To know the quantity of fuel injected to maintain the desired torque level, you just have to read this map.
It is clear that with the stated 400 Nm value, the quantity injected is slightly above 80mg/Stk F.
Injection time
For the most of Euro5 and Euro6 diesel engines, it is not necessary to change the injection time map, especially if you have already increased the Rail pressure. You can observe that the axle of this map showing the fuel pressure reaches 2175 bar. So the map is already structured to manage Rail pressures exceeding the original 1800 bar.
If you merge the information about the maximum quantity of fuel injected of 80 mg/Stk F shown on the Quantity of Fuel injected f (RPM, Trq) map, and the maximum Rail pressure of 1800 bar, you can understand how high is the original injection time. Exactly 12000 micro-seconds!
At this point, you only need to find a Mercedes-Benz vehicle mounting a Delphi CRD3.xx control unit, and practice what you have just learnt. We hope we have satisfied even this time your thirst for knowledge.
To next news!