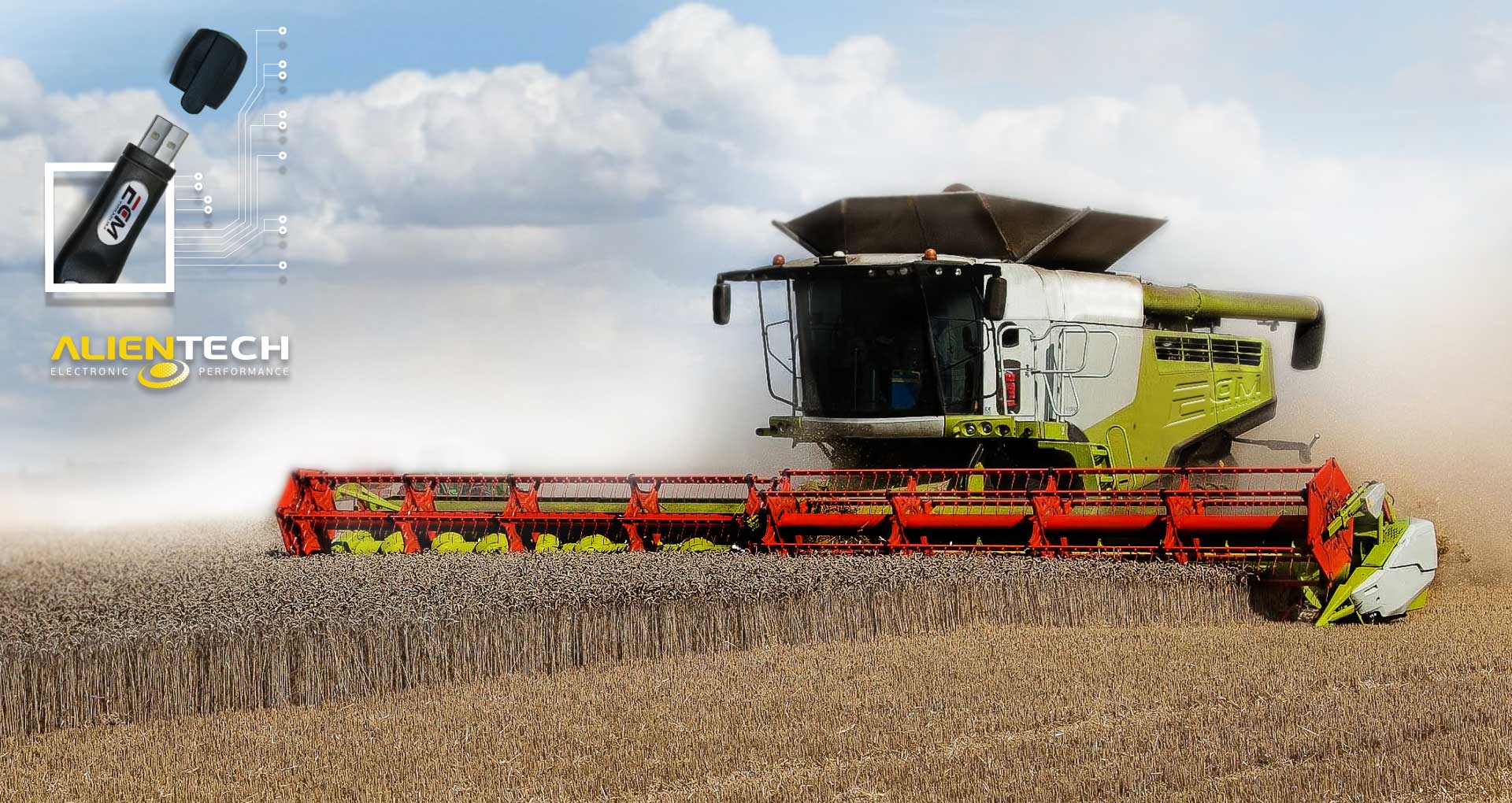 17 Oct 2016

Claas Lexion 770 16L V8 586PS

Our ECM Titanium technical team and engineers have massively updated drivers for the Claas vehicles with Mercedes-Benz engine (Claas Lexion 770 16L Mercedes-Benz OM 502 LA V8 586PS) to give you the possibility to develop or start up a new business. In this documentation, you will find information on this vehicle and its engine; where it is located and how to read the control unit, and of course all parameters available, which are divided into air control, injection system, limiters, turbo, and engine torque.

Today we will talk about a very special and expensive heavy-duty vehicle, which is used every day on fields around the Alientech headquarter for rice and wheat growing: Claas Lexion 770 mounts a 16L Mercedes-Benz engine equipped with Temic control unit.
The series of Lexion combine harvesters by Claas dates back to 1995, and its great reliability and sturdiness gave life to a widespread production and an increasingly innovative and renewed range. When it was presented, it was the world's most powerful combine with 40 wheat tones per worked hour. For this reason, during the years when this model was made, Mercedes-Benz, Caterpillar and Perkins have always struggled for the installation of motors, so we will have the possibility to find different types of ECUs mounted according to the year of manufacture, such as Caterpillar and Temic.
We will have a focus on TEMIC control units. To give you the possibility to correctly change all Claas vehicles with a Mercedes-Benz engine, we have massively updated the whole category so to increase the turnover, providing your customers with an additional service.
Lexion range versions available are many, and vary on the basis of the running capacity and power developed:
| | | | | | |
| --- | --- | --- | --- | --- | --- |
| Series 600/700 (2010/2012) | Combine harvesting system | Working width in m | Motor Power in kW (PS) | Maximum Power in kW(PS) | Wheat tank capacity in l |
| LEXION 620 | APS + 5 Shakers | 5.40 to 6.60 | 205 (279) | 205 (279) | 7800 / 8600 |
| LEXION 630 / 630 Montana | APS + 5 Shakers | 5.40 to 6.60 | 230 (313) | 249 (339) | 8600 |
| LEXION 640 | APS + 6 Shakers | 6.00 to 7.50 | 205 (279) | 205 (279) | 8100 / 8600 |
| LEXION 650 | APS + 6 Shakers | 6.00 to 7.50 | 230 (313) | 249 (339) | 9600 |
| LEXION 660 | APS + 6 Shakers | 6.60 to 7.50 | 261 (355) | 278 (378) | 10500 |
| LEXION 670 / 670 Montana / 670 Terra Trac | APS + 6 Shakers | 6.60 to 9.00 | 287 (390) | 317 (431) | 10500 |
| LEXION 740 | APS + 2 Shakers HYBRID | 6.60 to 7.50 | 287 (390) | 317 (431) | 9600 |
| LEXION 750 / 750 Montana / 750 Terra Trac | APS + 2 Shakers HYBRID | 7.50 to 9.00 | 317 (431) | 343 (466) | 9600 (Montana) / 10500 |
| LEXION 760 / 760 Terra Trac | APS + 2 Rotors HYBRID | 9.00 to 10.50 | 350 (476) | 390 (530) | 10500 |
| LEXION 770 / 770 Terra Trac | APS + 2 Rotors HYBRID | 9.00 to 12.00 | 390 (530) | 431 (586) | 12000 |
Thanks to this important information it is also easy to understand that if we compare two files working at different powers with the same engine and control unit, it is possible to make changes in fully safe conditions, using the ECM feature to compare two files and increase maps thanks to the strategy of engineers who develop original files for this special heavy-duty vehicles.
Let's now analyze some of the main characteristics of Lexion 770:
CEMOS: The CEMOS system gathers all CLAAS systems that ensure the maximum efficiency of machine adjustments. CEMOS is divided into two different versions
System based on dialogue, such as CEMOS DIALOG or CEMOS Advisor that allow progressively optimizing adjustments based on a communication between the machine and its operator, who has to confirm or make the regulations proposed.
–        CEMOS AUTOMATIC, generic name covering different automatic optimization functions of the machine and the corresponding processes. The operator has only to run automatic functions. These functions include AUTO CLEANING and AUTO SEPARATION for cleaning system optimization and ROTOPLUS for optimization of residual grain separation. All CEMOS AUTOMATIC functions permanently and automatically adjust the machine to the harvesting conditions required, ensuring maximum productive capacity with excellent quality and grain cleaning, in addition to minimum fuel consumption. The operator has only to enable automatic functions.
APS Hybrid system
This system mounts a triple combined harvesting rotor while separation is completed by rotors in the style of axial machines. But let's start with APS, which consists of an accelerator, a main beater plus a launcher that has been designed to direct the product flow from the beater to the separation rotors. The processor or accelerator is used, as the name suggests, to suddenly accelerate the product before entering the beater: 3 to 20 m/s in a few centimeters. According to Claas, this is one of the APS system secrets since it causes the fall of about 20% of grains. This makes the beater action and obviously the separation rotor actions easier, and rotors will only have to cause the exit of residual grains from straw. As it is known, Lexion mounts two rotors with eccentric axle to increase the efficiency of ginning.
Curiosities of the measures of combine harvesting units
The beater is 1.7 m long for standard 60-cm diameters and has a rotating speed of 395 to 1.150 rpm. The counter-beater is provided with a winding angle of 142 degrees and a total surface of 1.62 square meters.
Engine
Let's have a focus on the engine. In particular, on this Lexion version that mounts a Mercedes V8 with a 16k cc volume and SCR+DDP technology to limit exhaust. A fuel efficient Tier-4i motor capable of generating a maximum 1.800 rpm HP. It can reach 586 HP, equal to 431 kW. Rated power is 530HP, namely 390 kW. Speed is obviously controlled electronically and is based on single pumps provided with electromagnetic valves regulating power output. The cooling system is also very interesting. It has determined a small revolution in the combine harvesting world: there is no vertical impeller on the machine side any longer but a horizontal impeller located on the top. This results in more space for radiators and a cleaner impeller that self-protects from dust.
Claas Lexion 770 in the Guinness World Record
Yes, this almost 600HP "monster" has entered CLAAS history as a milestone, challenging and winning a world record for hundreds of tones. In particular, for the Guinness World Record, LEXION 770 TERRA TRAC has harvested in England a record quantity of wheat amounting to 675,84 tons in 8 hours
How to read the control unit and where is it located?
With the KESSv2 tool and the 374 range, reading the very detailed instructions described in the user manuals: there are different options available as the Kess tool can be used in different ways, such as the reading of the open ECU on the test bench, using special cables dedicated to this specific ECU.
The simplest way to read and write on this ECU is by using the Temic MB Actors cable:
TEMIC MB Actros – 144300K249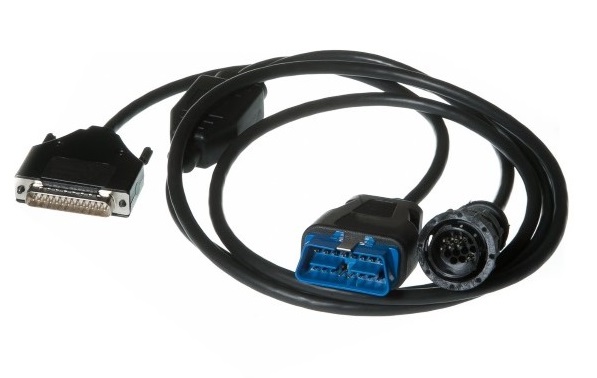 The other method you could use is a little bit more complex but it enables to directly work on the contral unit on a bench and accordingly read and write without even having to move the vehicle to a workshop:
Of course this method is described in specific instructions delivered with the K-Suite, and in the corresponding recommendations to have no problem and work better on this ECUs.
Let's now analyze the main maps within the driver
The driver developed for this vehicle with 586HP Diesel contains 39 maps.
These can be divided into: Air control, Injection System, Limiters, Turbo, Engine Torque
–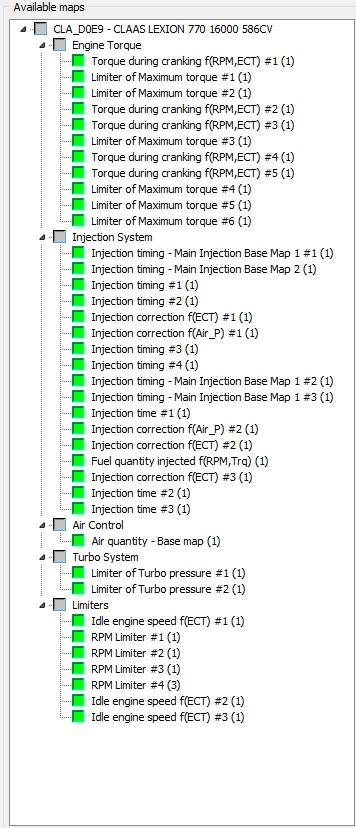 Quantity of fuel injected
This map shows the fuel quantity per single cylinder at every cycle completed (g/stkF)
Axles represent the torque % generated and the number of revolutions. In particular, we can observe that the quantity of fuel injected is maximum when the vehicle has to reach the maximum torque, while in the lower left angle, which is the release, the central unit controls a reduction in fuel.
Injection phase
This map represents the phase of injection, namely the advance degrees of piston compared to PMS (deg BTDC).

Axles represent the torque % generated and the number of revolutions, and the particularity is that there are no negative values. This means that there will be no "delays" in the injection and the central unit controls a higher advance just when the vehicle is generating almost the maximum torque available and revolutions are within the operating range of the combine harvester.
3D view
Turbo Pressure Limiter
This special type of vehicle mounts a very simple turbo pressure limiter because it only consists of a single point. For this reason, to increase or decrease the turbine pressure you should only raise or lower this point.
Maximum Torque Limiter
Maximum torque limitation maps are also very particular in comparison with commonly found control units: in this case, the torque is not expressed in Nm but in %Nm.
We shall also observe that the maximum torque is available only when air expressed in g per cycle (g/STK A) exceeds the value 5,200 and it is maintained up to 1550RPM until slowly decreasing as soon as this threshold is exceeded.
3D View
RPM Limiter
Finally, this vehicle also enables to change the RPM limitation by moving the single point and all other limiters that work on the basis of kW estimated by the ECU
Engine idle speed f(ECT)
To conclude, engine idle speed is also depending on the coolant temperature (C° ECT) which allows the engine to self-adjust the idle speed as the temperature changes: