09 Nov 2016

2015 Mazda MX5 2.0L 16V SKYACTIV-G 160PS

This week, our ECM Titanium technical team has prepared very interesting documents on one of the best-selling Roadster cars available on the European market and on many others. You will discover many things on its engine (features and advantages) and how to read the control unit (via OBDII with KESSv2), and of course, on the drivers and corresponding maps.

Today's study is a focus on Mazda MX5 equipped with engine 2.0L 16V SKYACTIV-G featuring 160PS and ECU DENSO.
MX-5 was produced in four generations, identified with VIN number NA (1989–1997), NB (1998–2005), NC (2005–2015 and ND (2015-in course of production).
Compared to the previous one, the fourth generation of MX-5 is 105 mm shorter and is provided with a new body design that recalls the style of the contemporary Mazda Kodo Design, weights about 100kg less thanks to the use of composite materials with an estimated vehicle unladen weight of about 1,000 kg and is equipped with two SkyActive-G 1.5 cc 2L direct injection propellers controlled through a manual or automatic six-speed gearbox.
Rispetto alla precedente, la quarta generazione della MX-5 è più corta 105 mm ed è dotata di un nuovo design della carrozzeria che riprende lo stile delle contemporanee Mazda chiamato Kodo Design, pesa circa 100 kg in meno grazie all'impiego di materiali compositi con un peso a vuoto stimato della vettura intorno ai 1.000 kg ed è dotata di due propulsori SkyActiv-G con cilindrata da 1.5 e 2 litri a iniezione diretta gestito da un cambio a sei marce, manuale o automatico.
On the front side is a double wishbone suspension system with light alloy arms limiting the weight. And on the rear side is a multilink 5-arm suspension. Standard models feature a manually operated soft top roof which can be opened and closed in a few seconds.
On the basis of the fourth generation of MX-5 on a common rear-wheel platform, following an agreement with FCA and a joint with Fiat, Fiat 124 Spider has also been developped. Differences between the two cars involve bodywork, engines (made by Fiat and turbocharged for the italian version) and calibration of suspensions and steer.
The MX5 range has been recently enriched by the RF (Retractable Fastback), a plate version with partially foldable rigid, metal top roof.
Motori SKYACTIV-G
Elastic, progressive and ready: 4-cylinder gasoline engines belonging to the SKYACTIV-G Mazda range feature direct injection, very high compression and, compared to the current trends, they are not provided with turbo function. Mazda has chosen its own path through a new generation of propellers that grant class-leading consumptions without compromising the car's performance and the pleasure of driving.
Some of the main advantages are:
Power "usable" with ready and progressive acceleration and ready response at all speeds and with higher power at high speeds.
Very limited consumptions and CO2 emissions in real daily use compared to reduced cylinder motors, especially at medium and high speeds.
All advantages of high compression, including higher torque and heat efficiency for minor consumption at the same power level.
Some solutions at the root of the compression increase (14.0:1) are due to the new pistons that make possible to obtain greater gas expansion uniformity and a resulting better expulsion, benefiting from the use of a 4-2-1 exhaust manifold that is provided with longer pipes which enable a better flow of exhaust gases.
Mazda direct injection also grants an optimum management of pressure and injection rate, with a more homogeneous, stratified air-fuel mixture that enables a shorter and intense combustion process.
In addition to this, there is a variable valve lift system capable of improving intake and exhaust steps and, thanks to numerous material technologies, allowing a 50% reduction in frictions compared to normal distributions.
Added to this is a 37% reduction in piston friction, with minor boring for an improvement of cooling and a better combustion chamber volume.
So, SKYACTIV-G engines feature a reduced friction, on average, 30% less than conventional engines, in addition to a 10% reduction in weight that accordingly results in a 15% improvement of vehicle performance and efficiency.
How to read the control unit and where to find the OBDII ?
The ECU can be written and read with KESSv2 by using protocol 531 and the standard OBD cable 144300KCAN.
The ECU is also mounted on:
– MAZDA MX5 1500 16v Skyactiv-G 131PS
– MAZDA 2 1500 16v Skyactiv-G 116PS
The driver consists of 37 maps that are divided into the following categories:
–          Advance, Engine Torque, Limiters, Rail, Variable Valve Timing (VVT) and Injection System
Mazda MX5, subject matter of our study, delivers 160PS at 6000rpm and 200Nm torque between 4000 nd 4500rpm.
And now, let's focus on maps.
Basic Map Advance
This map represents the engine advance used by the vehicle in normal operating conditions; depending on the engine rev number and the engine load expressed as Load, the map unit of measurement is expressed in deg BTDC.
Optimum Engine Advance
This map represents the engine limitation advance, or maximum advance values that a specific engine can reach to prevent any damage; this is expressed in degrees before PMS and at low engine revolutions and high load values. This map can also show some negative values meaning delays.
Optimal motor torque
This map expresses the torque of a vehicle, based on the number of engine revolutions and on the accelerator %. As usual, values are higher than those stated by the manufacturer because they are "ideal" values.

Maximum torque limiter
This expresses the maximum torque that the engine can deliver. As we can see on the map, shown values are just those declared by the manufacturer, namely 200Nm between 4000 and 4500 rpm.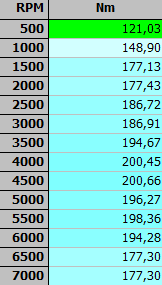 Rail pressure
This map manages the fuel pressure in the rail flute to reach a more efficient combustion, interpreting real values (MPa) without having unpleasant surprises. As we can see from values shown on the map, high pressures can be reached, 20 MPa.

Full load injection
This allows the engine to exit the closed-loop operation condition (when injection is regulated to maintain lambda =1), for this reason carburation is rich with high engine revolutions and high engine load. It is expressed in Lambda and works as a function on Load and engine RPM.
E' espressa in Lambda e lavora in funzione del carico (Load) e dei giri motore (rpm).

Injection enrichment
It expresses the enrichment "factor" on the main injection maps.