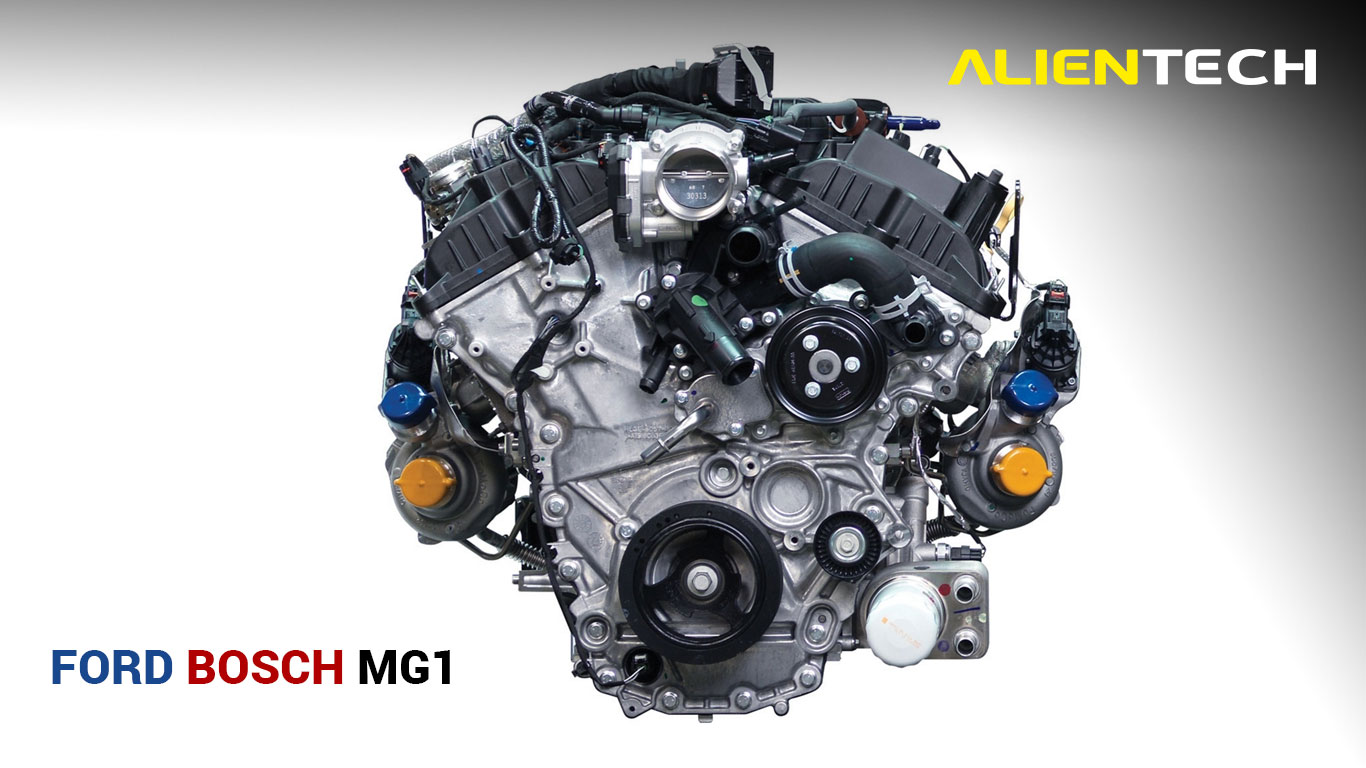 10 Oct 2019

New Vehicle Ford Bosch MG1 for KESSv2!
After presenting the new K-TAG SM (Service Mode) protocol, dedicated to MDG1, we are now ready to introduce the latest Bosch MG1 models for Ford in OBD2!
The new Ford vehicles with TC277 and TC298 microcontrollers and MG1CS015, MG1CS016, MG1CS017, MG1CS018, MG1CS015 ECUs can now be read and written with the standard OBD2 cable.
Ford Fiesta ST, Mustang GT, but also commercial vehicles such as Transit Custom and Connect, are just some of the many models supported by KESSv2, discover all them!
Ford MG1 ECU remapping supported in OBD2
| Model | ECU | Functions |
| --- | --- | --- |
| B-Max JK 1.0 EcoBoost 74 KW | Bosch MG1CS016 | RD, WR |
| B-Max JK 1.0 EcoBoost 92 KW | Bosch MG1CS016 | RD, WR |
| C-Max DXA 1.0 EcoBoost 74 KW | Bosch MG1CS016 | RD, WR |
| C-Max DXA 1.0 EcoBoost 92 KW | Bosch MG1CS016 | RD, WR |
| Ecosport JK8 1.0 EcoBoost 74 KW | Bosch MG1CS016 | RD, WR |
| Ecosport JK8 1.0 EcoBoost 92 KW | Bosch MG1CS016 | RD, WR |
| F-150 3.5 EcoBoost 10AT 331 KW | Bosch MG1CS015 | RD, WR |
| F-150 3.5 EcoBoost 10AT 272 KW | Bosch MG1CS015 | RD, WR |
| F-150 P552 2.7 Nano GTDI EcoBoost 242 KW | Bosch MG1CS018 | RD, WR |
| F-150 P552 3.5 EcoBoost 10AT 276 KW | Bosch MG1CS018 | RD, WR |
| F-150 5.0 Ti-VCT V8 6AT 287 KW | Bosch MG1CS019 | RD, WR |
| F-150 5.0 Ti-VCT V8 10AT 295 KW | Bosch MG1CS019 | RD, WR |
| Fiesta 1.0 EcoBoost 92 KW | Bosch MG1CS016 | RD, WR |
| Fiesta 1.0 EcoBoost 74 KW | Bosch MG1CS016 | RD, WR |
| Fiesta ST 1.5 EcoBoost 147 KW | Bosch MG1CS016 | RD, WR |
| Focus 1.0 EcoBoost 92 KW | Bosch MG1CS016 | RD, WR |
| Focus 1.5 EcoBoost 134 KW | Bosch MG1CS016 | RD, WR |
| Focus 1.5 EcoBoost 110 KW | Bosch MG1CS016 | RD, WR |
| Mondeo 1.0 EcoBoost 92 KW | Bosch MG1CS016 | RD, WR |
| Mustang S550 2.3 Ecoboost 213 KW | Bosch MG1CS017 | RD, WR |
| Mustang GT S550 5.0 Ti-VCT V8 6MT 343 KW | Bosch MG1CS019 | RD, WR |
| Mustang GT S550 5.0 Ti-VCT V8 10AT 343 KW | Bosch MG1CS019 | RD, WR |
| Mustang GT S550 5.0 Ti-VCT V8 10AT 331 KW | Bosch MG1CS019 | RD, WR |
| Mustang GT S550 5.0 Ti-VCT V8 6MT 331 KW | Bosch MG1CS019 | RD, WR |
| Transit TTF 1.0 EcoBoost 74 KW | Bosch MG1CS016 | RD, WR |
| Transit Connect 1.0 EcoBoost 74 KW | Bosch MG1CS016 | RD, WR |
| Transit Courier 1.0 EcoBoost 74 KW | Bosch MG1CS016 | RD, WR |
| Transit Custom 1.0 EcoBoost 74 KW | Bosch MG1CS016 | RD, WR |