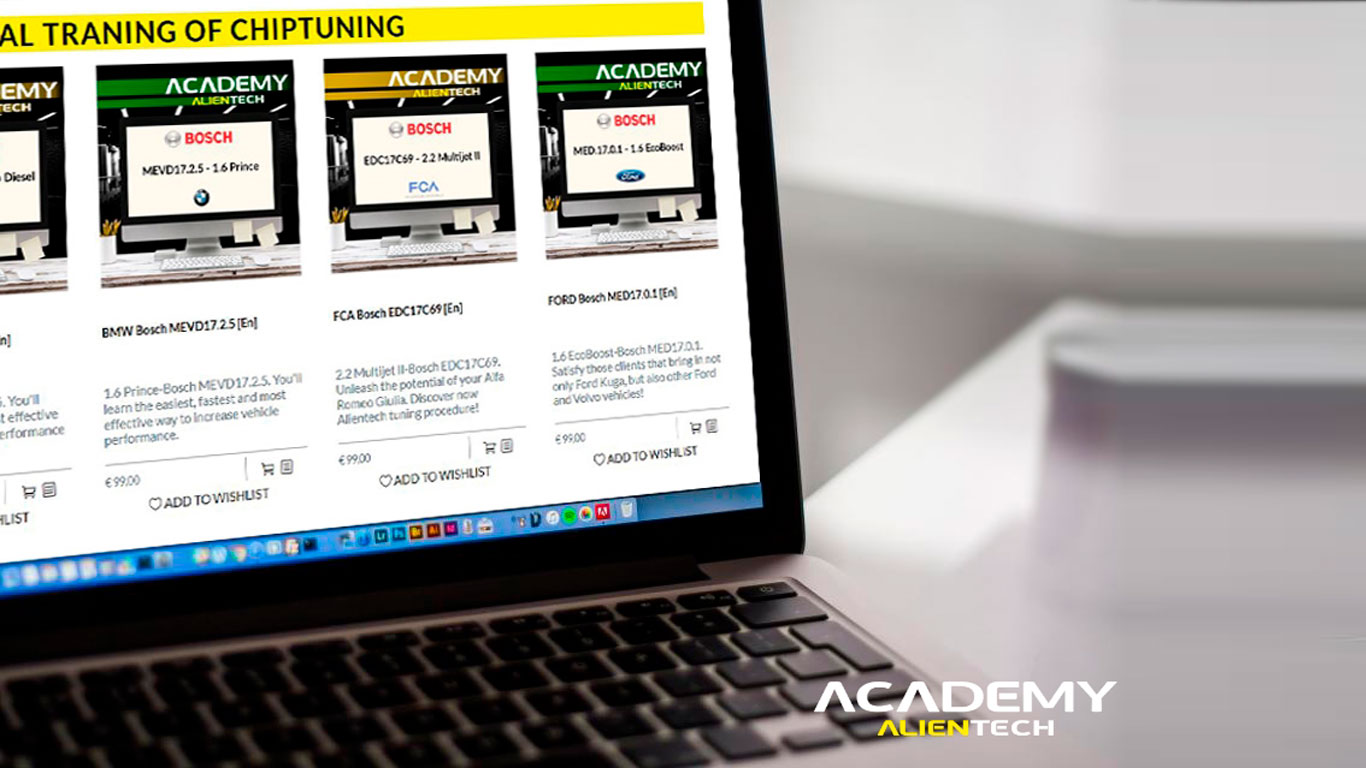 26 Mar 2019

Chiptuning Online Courses: discover what you can learn with us!
Find out more about our online Courses and learn to remap without leaving your workshop!
We have experience in training. For this reason we have been organizing courses everywhere, explaining the right way to do chiptuning. And we will continue on this way.
Alientech expertise and experience, next to the technology that we have available today, allow you to improve and increase your skills.
We want to offer you the opportunity to learn wherever you are and at any time. You have the opportunity to achieve enormous satisfaction and increase your business opportunities.
The e-learning courses offer Practical Training of Chiptuning of cars, trucks, motorcycles and tractors according to the type of engine they are equipped with: petrol, diesel, hybrids.
The last courses on trucks, tractors and motorcycles …
Case IH Steiger 470

Such a huge tractor with an impressive engine size? This course will guide you through the tuning procedure of a Case IH Steiger 470 equipped with a 13.0l Cursor engine and a Bosch EDC17CV41 control unit. The ECM software was never so easy to use!

 Volvo FH 13.440

Increasing vehicle torque is truly essential to improve its efficiency: thanks to Alientech's experience, you can do it quickly, easily and at a low cost, without jeopardizing the reliability of the vehicle. You can modify other trucks and busses, both Volvo and Renault…

BMW R 1200 GS Adventure

In less than 45 minutes, right from your workplace or your home, you will learn and understand how to modify the air/fuel ratio and other functions controlled by the ECU, so that maximum torque and power increase, and drivability of the most iconic BMW Enduro bike is improved!

Toyota Land Cruiser D4D 4.5l

The Toyota Land Cruiser V8 4.5l turbo Diesel engine is designed to travel hundreds of thousands of kilometers. This course will allow you to increase power to surprising levels, without sacrificing its reliability. This V8 4.5l turbo diesel engine is shared by other Toyota and Lexus models.
We have constant updates planned to try to meet everyone's needs and offer tailor-made training courses for you and your business.
Follow us our website and our social channels to get a preview of all the information on the new online courses available.