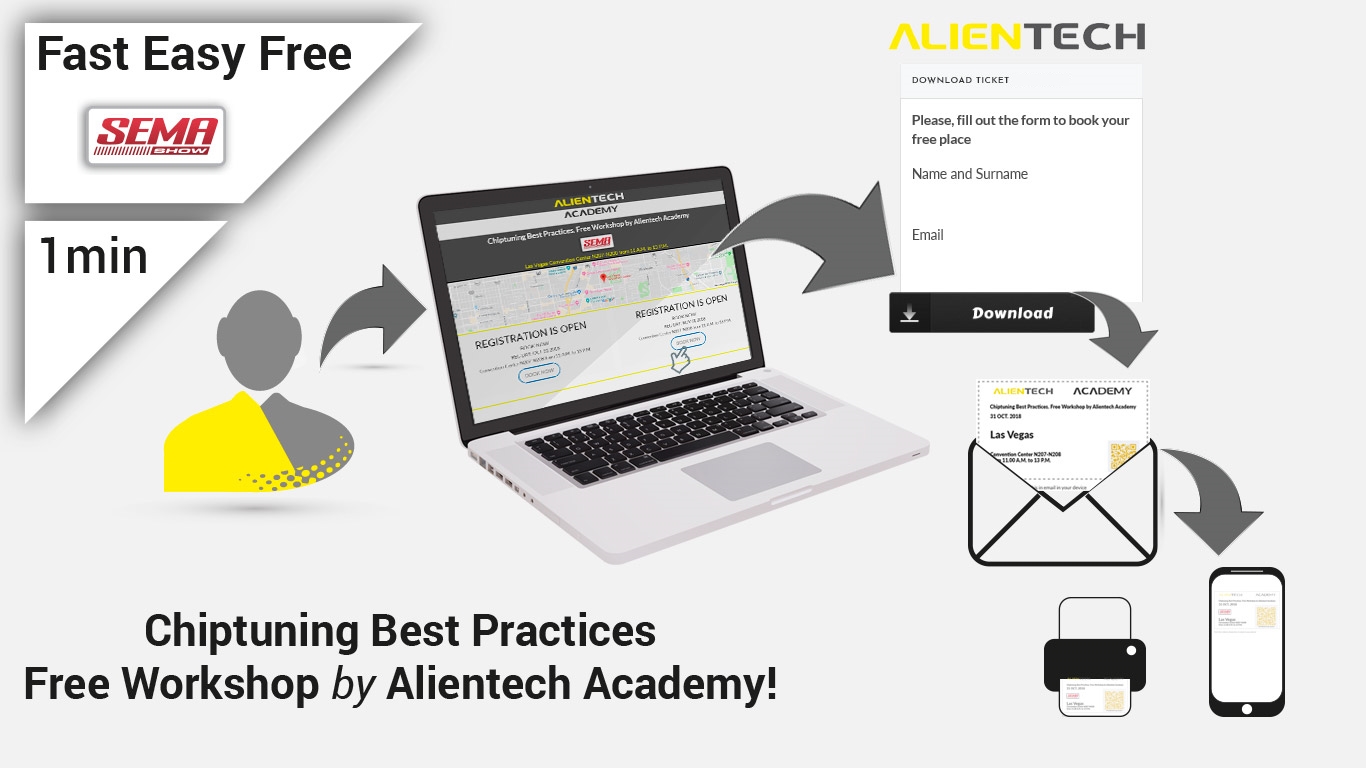 01 Oct 2018

Sema Show 2018 | Free workshop. Few places still available!

Great news about Alientech at Sema Show! Don't miss this AMAZING and FREE opportunity!

On October 31st and November 1st from 11am to 1pm there will be two free Workshops in Las Vegas Convention Center N207-N208

Participation is limited… Hurry up! Few places still available!
You can choose between 31th OCT and 1st NOV to take part to the free workshop and learn more about the latest Chiptuning trends.
Alientech Academy: Chiptuning Best Practices
An opportunity for discussion and analysis with the most experienced and skilled technicians of Alientech, in which we will talk about 360 ° Chiptuning.
The perfect way to learn about potential and specific applications of the tools and software of the company, who lead the industry.
Topics
Chip-tuning: what does it mean in 2018?
Alientech products and services
Available tuning solutions
The standard ECM tuning process
Latest ECM generations: special procedures
Alientech training offer
Tuning example
Few places still available… Don't miss this opportunity!
Alientech – Booth 20031 – Racing&Performance
The SEMA Show takes place October 30 – November 2, 2018 at the Las Vegas Convention Center located at 3150 Paradise Road, Las Vegas, NV 89109. The SEMA Show is the premier automotive specialty products trade event in the world. It draws the industry's brightest minds and hottest products to one place, the Las Vegas Convention Center. In addition, the SEMA Show provides attendees with educational seminars, product demonstrations, special events, networking opportunities and more.
Note: The SEMA Show is a trade-only event and not open to the general public.
Sema Show Opening Hours
Tuesday, October 30 – 9:00 a.m. – 5:00 p.m.
Wednesday, October 31 – 9:00 a.m. – 5:00 p.m.
Thursday, November 1 – 9:00 a.m. – 5:00 p.m.
Friday, November 2 – 9:00 a.m. – 4:00 p.m.