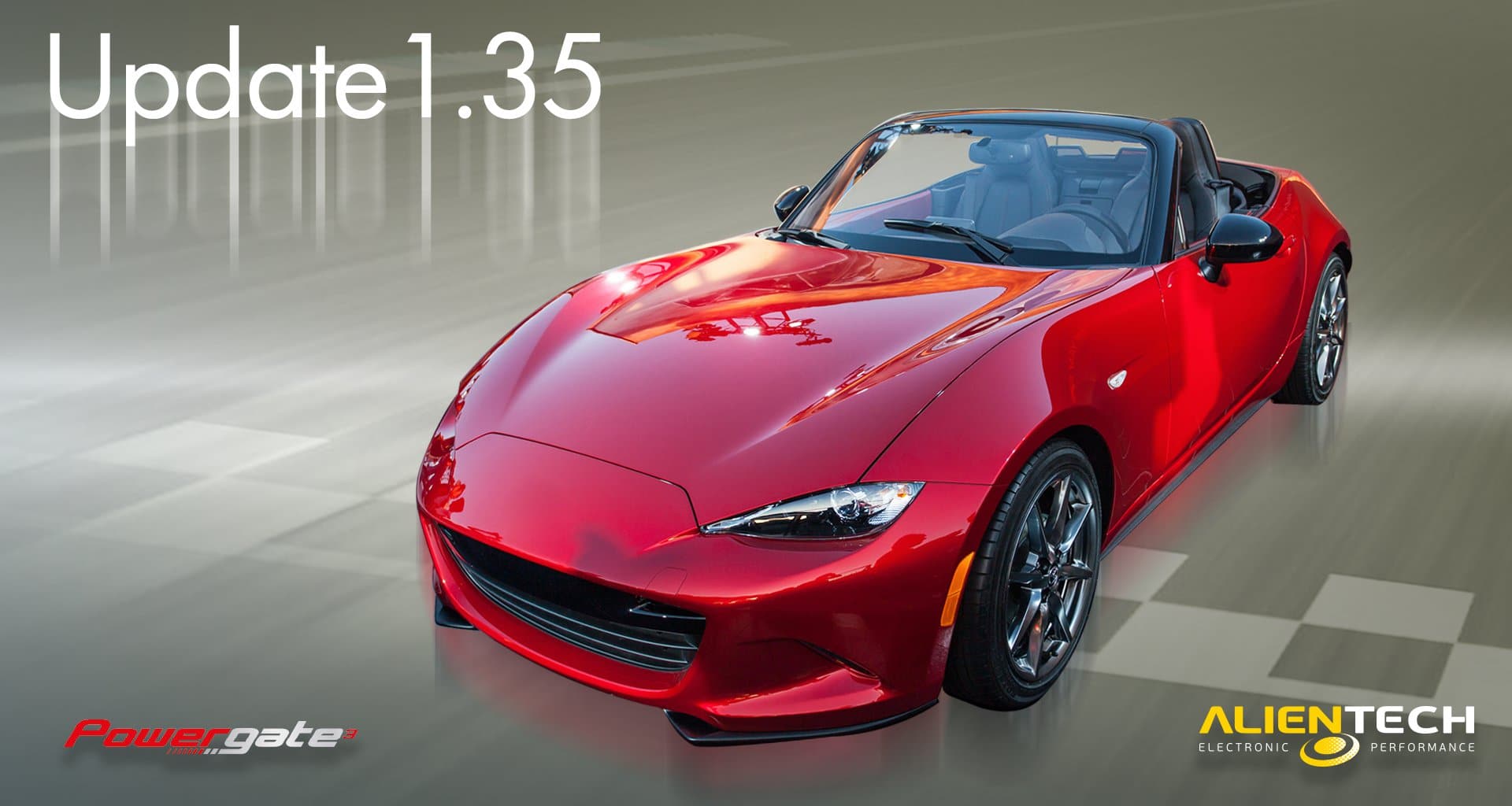 12 Feb 2016

Powergate3 – Update 1.35

Even for Alientech Manager, the first update of the year is coming! New protocols to work on a larger number of vehicles!!!
An example? Mazda MX-5 Miata in 2016! And not only: even Land Rover, Jaguar, Ford, Mitsubishi will be available.
A long-awaited update that radically enriches the Powergate3 list!

Powergate3 is the only palm-sized device equipped with touch screen and the ability to fully customize the tool of your company. Powergate3 gives you the possibility to read and reprogram the ECUs of the leading automotive brands. Its new design and its advanced technology make your work easier and faster.

Thanks to Alientech Manager, the new software for Powergate3, the tuner can choose the language, the logos, the images and the Vehicles to be included in his customized version of the tool, thus creating his own "Users" network.

Update 1.35 – With this latest update, Alientech Manager includes so important and vehicles long awaited by all the automotive world. The new Mazda MX-5 Miata 2016, Land Rover, Jaguar, Ford and Mitsubishi… Now you can work on these vehicles too!
New vehicles available
Land Rover Denso P5.0SC
| Model | Model Name | Model Family | Engine | Engine Code | KW | HP | Fuel | MY | ECU | ECU Version |
| --- | --- | --- | --- | --- | --- | --- | --- | --- | --- | --- |
| Jaguar | Xf | (R) | 5000 V8 | AJ133 | 380 | 500 | Petrol | 2009 | DENSO | P5.0SC |
| Jaguar | Xj | (R) | 5000 V8 | AJ133 | 380 | 500 | Petrol | 2009 | DENSO | P5.0SC |
| Jaguar | Xk | (R) | 5000 V8 | AJ133 | 380 | 500 | Petrol | 2009 | DENSO | P5.0SC |
| Jaguar | Xk | (R-S) | 5000 V8 | AJ133 | 400 | 540 | Petrol | 2011 | DENSO | P5.0SC |
| Land Rover | Range Rover | (III) | 5000 V8 | AJ133 | 283 | 375 | Petrol | 2009 | DENSO | P5.0SC |
| Land Rover | Range Rover | (III) | 5000 V8 Supercharged | AJ133 | 380 | 500 | Petrol | 2009 | DENSO | P5.0SC |
Mitsubishi Denso
| Model | Model Name | Model Family | Engine | Engine Code | KW | HP | Fuel | MY | ECU | ECU Version |
| --- | --- | --- | --- | --- | --- | --- | --- | --- | --- | --- |
| Mitsubishi | L200 | (IV) | 2500 16v DI-D | 4D56IT2 | 100 | 136 | Diesel | 2005 | DENSO | RHF4 |
| Mitsubishi | L200 | (IV) | 3200 16v DI-D | 4M41GVIT | 123 | 167 | Diesel | 2005 | DENSO | RHF4 |
| Mitsubishi | Pajero | (IV) | 3200 DI-D | 4M41GVIT | 125 | 170 | Diesel | 2006 | DENSO | RA6 |
| Mitsubishi | Triton | (IV) | 2500 16v DI-D | 4D56IT2 | 100 | 136 | Diesel | 2005 | DENSO | RHF4 |
| Mitsubishi | Triton | (IV) | 3200 16v DI-D | 4M41GVIT | 123 | 167 | Diesel | 2005 | DENSO | RHF4 |
Ford MED9
| Model | Model Name | Model Family | Engine | Engine Code | KW | HP | Fuel | MY | ECU | ECU Version |
| --- | --- | --- | --- | --- | --- | --- | --- | --- | --- | --- |
| Ford | Focus RS | (II) | 2500 Duratec RS | JZDA | 224 | 305 | Petrol | 2009 | BOSCH | ME9 |
| Ford | Focus RS | (II) | 2500 RS500 | JZDA | 257 | 350 | Petrol | 2010 | BOSCH | ME9 |
| Ford | Focus ST | (II) | 2500 Duratec ST | HYDA | 166 | 225 | Petrol | 2005 | BOSCH | ME9 |
| Ford | Kuga | | 2500 T Duratec | HYDB | 147 | 200 | Petrol | 2009 | BOSCH | ME9 |
| Ford | Mondeo ST | (IV) | 2500 Duratec ST | HUBA | 162 | 220 | Petrol | 2007 | BOSCH | ME9 |
| Ford | S-Max | | 2500 Duratec ST | HUWA | 162 | 220 | Petrol | 2006 | BOSCH | ME9 |
Mazda Denso SH72543
| Model | Model Name | Engine | Engine Code | KW | HP | Fuel | MY | ECU |
| --- | --- | --- | --- | --- | --- | --- | --- | --- |
| Mazda | MX-5 | 2000 Skyactive-G | PE-VPS | 118 | 160 | Petrol | 2016 | DENSO |