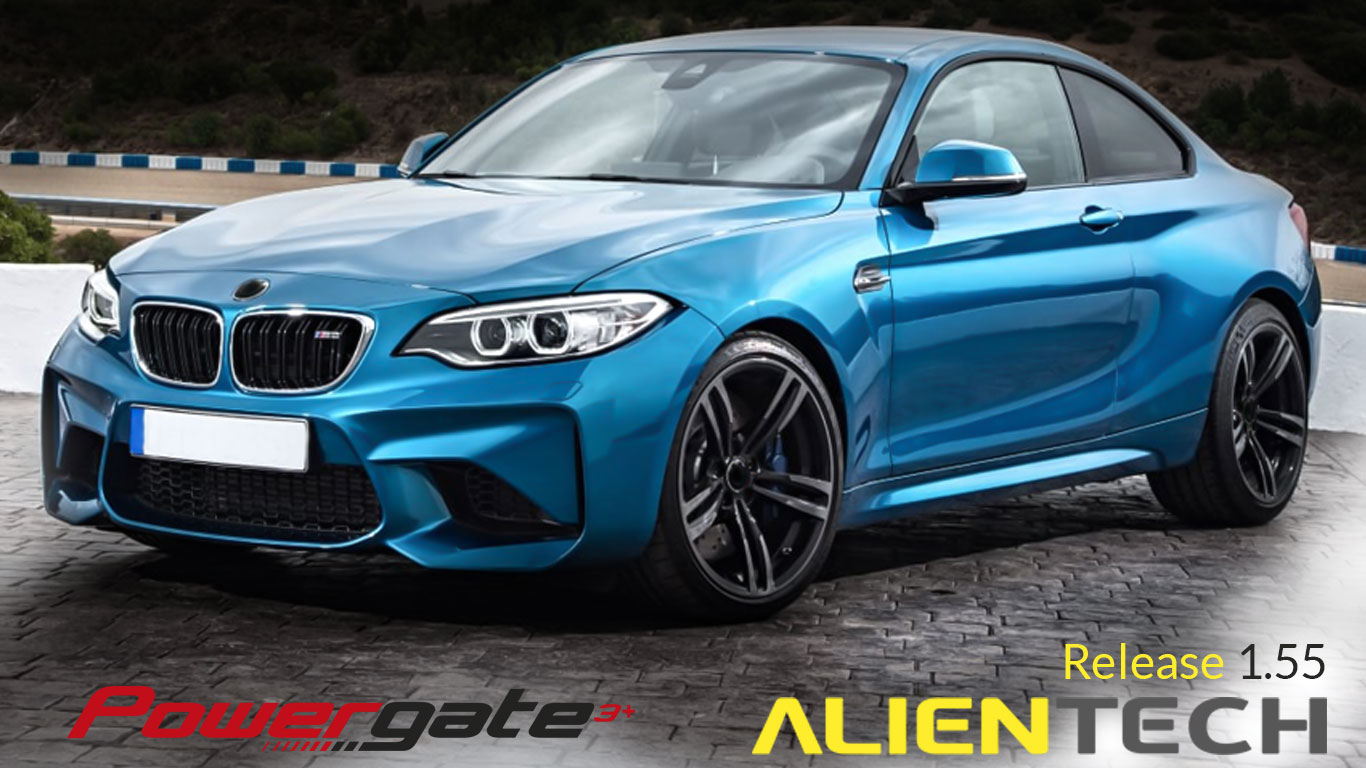 21 Jun 2018

Powergate3+ | Release 1.55

New ECUs supported by Powergate3+!

Thanks to the new update of Powergate3+, from now on you will be able to work in OBD on the BMW & Mini F Series Petrol equipped with Bosch MEVD17.2.3, MEVD17.2.4, MEVD17.2.5, MEVD17.2.9, MEVD17.2.G, MEVD17.8.4, MEVD17.2, MEVD17.2.P and MEVD17.2.6.

Your customers will be able to tune the most important BMW & Mini F Series Petrol, using your preloaded modified maps.
New vehicles available
| Make | Model | Model Code | ECU Brand | ECU Version |
| --- | --- | --- | --- | --- |
| BMW | 1-Series | F20 | Bosch | MEVD17.2.3 |
| BMW | 1-Series | F20 | Bosch | MEVD17.2.4 |
| BMW | 1-Series | F20 | Bosch | MEVD17.2.5 |
| BMW | 1-Series | F20 | Bosch | MEVD17.2.9 |
| BMW | 1-Series | F21 | Bosch | MEVD17.2.3 |
| BMW | 1-Series | F21 | Bosch | MEVD17.2.4 |
| BMW | 1-Series | F21 | Bosch | MEVD17.2.5 |
| BMW | 1-Series | F21 | Bosch | MEVD17.2.9 |
| BMW | 2-Series | F22 | Bosch | MEVD17.2.3 |
| BMW | 2-Series | F22 | Bosch | MEVD17.2.9 |
| BMW | 2-Series | F22 | Bosch | MEVD17.2.G |
| BMW | 2-Series | F23 | Bosch | MEVD17.2.3 |
| BMW | 2-Series | F23 | Bosch | MEVD17.2.9 |
| BMW | 2-Series | F23 | Bosch | MEVD17.2.G |
| BMW | 2-Series | F45 | Bosch | MEVD17.2.3 |
| BMW | 2-Series | F46 | Bosch | MEVD17.2.3 |
| BMW | 3-Series | F30 | Bosch | MEVD17.2.3 |
| BMW | 3-Series | F30 | Bosch | MEVD17.2.4 |
| BMW | 3-Series | F30 | Bosch | MEVD17.2.5 |
| BMW | 3-Series | F30 | Bosch | MEVD17.2.9 |
| BMW | 3-Series | F30 | Bosch | MEVD17.2.G |
| BMW | 3-Series | F31 | Bosch | MEVD17.2.3 |
| BMW | 3-Series | F31 | Bosch | MEVD17.2.4 |
| BMW | 3-Series | F31 | Bosch | MEVD17.2.5 |
| BMW | 3-Series | F31 | Bosch | MEVD17.2.9 |
| BMW | 3-Series | F31 | Bosch | MEVD17.2.G |
| BMW | 3-Series | F35 | Bosch | MEVD17.8.4 |
| BMW | 3-Series GT | F34 | Bosch | MEVD17.2.4 |
| BMW | 3-Series GT | F34 | Bosch | MEVD17.2.G |
| BMW | 4-Series | F32 | Bosch | MEVD17.2.9 |
| BMW | 4-Series | F32 | Bosch | MEVD17.2.G |
| BMW | 4-Series | F33 | Bosch | MEVD17.2.9 |
| BMW | 4-Series | F33 | Bosch | MEVD17.2.G |
| BMW | 4-Series Gran Coupe | F36 | Bosch | MEVD17.2.9 |
| BMW | 4-Series Gran Coupe | F36 | Bosch | MEVD17.2.G |
| BMW | 5-Series | F10 | Bosch | MEVD17.2.4 |
| BMW | 5-Series | F10 | Bosch | MEVD17.2.9 |
| BMW | 5-Series | F10 | Bosch | MEVD17.2.G |
| BMW | 5-Series | F11 | Bosch | MEVD17.2.4 |
| BMW | 5-Series | F11 | Bosch | MEVD17.2.9 |
| BMW | 5-Series | F11 | Bosch | MEVD17.2.G |
| BMW | 5-Series GT | F07 | Bosch | MEVD17.2 |
| BMW | 6-Series | F12 | Bosch | MEVD17.2.G |
| BMW | 6-Series | F13 | Bosch | MEVD17.2.G |
| BMW | 6-Series Gran Coupe | F14 | Bosch | MEVD17.2.G |
| BMW | 7-Series | F01 | Bosch | MEVD17.2.G |
| BMW | 7-Series | F02 | Bosch | MEVD17.2.G |
| Mini | Clubman JCW | F54 | Bosch | MEVD17.2.3 |
| Mini | Cooper | F55 | Bosch | MEVD17.2.3 |
| Mini | Cooper | F56 | Bosch | MEVD17.2.3 |
| Mini | Cooper | F57 | Bosch | MEVD17.2.3 |
| Mini | Cooper Clubman | F54 | Bosch | MEVD17.2.3 |
| Mini | Cooper Clubman ALL4 | F54 | Bosch | MEVD17.2.3 |
| Mini | Cooper Countryman | F60 | Bosch | MEVD17.2.3 |
| Mini | Cooper Countryman ALL4 | F60 | Bosch | MEVD17.2.3 |
| Mini | Cooper JCW | F56 | Bosch | MEVD17.2.3 |
| Mini | Cooper JCW | F57 | Bosch | MEVD17.2.3 |
| Mini | Cooper S | F55 | Bosch | MEVD17.2.3 |
| Mini | Cooper S | F56 | Bosch | MEVD17.2.3 |
| Mini | Cooper S | F57 | Bosch | MEVD17.2.3 |
| Mini | Cooper S Clubman | F54 | Bosch | MEVD17.2.3 |
| Mini | Cooper S Clubman ALL4 | F54 | Bosch | MEVD17.2.3 |
| Mini | Cooper S Countryman | F60 | Bosch | MEVD17.2.3 |
| Mini | Cooper S Countryman ALL4 | F60 | Bosch | MEVD17.2.3 |
| Mini | Cooper S E Countryman ALL4 | F60 | Bosch | MEVD17.2.3 |
| Mini | Countryman ALL4 JCW | F60 | Bosch | MEVD17.2.3 |
| BMW | I8 | | Bosch | MEVD17.2.3 |
| BMW | M1-Series | F20 | Bosch | MEVD17.2.G |
| BMW | M1-Series | F21 | Bosch | MEVD17.2.G |
| BMW | M3-Series | F80 | Bosch | MEVD17.2.G |
| BMW | M4-Series | F82 | Bosch | MEVD17.2.G |
| BMW | M4-Series | F82 | Bosch | MEVD17.2.G |
| BMW | M4-Series | F83 | Bosch | MEVD17.2.G |
| BMW | M4-Series | F83 | Bosch | MEVD17.2.G |
| Mini | One | F55 | Bosch | MEVD17.2.3 |
| Mini | One | F56 | Bosch | MEVD17.2.3 |
| Mini | One | F57 | Bosch | MEVD17.2.3 |
| Mini | One Clubman | F54 | Bosch | MEVD17.2.3 |
| Mini | One Countryman | F60 | Bosch | MEVD17.2.3 |
| Mini | One First | F55 | Bosch | MEVD17.2.3 |
| Mini | One First | F56 | Bosch | MEVD17.2.3 |
| BMW | X1 | F48 | Bosch | MEVD17.2.3 |
| BMW | X3 | F25 | Bosch | MEVD17.2 |
| BMW | X3 | F25 | Bosch | MEVD17.2.4 |
| BMW | X3 | F25 | Bosch | MEVD17.2.P |
| BMW | X4 | F26 | Bosch | MEVD17.2.6 |
| BMW | X4 | F26 | Bosch | MEVD17.2.G |
| BMW | X4 | F26 | Bosch | MEVD17.2.P |
| BMW | X5 | F15 | Bosch | MEVD17.2.4 |
| BMW | X5 | F15 | Bosch | MEVD17.2.G |
| BMW | X6 | F16 | Bosch | MEVD17.2.G |