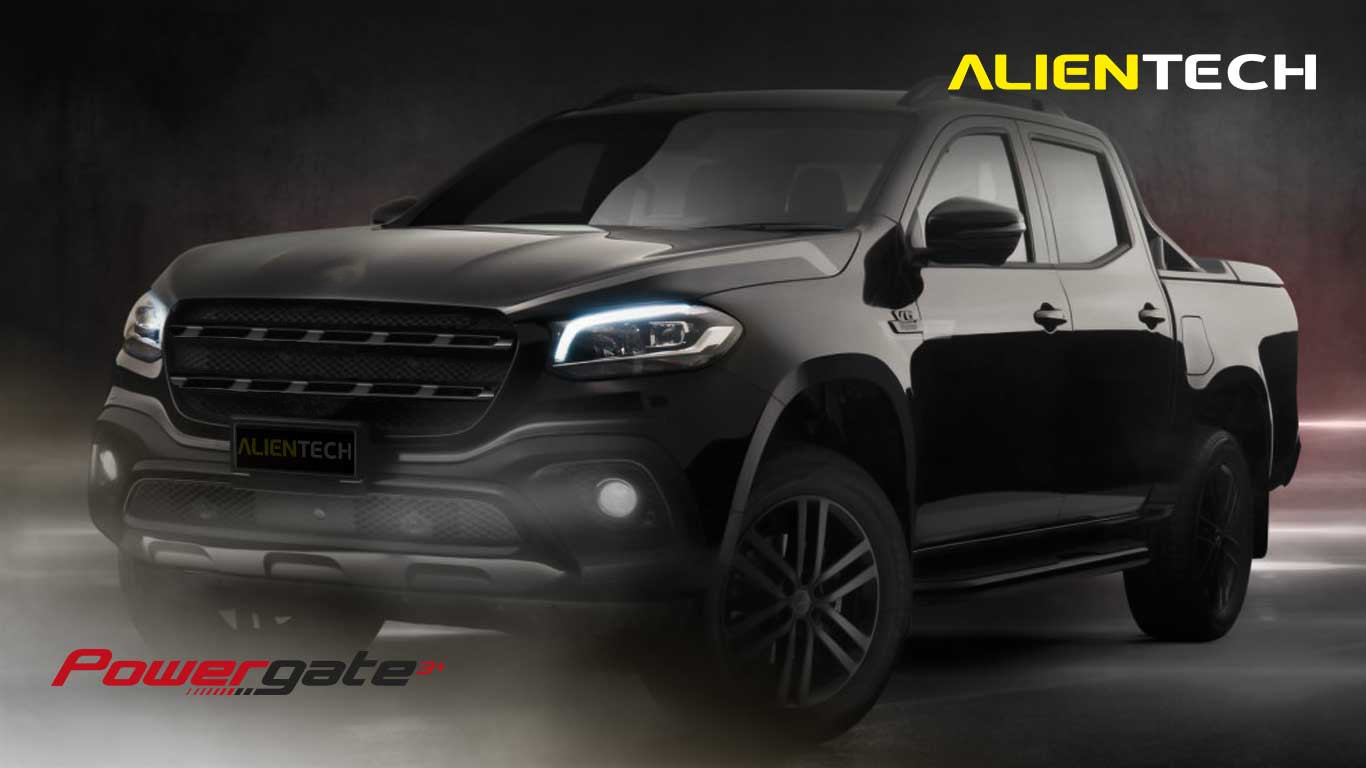 22 Oct 2019

Discover the wide range of Mercedes vehicles supported by powergate3+!
New Mercedes vehicles with ECU Bosch EDC17C66 and EDC17CP57, with microcontroller TC1793, supported by Powergate3+.
Not only cars, but also commercial vehicles, like the Sprinter, Viano, Vito models and pick-up truck, like Mercedes X-Class; with Powergate3+, Alientech Personal OBD Programmer, you can offer a complete service to all your customers! There's more: these vehicles are also supported by KESSv2, the OBD Programmer and K-TAG, the on-bench Programmer. Expand your range of business opportunities!
New Mercedes vehicle supported by Powergate3+
| Model | ECU | Functions |
| --- | --- | --- |
| C-Class Cabriolet A205 220 BlueTEC 4Matic 9AT | Bosch EDC17CP57 | RD, WR |
| C-Class Cabriolet A205 220 BlueTEC 9AT | Bosch EDC17CP57 | RD, WR |
| C-Class Cabriolet A205 250 BlueTEC 9AT | Bosch EDC17CP57 | RD, WR |
| C-Class Coupe C205 220 BlueTEC 4Matic 9AT | Bosch EDC17CP57 | RD, WR |
| C-Class Coupe C205 220 BlueTEC 9AT | Bosch EDC17CP57 | RD, WR |
| C-Class Coupe C205 250 BlueTEC 4Matic 9AT | Bosch EDC17CP57 | RD, WR |
| C-Class Coupe C205 250 BlueTEC 9AT | Bosch EDC17CP57 | RD, WR |
| C-Class T-Model S205 180 BlueTEC 6MT | Bosch EDC17C66 | RD, WR |
| C-Class T-Model S205 200 BlueTEC 6MT | Bosch EDC17C66 | RD, WR |
| C-Class T-Model S205 220 BlueTec 6MT | Bosch EDC17CP57 | RD, WR |
| C-Class T-Model S205 220 BlueTec 7AT | Bosch EDC17CP57 | RD, WR |
| C-Class T-Model S205 220 BlueTEC BlueEFFICIENCY 7AT | Bosch EDC17CP57 | RD, WR |
| C-Class T-Model S205 250 BlueTEC 4Matic 7AT | Bosch EDC17CP57 | RD, WR |
| C-Class T-Model S205 250 BlueTEC 7AT | Bosch EDC17CP57 | RD, WR |
| C-Class T-Model S205 300 BlueTEC HYBRID 7AT | Bosch EDC17CP57 | RD, WR |
| C-Class W205 180 BlueTEC 6MT | Bosch EDC17C66 | RD, WR |
| C-Class W205 200 BlueTEC 6MT | Bosch EDC17C66 | RD, WR |
| C-Class W205 250 BlueTEC 4Matic 7AT | Bosch EDC17CP57 | RD, WR |
| C-Class W205 250 BlueTEC 7AT | Bosch EDC17CP57 | RD, WR |
| C-Class W205 300 BlueTEC HYBRID 7AT | Bosch EDC17CP57 | RD, WR |
| CLS-Class C218 350 BlueTEC 4MATIC 7AT | Bosch EDC17CP57 | RD, WR |
| CLS-Class C218 350 BlueTEC 9AT | Bosch EDC17CP57 | RD, WR |
| CLS-Class Shooting Brake X218 350 BlueTEC 4MATIC 7AT | Bosch EDC17CP57 | RD, WR |
| CLS-Class Shooting Brake X218 350 BlueTEC 9AT | Bosch EDC17CP57 | RD, WR |
| E-Class Cabriolet A207 350 BlueTEC 7AT | Bosch EDC17CP57 | RD, WR |
| E-Class Coupe C207 350 BlueTEC 7AT | Bosch EDC17CP57 | RD, WR |
| E-Class W213 350 d 9AT | Bosch EDC17CP57 | RD, WR |
| G-Class Professional W463 350 D 7AT | Bosch EDC17CP57 | RD, WR |
| G-Class W463 350 d 7AT | Bosch EDC17CP57 | RD, WR |
| GLC-Class Coupe C253 220 d 4Matic 9AT | Bosch EDC17CP57 | RD, WR |
| GLC-Class Coupe C253 250 d 4Matic 9AT | Bosch EDC17CP57 | RD, WR |
| GLC-Class Coupe C253 350 d 4Matic 9AT | Bosch EDC17CP57 | RD, WR |
| GLC-Class X253 220 d 4Matic 9AT | Bosch EDC17CP57 | RD, WR |
| GLC-Class X253 250 d 4Matic 9AT | Bosch EDC17CP57 | RD, WR |
| GLC-Class X253 350 d 4Matic 9AT | Bosch EDC17CP57 | RD, WR |
| GLE-Class Coupe C292 350 d 4MATIC 9AT | Bosch EDC17CP57 | RD, WR |
| GLE-Class W166 250 d 4MATIC 9AT | Bosch EDC17CP57 | RD, WR |
| GLE-Class W166 250 d 9AT | Bosch EDC17CP57 | RD, WR |
| GLE-Class W166 350 d 4MATIC 9AT | Bosch EDC17CP57 | RD, WR |
| ML-Class W166 250 BlueTEC 4Matic 7AT | Bosch EDC17CP57 | RD, WR |
| S-Class V221 250 CDI BlueEFFICIENCY 7AT | Bosch EDC17CP57 | RD, WR |
| S-Class V222 300 BlueTEC Hybrid 7AT | Bosch EDC17CP57 | RD, WR |
| S-Class V222 350 BlueTec 4Matic 7AT | Bosch EDC17CP57 | RD, WR |
| S-Class V222 350 BlueTec 7AT | Bosch EDC17CP57 | RD, WR |
| S-Class V222 350 D 4Matic 7AT | Bosch EDC17CP57 | RD, WR |
| S-Class V222 350 D 7AT | Bosch EDC17CP57 | RD, WR |
| S-Class W221 250 CDI BlueEFFICIENCY 7AT | Bosch EDC17CP57 | RD, WR |
| S-Class W222 300 BlueTEC Hybrid 7AT | Bosch EDC17CP57 | RD, WR |
| S-Class W222 350 BlueTec 4Matic 7AT | Bosch EDC17CP57 | RD, WR |
| S-Class W222 350 BlueTec 7AT | Bosch EDC17CP57 | RD, WR |
| S-Class W222 350 D 4Matic 7AT | Bosch EDC17CP57 | RD, WR |
| S-Class W222 350 D 7AT | Bosch EDC17CP57 | RD, WR |
| Sprinter W906 213 BlueTEC | Bosch EDC17CP57 | RD, WR |
| Sprinter W906 216 BlueTEC | Bosch EDC17CP57 | RD, WR |
| Sprinter W906 313 BlueTEC | Bosch EDC17CP57 | RD, WR |
| Sprinter W906 316 CDI | Bosch EDC17CP57 | RD, WR |
| Sprinter W906 413 BlueTEC | Bosch EDC17CP57 | RD, WR |
| Sprinter W906 416 BlueTEC | Bosch EDC17CP57 | RD, WR |
| Sprinter W906 513 BlueTEC | Bosch EDC17CP57 | RD, WR |
| Sprinter W906 516 BlueTEC | Bosch EDC17CP57 | RD, WR |
| V-Class W447 200 CDI 6MT | Bosch EDC17C66 | RD, WR |
| V-Class W447 200 CDI 7AT | Bosch EDC17C66 | RD, WR |
| V-Class W447 220 CDI 6MT | Bosch EDC17C66 | RD, WR |
| V-Class W447 220 CDI 7AT | Bosch EDC17C66 | RD, WR |
| V-Class W447 250 BlueTEC 4Matic 7AT | Bosch EDC17C66 | RD, WR |
| V-Class W447 250 BlueTEC 7AT | Bosch EDC17C66 | RD, WR |
| Viano W639 2.2 CDI 4Matic 6MT | Bosch EDC17CP57 | RD, WR |
| Vito W447 109 CDI 6MT | Bosch EDC17C66 | RD, WR |
| Vito W447 111 CDI 6MT | Bosch EDC17C66 | RD, WR |
| Vito W447 114 CDI 6MT | Bosch EDC17C66 | RD, WR |
| Vito W447 114 CDI 7AT | Bosch EDC17C66 | RD, WR |
| Vito W447 116 CDI 6MT | Bosch EDC17C66 | RD, WR |
| Vito W447 116 CDI 7AT | Bosch EDC17C66 | RD, WR |
| Vito W447 119 BlueTEC 4X4 7AT | Bosch EDC17C66 | RD, WR |
| Vito W447 119 BlueTEC 7AT | Bosch EDC17C66 | RD, WR |
| Vito W639 116 CDI 4Matic | Bosch EDC17CP57 | RD, WR |
| X-Class 470 350 d 7AT | Bosch EDC17CP57 | RD, WR |