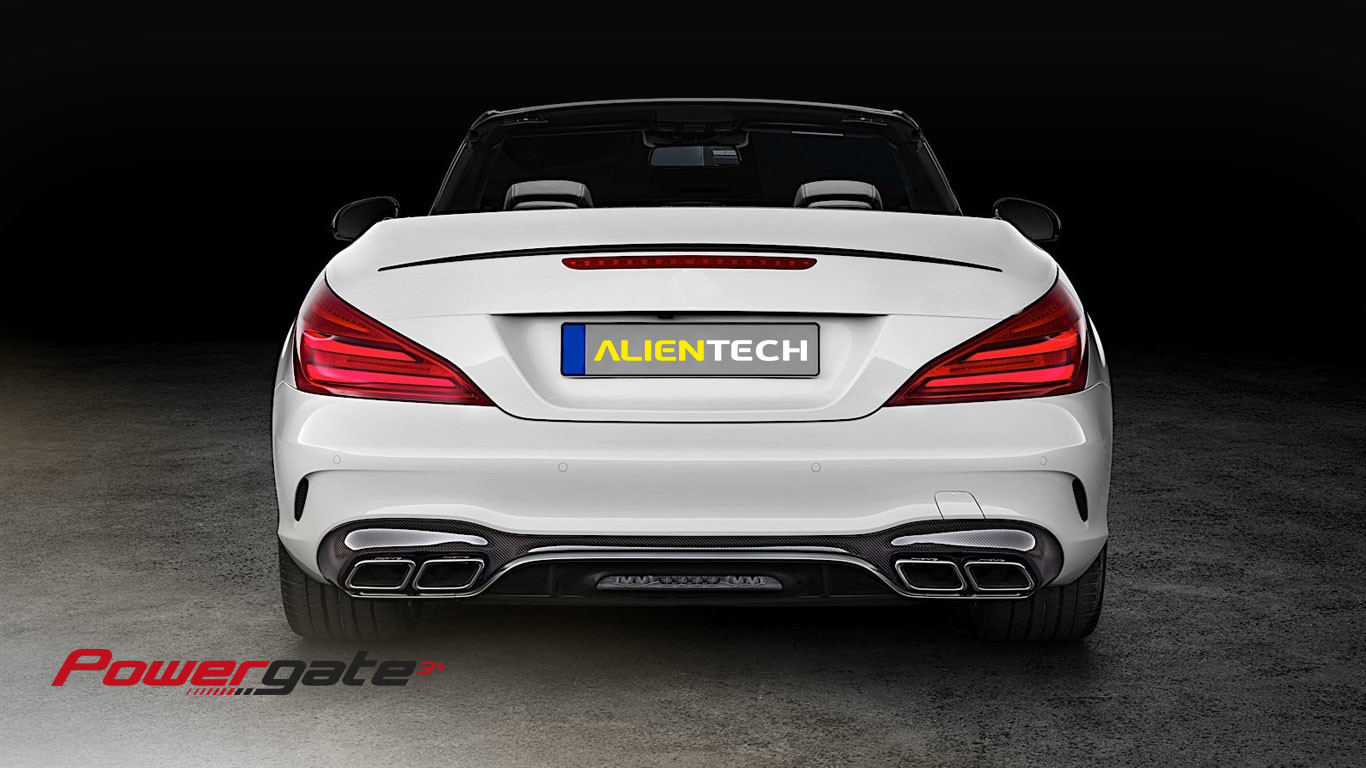 17 Sep 2019

New Mercedes vehicles supported by Powergate3+!
Discover the wide range of Mercedes vehicles with ECU Bosch MED17.7.1, MED17.7.2, MED17.7.3, MED17.7.3.1, MED17.7.5, with microcontrollers TC1793 and TC1797, that you can remap with Powergate3+, Alientech's Personal OBD programmer.
Powergate3+ is the portable and touchscreen Personal OBD Programmer which will allow your customers to program the ECUs of their vehicles in complete autonomy, using your preloaded modified maps. Thanks to Powergate3+, you will be able to remap the ECU of Mercedes SL-63 AMG, GLK-Class, G-Class and many other vehicles.
Which tools we're offering you
New Mercedes vehicles supported by Powergate3+
| Model | ECU |
| --- | --- |
| A45 AMG | Bosch MED17.7.2 TC1797 |
| A-Class | Bosch MED17.7.2 TC1797 |
| B-Class | Bosch MED17.7.2 TC1797 |
| C63 AMG | Bosch MED17.7.5 TC1793 |
| C-Class | Bosch MED17.7.1 TC1797 |
| C-Class | Bosch MED17.7.2 TC1797 |
| C-Class | Bosch MED17.7.3.1 TC1797 |
| C-Class Cabriolet | Bosch MED17.7.2 TC1797 |
| C-Class Cabriolet | Bosch MED17.7.3.1 TC1797 |
| C-Class Coupe | Bosch MED17.7.1 TC1797 |
| C-Class Coupe | Bosch MED17.7.2 TC1797 |
| C-Class Coupe | Bosch MED17.7.3.1 TC1797 |
| C-Class T-Model | Bosch MED17.7.1 TC1797 |
| C-Class T-Model | Bosch MED17.7.2 TC1797 |
| C-Class T-Model | Bosch MED17.7.3 TC1797 |
| C-Class T-Model | Bosch MED17.7.3.1 TC1797 |
| CL63 AMGÿ | Bosch MED17.7.1 TC1797 |
| CLA45 AMG | Bosch MED17.7.2 TC1797 |
| CLA-Class | Bosch MED17.7.2 TC1797 |
| CLA-Class Shooting Brake | Bosch MED17.7.2 TC1797 |
| CL-Class | Bosch MED17.7.1 TC1797 |
| CLS63 AMG | Bosch MED17.7.1 TC1797 |
| CLS63 AMG | Bosch MED17.7.3 TC1797 |
| CLS-Class | Bosch MED17.7.1 TC1797 |
| CLS-Class | Bosch MED17.7.3 TC1797 |
| CLS-Class | Bosch MED17.7.3.1 TC1797 |
| CLS-Class Shooting Brake | Bosch MED17.7.1 TC1797 |
| CLS-Class Shooting Brake | Bosch MED17.7.3 TC1797 |
| CLS-Class Shooting Brake | Bosch MED17.7.3.1 TC1797 |
| E43 AMG | Bosch MED17.7.3 TC1797 |
| E63 AMG | Bosch MED17.7.1 TC1797 |
| E63 AMG | Bosch MED17.7.3 TC1797 |
| E-Class | Bosch MED17.7.1 TC1797 |
| E-Class | Bosch MED17.7.2 TC1797 |
| E-Class | Bosch MED17.7.3 TC1797 |
| E-Class | Bosch MED17.7.3.1 TC1797 |
| E-Class Cabriolet | Bosch MED17.7.1 TC1797 |
| E-Class Cabriolet | Bosch MED17.7.2 TC1797 |
| E-Class Cabriolet | Bosch MED17.7.3 TC1797 |
| E-Class Cabriolet | Bosch MED17.7.3.1 TC1797 |
| E-Class Coupe | Bosch MED17.7.1 TC1797 |
| E-Class Coupe | Bosch MED17.7.2 TC1797 |
| E-Class Coupe | Bosch MED17.7.3 TC1797 |
| E-Class Coupe | Bosch MED17.7.3.1 TC1797 |
| E-Class T-Model | Bosch MED17.7.1 TC1797 |
| E-Class T-Model | Bosch MED17.7.2 TC1797 |
| E-Class T-Model | Bosch MED17.7.3 TC1797 |
| E-Class T-Model | Bosch MED17.7.3.1 TC1797 |
| G AMG 6x6 | Bosch MED17.7.3 TC1797 |
| G63 AMG | Bosch MED17.7.3 TC1797 |
| G-Class | Bosch MED17.7.5 TC1793 |
| G-Class 4x4 Squared | Bosch MED17.7.5 TC1793 |
| GL63 AMG | Bosch MED17.7.3 TC1797 |
| GLA45 AMG | Bosch MED17.7.2 TC1797 |
| GLA-Class | Bosch MED17.7.2 TC1797 |
| GLC43 AMG | Bosch MED17.7.3 TC1797 |
| GLC43 AMG | Bosch MED17.7.3.1 TC1797 |
| GLC-Class | Bosch MED17.7.2 TC1797 |
| GLC-Class Coupe | Bosch MED17.7.2 TC1797 |
| GL-Class | Bosch MED17.7.3 TC1797 |
| GL-Class | Bosch MED17.7.3.1 TC1797 |
| GLE43 AMG | Bosch MED17.7.3 TC1797 |
| GLE63 AMG | Bosch MED17.7.3 TC1797 |
| GLE-Class | Bosch MED17.7.3 TC1797 |
| GLE-Class | Bosch MED17.7.3.1 TC1797 |
| GLE-Class Coupe | Bosch MED17.7.3 TC1797 |
| GLE-Class Coupe | Bosch MED17.7.3.1 TC1797 |
| GLK-Class | Bosch MED17.7.1 TC1797 |
| GLK-Class | Bosch MED17.7.2 TC1797 |
| GLS63 AMG | Bosch MED17.7.3 TC1797 |
| GLS-Class | Bosch MED17.7.3 TC1797 |
| GLS-Class | Bosch MED17.7.3.1 TC1797 |
| GT AMG | Bosch MED17.7.5 TC1793 |
| ML63 AMG | Bosch MED17.7.3 TC1797 |
| ML-Class | Bosch MED17.7.3 TC1797 |
| R-Class | Bosch MED17.7.1 TC1797 |
| S63 AMG | Bosch MED17.7.1 TC1797 |
| S63 AMG | Bosch MED17.7.3 TC1797 |
| S-Class | Bosch MED17.7.1 TC1797 |
| S-Class | Bosch MED17.7.3 TC1797 |
| S-Class | Bosch MED17.7.3.1 TC1797 |
| S-Class Cabriolet | Bosch MED17.7.3 TC1797 |
| S-Class Coupe | Bosch MED17.7.3 TC1797 |
| S-Class Maybach | Bosch MED17.7.3 TC1797 |
| S-Class Maybach | Bosch MED17.7.3.1 TC1797 |
| SL63 AMG | Bosch MED17.7.3 TC1797 |
| SLC43 AMG | Bosch MED17.7.3.1 TC1797 |
| SLC-Class | Bosch MED17.7.2 TC1797 |
| SL-Class | Bosch MED17.7.3 TC1797 |
| SL-Class | Bosch MED17.7.3.1 TC1797 |
| SLK-Class | Bosch MED17.7.1 TC1797 |