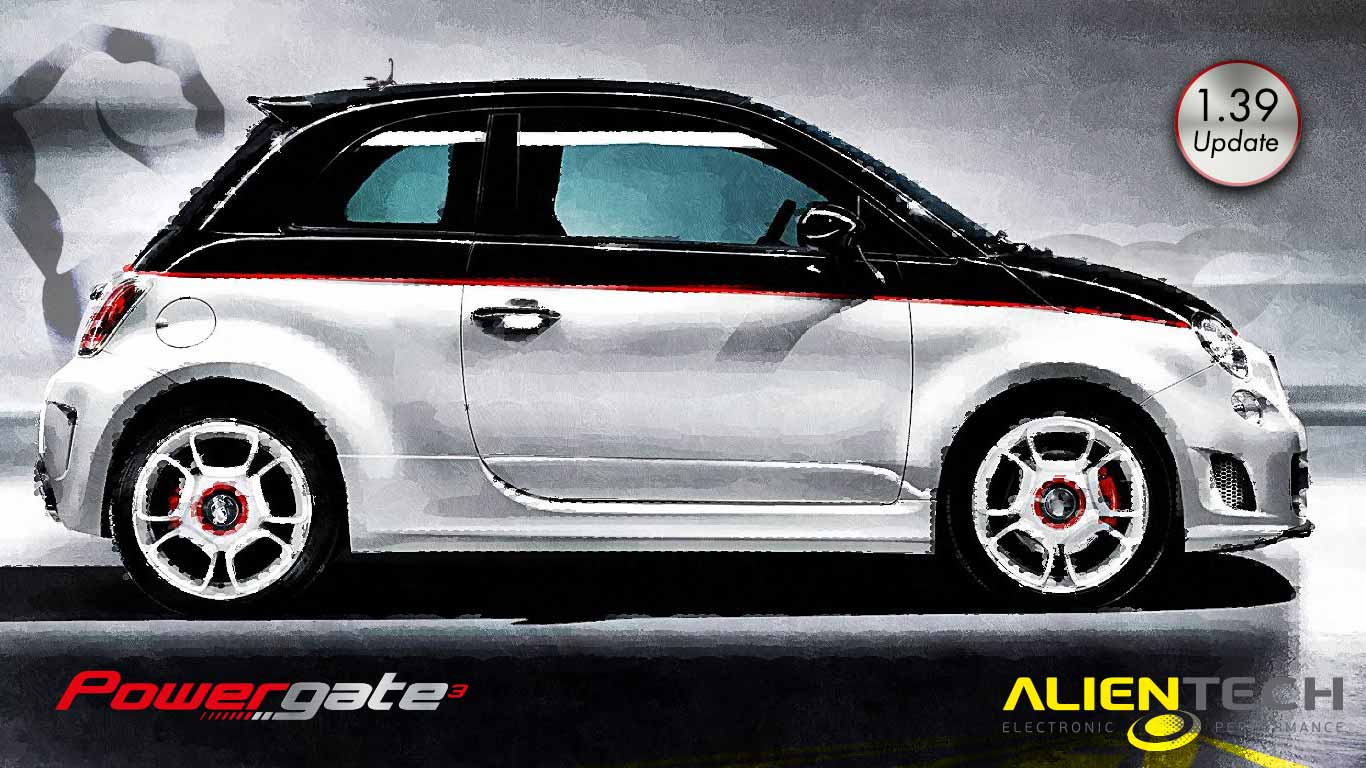 11 Jul 2017

Powergate3 | 1.39

Alientech Manager, Powergate3 Manager software, has been updated with 5 new protocols for the Car version.

It's a highly anticipated update, mostly in the American market: special attention has been given to the new ECUs Magneti Marelli 8GMK equipped on the newest Fiat, Alfa Romeo, Lancia, Abarth and Chrysler. A protocol dedicated to the ECUs Bosch EDC17C74 (VAG) and another one for the Bosch EDC17CP65 (Ford).

Powergate3, Alientech latest addition, has immediately become a relevant reference for the automotive market.

The reasons are many: simplicity of reading and writing, never been faster and easier before; opportunity to customize graphics, logos and language of your tool, in order to create a network of users and, especially, the ability to suit everybody's needs with professionalism. Whether you are a dealer, a tuner or just an enthusiast, this tool will give you what you need: to expand your business, to protect your job or to rely on experts to tune your vehicle.
Here's what's new in this release
– Protocol 120 | Fiat / Alfa Romeo / Lancia Magneti Marelli 8GMK
– Protocol 129 | Chrysler Magneti Marelli 8GMK
– Protocol 169 | Abarth Magneti Marelli 8GMK
– Protocol 170 | VAG Bosch EDC17C74
– Protocol 171 | Ford Bosch EDC17CP65
An update which further expand the Powergate3 vehicle list with interesting vehicles that are meeting both national and international market needs.
Discover the new vehicles available
Fiat / Alfa Romeo / Lancia Magneti Marelli 8GMF
| Model | Model Name | Model Family | Engine | Engine Code | KW | HP | Fuel | MY | ECU | ECU Version |
| --- | --- | --- | --- | --- | --- | --- | --- | --- | --- | --- |
| Abarth | Punto Evo | | 1.4 16v T-Jet MultiAir | 955 A8.000 | 120 | 161 | Petrol | 2010 | Magneti Marelli | 8GMF |
| Abarth | Punto Evo Esseesse | | 1.4 16v T-Jet MultiAir | 955 A8.000 | 132 | 177 | Petrol | 2010 | Magneti Marelli | 8GMF |
| Alfa Romeo | Giulietta | | 1.4 TB 16v MultiAir | 940 A2.000 | 125 | 168 | Petrol | 2010 | Magneti Marelli | 8GMF |
| Alfa Romeo | Giulietta | | 1.4 TB 16v MultiAir TCT | 940 A2.000 | 125 | 168 | Petrol | 2011 | Magneti Marelli | 8GMF |
| Alfa Romeo | Mito | | 1.4 16v MultiAir (105) | 955 A6.000 | 77 | 103 | Petrol | 2009 | Magneti Marelli | 8GMF |
| Alfa Romeo | Mito | | 1.4 16v Turbo MultiAir (135) | 955 A2.000 | 99 | 133 | Petrol | 2009 | Magneti Marelli | 8GMF |
| Alfa Romeo | Mito | | 1.4 16v Turbo MultiAir (135) TCT | 955 A2.000 | 99 | 133 | Petrol | 2010 | Magneti Marelli | 8GMF |
| Alfa Romeo | Mito Quadrifoglio Verde | | 1.4 16v Turbo MultiAir | 940 A2.000 | 125 | 168 | Petrol | 2010 | Magneti Marelli | 8GMF |
| FIAT | Bravo | ( 2nd) | 1.4 16v MultiAir Turbo 140 | 198 A7.000 | 103 | 138 | Petrol | 2010 | Magneti Marelli | 8GMF |
| FIAT | Punto Evo | | 1.4 16v MultiAir 105 | 955 A6.000 | 77 | 103 | Petrol | 2009 | Magneti Marelli | 8GMF |
| FIAT | Punto Evo | | 1.4 16v MultiAir 135 | 955 A2.000 | 99 | 133 | Petrol | 2009 | Magneti Marelli | 8GMF |
| Lancia | Delta | ( 3rd) | 1.4 16v MultiAir Turbo | | 103 | 138 | Petrol | 2010 | Magneti Marelli | 8GMF |
Chrysler Magneti Marelli 8GMK
| Model | Model Name | Engine | Engine Code | KW | HP | Fuel | MY | ECU | ECU Version |
| --- | --- | --- | --- | --- | --- | --- | --- | --- | --- |
| Abarth | 595 Competizione | 1.4 16v MultiAir Turbo 5MT | | 132 | 177 | Petrol | 2016 | Magneti Marelli | 8GMK |
| FIAT | 500X | 1.4 16v MultiAir Turbo | 55263624 | 103 | 138 | Petrol | 2015 | Magneti Marelli | 8GMK |
| FIAT | 500X | 1.4 16v MultiAir Turbo | 55263624 | 119 | 160 | Petrol | 2016 | Magneti Marelli | 8GMK |
| FIAT | 500X | 1.4 16v MultiAir Turbo 140 4×2 | 55263624 | 103 | 138 | Petrol | 2015 | Magneti Marelli | 8GMK |
| FIAT | 500X | 1.4 16v MultiAir Turbo 140 4×2 Cross | 55263624 | 103 | 138 | Petrol | 2015 | Magneti Marelli | 8GMK |
| Jeep | Renegade | 1.4 16v MultiAir Turbo | 55263624 | 103 | 138 | Petrol | 2015 | Magneti Marelli | 8GMK |
| Jeep | Renegade | 1.4 16v MultiAir Turbo | 55263624 | 119 | 160 | Petrol | 2015 | Magneti Marelli | 8GMK |
Abarth Magneti Marelli 8GMK
| Model | Model Name | Engine | Engine Code | KW | HP | Fuel | MY | ECU | ECU Version |
| --- | --- | --- | --- | --- | --- | --- | --- | --- | --- |
| Abarth | 124 Spider | 1.4 16v MultiAir Turbo 6AT | 55253268 | 125 | 168 | Petrol | 2016 | Magneti Marelli | 8GMK |
| Abarth | 124 Spider | 1.4 16v MultiAir Turbo 6MT | 55253268 | 125 | 168 | Petrol | 2016 | Magneti Marelli | 8GMK |
| FIAT | 124 Spider | 1.4 16v MultiAir Turbo 6AT | 55253268 | 103 | 138 | Petrol | 2016 | Magneti Marelli | 8GMK |
| FIAT | 124 Spider | 1.4 16v MultiAir Turbo 6MT | 55253268 | 103 | 138 | Petrol | 2016 | Magneti Marelli | 8GMK |
VAG Bosch EDC17C74
| Model | Model Name | Model Family | Engine | Engine Code | KW | HP | Fuel | MY | ECU | ECU Version |
| --- | --- | --- | --- | --- | --- | --- | --- | --- | --- | --- |
| Audi | A4 | | 2.0 TDI +H130:I193(190) | DESA | 140 | 188 | Diesel | 2015 | Bosch | EDC17C74 |
| Audi | A4 | | 2.0 TDI (190) Quattro S-Tronic | DESA | 140 | 188 | Diesel | 2015 | Bosch | EDC17C74 |
| Audi | A4 | | 2.0 TDI (190) S-Tronic | DESA | 140 | 188 | Diesel | 2015 | Bosch | EDC17C74 |
| Audi | A4 | | 2.0 TDI Ultra (190) | DETA | 140 | 188 | Diesel | 2015 | Bosch | EDC17C74 |
| Audi | A4 | | 2.0 TDI Ultra (190) S-Tronic | DETA | 140 | 188 | Diesel | 2015 | Bosch | EDC17C74 |
| Audi | TT Coupe | | 2.0 TDI Quattro 6AT | CUNA | 135 | 181 | Diesel | 2017 | Bosch | EDC17C74 |
| Audi | TT Coupe | | 2.0 TDI Quattro 6MT | CUNA | 135 | 181 | Diesel | 2015 | Bosch | EDC17C74 |
| Audi | TT Roadster | | 2.0 TDI Quattro 6AT | CUNA | 135 | 181 | Diesel | 2017 | Bosch | EDC17C74 |
| Audi | TT Roadster | | 2.0 TDI Quattro 6MT | CUNA | 135 | 181 | Diesel | 2015 | Bosch | EDC17C74 |
| Volkswagen | Golf | ( 7th) | 2.0 GTD 4Motion 6MT | CUNA | 135 | 181 | Diesel | 2016 | Bosch | EDC17C74 |
| Volkswagen | Golf | ( 7th) | 2.0 GTD BlueMotion 6AT | CUNA | 135 | 181 | Diesel | 2016 | Bosch | EDC17C74 |
| Volkswagen | Golf | ( 7th) | 2.0 GTD BlueMotion 6MT | CUNA | 135 | 181 | Diesel | 2016 | Bosch | EDC17C74 |
| Volkswagen | Golf | ( 7th) | 2.0 TDI 4Motion 6MT | CRBB | 105 | 141 | Diesel | 2015 | Bosch | EDC17C74 |
| Volkswagen | Golf | ( 7th) | 2.0 TDI 4Motion 6MT | CRLB | 110 | 148 | Diesel | 2015 | Bosch | EDC17C74 |
| Volkswagen | Golf | ( 7th) | 2.0 TDI 6MT | CRVC | 105 | 141 | Diesel | 2014 | Bosch | EDC17C74 |
| Volkswagen | Golf | ( 7th) | 2.0 TDI 6MT | CRVA | 81 | 109 | Diesel | 2015 | Bosch | EDC17C74 |
| Volkswagen | Golf | ( 7th) | 2.0 TDI 7AT | CRVC | 105 | 141 | Diesel | 2014 | Bosch | EDC17C74 |
| Volkswagen | Golf | ( 7th) | 2.0 TDI 7AT | CRVA | 81 | 109 | Diesel | 2015 | Bosch | EDC17C74 |
| Volkswagen | Golf | ( 7th) | 2.0 TDI BlueMotion 6AT | CRLB | 110 | 148 | Diesel | 2015 | Bosch | EDC17C74 |
| Volkswagen | Golf | ( 7th) | 2.0 TDI BlueMotion 6AT | CRBB | 105 | 141 | Diesel | 2015 | Bosch | EDC17C74 |
| Volkswagen | Golf | ( 7th) | 2.0 TDI BlueMotion 6MT | CRLB | 110 | 148 | Diesel | 2015 | Bosch | EDC17C74 |
| Volkswagen | Golf | ( 7th) | 2.0 TDI BlueMotion 6MT | CRBB | 105 | 141 | Diesel | 2015 | Bosch | EDC17C74 |
| Volkswagen | Golf | ( 7th) | 2.0 TDI 4Motion 6MT | CRLB | 110 | 148 | Diesel | 2017 | Bosch | EDC17C74 |
| Volkswagen | Golf | ( 7th) | 2.0 TDI 4Motion 6MT | CRBC | 110 | 148 | Diesel | 2017 | Bosch | EDC17C74 |
| Volkswagen | Golf | ( 7th) | 2.0 TDI BlueMotion 6AT | CRLB | 110 | 148 | Diesel | 2017 | Bosch | EDC17C74 |
| Volkswagen | Golf | ( 7th) | 2.0 TDI BlueMotion 6AT | CRBC | 110 | 148 | Diesel | 2017 | Bosch | EDC17C74 |
| Volkswagen | Golf | ( 7th) | 2.0 TDI BlueMotion 6MT | CRLB | 110 | 148 | Diesel | 2017 | Bosch | EDC17C74 |
| Volkswagen | Golf | ( 7th) | 2.0 TDI BlueMotion 6MT | CRBC | 110 | 148 | Diesel | 2017 | Bosch | EDC17C74 |
| Volkswagen | Golf | ( 7th) | 2.0 TDI BlueMotion 6MT | CRLD | 81 | 109 | Diesel | 2017 | Bosch | EDC17C74 |
| Volkswagen | Golf Alltrack | | 2.0 GTD 4Motion 6MT | CUNA | 135 | 181 | Diesel | 2016 | Bosch | EDC17C74 |
| Volkswagen | Golf Alltrack | | 2.0 TDI 4Motion 6MT | CRLB | 110 | 148 | Diesel | 2015 | Bosch | EDC17C74 |
| Volkswagen | Golf Sportsvan | | 2.0 TDI BlueMotion 6AT | CRLB | 110 | 148 | Diesel | 2015 | Bosch | EDC17C74 |
| Volkswagen | Golf Sportsvan | | 2.0 TDI BlueMotion 6MT | CRLB | 110 | 148 | Diesel | 2015 | Bosch | EDC17C74 |
| Volkswagen | Golf Sportsvan | | 2.0 TDI BlueMotion 6MT | CRLD | 81 | 109 | Diesel | 2017 | Bosch | EDC17C74 |
| Volkswagen | Golf Variant | ( 7th) | 2.0 GTD BlueMotion 6AT | CUNA | 135 | 181 | Diesel | 2016 | Bosch | EDC17C74 |
| Volkswagen | Golf Variant | ( 7th) | 2.0 GTD BlueMotion 6MT | CUNA | 135 | 181 | Diesel | 2016 | Bosch | EDC17C74 |
| Volkswagen | Golf Variant | ( 7th) | 2.0 TDI 4Motion 6MT | CRBB | 105 | 141 | Diesel | 2015 | Bosch | EDC17C74 |
| Volkswagen | Golf Variant | ( 7th) | 2.0 TDI 4Motion 6MT | CRLB | 110 | 148 | Diesel | 2015 | Bosch | EDC17C74 |
| Volkswagen | Golf Variant | ( 7th) | 2.0 TDI BlueMotion 6AT | CRBB | 105 | 141 | Diesel | 2015 | Bosch | EDC17C74 |
| Volkswagen | Golf Variant | ( 7th) | 2.0 TDI BlueMotion 6AT | CRLB | 110 | 148 | Diesel | 2015 | Bosch | EDC17C74 |
| Volkswagen | Golf Variant | ( 7th) | 2.0 TDI BlueMotion 6MT | CRLB | 110 | 148 | Diesel | 2015 | Bosch | EDC17C74 |
| Volkswagen | Golf Variant | ( 7th) | 2.0 TDI BlueMotion 6MT | CRBB | 105 | 141 | Diesel | 2015 | Bosch | EDC17C74 |
| Volkswagen | Golf Variant | ( 7th) | 2.0 TDI 4Motion 6MT | CRLB | 110 | 148 | Diesel | 2017 | Bosch | EDC17C74 |
| Volkswagen | Golf Variant | ( 7th) | 2.0 TDI 4Motion 6MT | CRBC | 110 | 148 | Diesel | 2017 | Bosch | EDC17C74 |
| Volkswagen | Golf Variant | ( 7th) | 2.0 TDI BlueMotion 6AT | CRLB | 110 | 148 | Diesel | 2017 | Bosch | EDC17C74 |
| Volkswagen | Golf Variant | ( 7th) | 2.0 TDI BlueMotion 6AT | CRBC | 110 | 148 | Diesel | 2017 | Bosch | EDC17C74 |
| Volkswagen | Golf Variant | ( 7th) | 2.0 TDI BlueMotion 6MT | CRLD | 81 | 109 | Diesel | 2017 | Bosch | EDC17C74 |
| Volkswagen | Golf Variant | ( 7th) | 2.0 TDI BlueMotion 6MT | CRLB | 110 | 148 | Diesel | 2017 | Bosch | EDC17C74 |
| Volkswagen | Golf Variant | ( 7th) | 2.0 TDI BlueMotion 6MT | CRBC | 110 | 148 | Diesel | 2017 | Bosch | EDC17C74 |
| Volkswagen | Passat | | 1.6 TDI 6MT | DCXA | 88 | 118 | Diesel | 2014 | Bosch | EDC17C74 |
| Volkswagen | Passat | | 1.6 TDI 7AT | DCXA | 88 | 118 | Diesel | 2014 | Bosch | EDC17C74 |
| Volkswagen | Passat | | 2.0 TDI 4Motion 6AT | CRLB | 110 | 148 | Diesel | 2015 | Bosch | EDC17C74 |
| Volkswagen | Passat | | 2.0 TDI 4Motion 6MT | CRLB | 110 | 148 | Diesel | 2014 | Bosch | EDC17C74 |
| Volkswagen | Passat | | 2.0 TDI 6AT | CRLB | 110 | 148 | Diesel | 2014 | Bosch | EDC17C74 |
| Volkswagen | Passat | | 2.0 TDI 6MT | CRLB | 110 | 148 | Diesel | 2014 | Bosch | EDC17C74 |
| Volkswagen | Passat | | 2.0 TDI SCR 4Motion 6AT | DFCA | 140 | 188 | Diesel | 2015 | Bosch | EDC17C74 |
| Volkswagen | Passat | | 2.0 TDI SCR 4Motion 6MT | DFCA | 140 | 188 | Diesel | 2014 | Bosch | EDC17C74 |
| Volkswagen | Passat | | 2.0 TDI SCR 6AT | DFCA | 140 | 188 | Diesel | 2014 | Bosch | EDC17C74 |
| Volkswagen | Passat | | 2.0 TDI SCR 6MT | DFCA | 140 | 188 | Diesel | 2014 | Bosch | EDC17C74 |
| Volkswagen | Passat Alltrack | | 2.0 TDI 4Motion 6AT | CRLB | 110 | 148 | Diesel | 2015 | Bosch | EDC17C74 |
| Volkswagen | Passat Alltrack | | 2.0 TDI 4Motion 6MT | CRLB | 110 | 148 | Diesel | 2014 | Bosch | EDC17C74 |
| Volkswagen | Passat Alltrack | | 2.0 TDI SCR 4Motion 6AT | DFCA | 140 | 188 | Diesel | 2015 | Bosch | EDC17C74 |
| Volkswagen | Passat Alltrack | | 2.0 TDI SCR 4Motion 6MT | DFCA | 140 | 188 | Diesel | 2014 | Bosch | EDC17C74 |
| Volkswagen | Passat Variant | | 1.6 TDI 6MT | DCXA | 88 | 118 | Diesel | 2014 | Bosch | EDC17C74 |
| Volkswagen | Passat Variant | | 1.6 TDI 7AT | DCXA | 88 | 118 | Diesel | 2014 | Bosch | EDC17C74 |
| Volkswagen | Passat Variant | | 2.0 TDI 4Motion 6AT | CRLB | 110 | 148 | Diesel | 2015 | Bosch | EDC17C74 |
| Volkswagen | Passat Variant | | 2.0 TDI 4Motion 6MT | CRLB | 110 | 148 | Diesel | 2014 | Bosch | EDC17C74 |
| Volkswagen | Passat Variant | | 2.0 TDI 6AT | CRLB | 110 | 148 | Diesel | 2014 | Bosch | EDC17C74 |
| Volkswagen | Passat Variant | | 2.0 TDI 6MT | CRLB | 110 | 148 | Diesel | 2014 | Bosch | EDC17C74 |
| Volkswagen | Passat Variant | | 2.0 TDI SCR 4Motion 6AT | DFCA | 140 | 188 | Diesel | 2015 | Bosch | EDC17C74 |
| Volkswagen | Passat Variant | | 2.0 TDI SCR 4Motion 6MT | DFCA | 140 | 188 | Diesel | 2014 | Bosch | EDC17C74 |
| Volkswagen | Passat Variant | | 2.0 TDI SCR 6AT | DFCA | 140 | 188 | Diesel | 2014 | Bosch | EDC17C74 |
| Volkswagen | Passat Variant | | 2.0 TDI SCR 6MT | DFCA | 140 | 188 | Diesel | 2014 | Bosch | EDC17C74 |
Ford Bosch EDC17CP65
| Model | Model Name | Engine | Engine Code | KW | HP | Fuel | MY | ECU | ECU Version |
| --- | --- | --- | --- | --- | --- | --- | --- | --- | --- |
| Ford | F-250 Super Duty | ( 3rd) | 6.7 V8 Powerstroke | 328 | 440 | Diesel | 2017 | Bosch | EDC17CP65 |