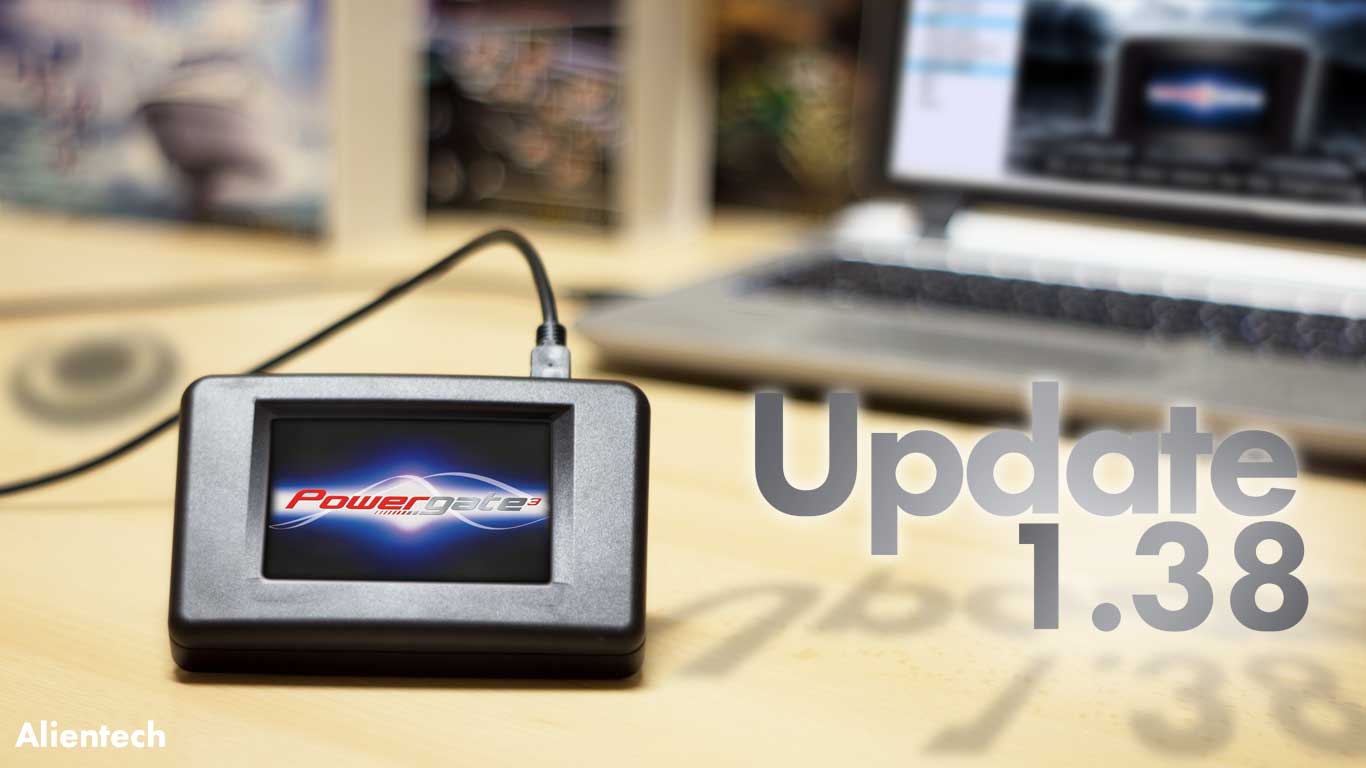 10 May 2017

Powergate3 | 1.38

New update for Alientech Manager, the management software for Powergate3. From today, you can work via OBD in a professional and fast way on vehicles equipped with Delphi DCM 3.5, Continental SID902, Bosch EDC17CP05, Continental EMS24XX, Continental 5WY8 (Ford) and Delco E98 (Opel) ECUs. Moreover, by consulting the list, you can find out the latest news about the other protocols and their updated vehicles.

Powergate3 is the personal OBD II programmer, able to read and program cars, bikes, tractors and boats' ECUs. Our most recent tool has become in a very short time a reference point in the chiptuning world. The reasons are many: simplicity of reading and writing, never been faster and easier before; opportunity to customize graphics, logos and language of your tool, in order to create a network of users and, especially, the ability to suit everybody's needs with professionalism.

Whether you are a dealer, a tuner or just an enthusiast, this tool will give you what you need: to expand your business, to protect your job or to rely on experts to tune your vehicle.

Alientech Manager is updated each time our R & D team is able to test a new vehicle: when we find the necessary information, we study and develop what we need to let the vehicle list grow more and more.
New vehicles availables
Dacia / Nissan / Renault Bosch EDC17CP42
| Model | Model Name | Model Family | Engine | Engine Code | KW | HP | Fuel | MY | ECU | ECU Version |
| --- | --- | --- | --- | --- | --- | --- | --- | --- | --- | --- |
| Dacia | Dokker MPV | | 1.5 dCi 5MT | K9K 612 | 66 | 89 | Diesel | 2013 | Bosch | EDC17C42 |
| Dacia | Dokker MPV | | 1.5 dCi 5MT | K9K 612 | 55 | 74 | Diesel | 2013 | Bosch | EDC17C42 |
| Dacia | Duster | | 1.5 dCi 5MT | K9K 612 | 66 | 89 | Diesel | 2010 | Bosch | EDC17C42 |
| Dacia | Duster | | 1.5 dCi AWD 6MT | K9K 612 | 66 | 89 | Diesel | 2010 | Bosch | EDC17C42 |
| Dacia | Lodgy MPV | | 1.5 dCi 5MT | K9K 612 | 66 | 89 | Diesel | 2012 | Bosch | EDC17C42 |
| Dacia | Logan | | 1.5 dCi 5MT | K9K 612 | 55 | 74 | Diesel | 2011 | Bosch | EDC17C42 |
| Dacia | Logan | | 1.5 dCi 5MT | K9K 612 | 66 | 89 | Diesel | 2013 | Bosch | EDC17C42 |
| Dacia | Logan Mcv | | 1.5 dCi 5MT | K9K 612 | 55 | 74 | Diesel | 2013 | Bosch | EDC17C42 |
| Dacia | Logan Mcv | | 1.5 dCi 5MT | K9K 612 | 66 | 89 | Diesel | 2013 | Bosch | EDC17C42 |
| Dacia | Sandero | | 1.5 dCi 5MT | K9K 612 | 55 | 74 | Diesel | 2011 | Bosch | EDC17C42 |
| Dacia | Sandero | | 1.5 dCi 5MT | K9K 612 | 66 | 89 | Diesel | 2013 | Bosch | EDC17C42 |
| Dacia | Sandero Stepway | | 1.5 dCi 5MT | K9K 612 | 66 | 89 | Diesel | 2013 | Bosch | EDC17C42 |
| Nissan | Qashqai | ( 1st) | 1.6 16v dCi | R9M | 96 | 129 | Diesel | 2011 | Bosch | EDC17C42 |
| Renault | Captur | | 1.5 dCI | | 66 | 89 | Diesel | 2013 | Bosch | EDC17C42 |
| Renault | Clio | ( 4th) | 1.5 dCI | | 67 | 90 | Diesel | 2013 | Bosch | EDC17C42 |
| Renault | Master | ( 3rd) | 2.3 dCI | M9T | 95 | 127 | Diesel | 2013 | Bosch | EDC17C42 |
| Renault | Megane | | 1.6 dCI | | 95 | 127 | Diesel | 2013 | Bosch | EDC17C42 |
| Renault | Scenic | ( 3rd) | 1.6 dCI | | 95 | 127 | Diesel | 2013 | Bosch | EDC17C42 |
| Renault | Trafic | ( 2nd) | 2.0 dCi | M9R6 | 84 | 113 | Diesel | 2010 | Bosch | EDC17C42 |
Ford Delphi DCM 3.5
| Model | Model Name | Model Family | Engine | Engine Code | KW | HP | Fuel | MY | ECU | ECU Version |
| --- | --- | --- | --- | --- | --- | --- | --- | --- | --- | --- |
| Ford | C-Max | ( 2nd) | 2.0 TDCi | TXDB | 103 | 138 | Diesel | 2010 | Delphi | DCM3.5 |
| Ford | C-Max | ( 2nd) | 2.0 TDCi | TXDB | 120 | 161 | Diesel | 2010 | Delphi | DCM3.5 |
| Ford | Focus | ( 3rd) | 2.0 TDCi (115) PowerShift | TYDA | 84 | 113 | Diesel | 2011 | Delphi | DCM3.5 |
| Ford | Focus | ( 3rd) | 2.0 TDCi (140) | UFDB | 103 | 138 | Diesel | 2011 | Delphi | DCM3.5 |
| Ford | Focus | ( 3rd) | 2.0 TDCi (140) PowerShift | UFDB | 103 | 138 | Diesel | 2011 | Delphi | DCM3.5 |
| Ford | Focus | ( 3rd) | 2.0 TDCi (163) | TXDB | 120 | 161 | Diesel | 2011 | Delphi | DCM3.5 |
| Ford | Focus | ( 3rd) | 2.0 TDCi (163) PowerShift | TXDB | 120 | 161 | Diesel | 2011 | Delphi | DCM3.5 |
| Ford | Galaxy | ( 2nd) | 2.0 TDCi | | 103 | 138 | Diesel | 2010 | Delphi | DCM3.5 |
| Ford | Galaxy | ( 2nd) | 2.0 TDCi | | 120 | 161 | Diesel | 2010 | Delphi | DCM3.5 |
| Ford | Kuga | | 2.0 TDCi | TXDA | 120 | 161 | Diesel | 2010 | Delphi | DCM3.5 |
| Ford | Kuga | | 2.0 TDCi | UFDA | 103 | 138 | Diesel | 2010 | Delphi | DCM3.5 |
| Ford | Mondeo | ( 4th) | 2.0 TDCi | TXBA | 120 | 161 | Diesel | 2010 | Delphi | DCM3.5 |
| Ford | Mondeo | ( 4th) | 2.0 TDCi | QXBA | 103 | 138 | Diesel | 2010 | Delphi | DCM3.5 |
| Ford | S-Max + | | 2.0 TDCi | TYWA | 85 | 114 | Diesel | 2010 | Delphi | DCM3.5 |
| Ford | S-Max + | | 2.0 TDCi | TXWA | 120 | 161 | Diesel | 2010 | Delphi | DCM3.5 |
Opel Delco E98
| Model | Model Name | Engine | Engine Code | KW | HP | Fuel | MY | ECU | ECU Version |
| --- | --- | --- | --- | --- | --- | --- | --- | --- | --- |
| Opel | Astra | 1.6 CDTI ecoFLEX | B16DTH | 100 | 134 | Diesel | 2015 | Ac Delco | E98 |
| Opel | Astra | 1.6 CDTI ecoFLEX | B16DTU | 81 | 109 | Diesel | 2015 | Ac Delco | E98 |
| Opel | Astra | 1.6 CDTI ecoFLEX | B16DTH | 100 | 134 | Diesel | 2015 | Ac Delco | E98 |
| Opel | Insignia | 2.0 CDTI | B20DTH | 125 | 168 | Diesel | 2015 | Ac Delco | E98 |
| Opel | Insignia | 2.0 CDTI | B20DTH | 125 | 168 | Diesel | 2015 | Ac Delco | E98 |
| Opel | Insignia | 2.0 CDTI | B20DTH | 125 | 168 | Diesel | 2015 | Ac Delco | E98 |
| Opel | Mokka | 1.6 CDTI ecoFLEX | B16DTH | 100 | 134 | Diesel | 2015 | Ac Delco | E98 |
Ford Continental SID209
| Model | Model Name | Engine | KW | HP | Fuel | MY | ECU | ECU Version |
| --- | --- | --- | --- | --- | --- | --- | --- | --- |
| Ford | F-250 Super Duty | 6.4 V8 Powerstroke | 261 | 350 | Diesel | 2008 | Continental | SID902 |
| Ford | F-350 Super Duty | 6.4 V8 Powerstroke | 261 | 350 | Diesel | 2008 | Continental | SID902 |
| Ford | F-450 Super Duty | 6.4 V8 Powerstroke | 261 | 350 | Diesel | 2008 | Continental | SID902 |
| Ford | F-550 Super Duty | 6.4 V8 Powerstroke | 261 | 350 | Diesel | 2008 | Continental | SID902 |
Ford Bosch EDC17CP05
| Model | Model Name | Engine | KW | HP | Fuel | MY | ECU | ECU Version |
| --- | --- | --- | --- | --- | --- | --- | --- | --- |
| Ford | F-250 Super Duty | 6.7 V8 Powerstroke | 298 | 400 | Diesel | 2011 | Bosch | EDC17CP05 |
| Ford | F-250 Super Duty | 6.7 V8 Powerstroke | 328 | 440 | Diesel | 2015 | Bosch | EDC17CP05 |
| Ford | F-350 Super Duty | 6.7 V8 Powerstroke | 298 | 400 | Diesel | 2011 | Bosch | EDC17CP05 |
| Ford | F-350 Super Duty | 6.7 V8 Powerstroke | 328 | 440 | Diesel | 2015 | Bosch | EDC17CP05 |
| Ford | F-450 Super Duty | 6.7 V8 Powerstroke | 298 | 400 | Diesel | 2011 | Bosch | EDC17CP05 |
| Ford | F-450 Super Duty | 6.7 V8 Powerstroke | 328 | 440 | Diesel | 2015 | Bosch | EDC17CP05 |
| Ford | F-550 Super Duty | 6.7 V8 Powerstroke | 298 | 400 | Diesel | 2011 | Bosch | EDC17CP05 |
| Ford | F-550 Super Duty | 6.7 V8 Powerstroke | 328 | 440 | Diesel | 2015 | Bosch | EDC17CP05 |
Ford Continental EMS24XX
| Model | Model Name | Engine | KW | HP | Fuel | MY | ECU | ECU Version |
| --- | --- | --- | --- | --- | --- | --- | --- | --- |
| Ford | Mustang | 3.7 Ti-VCT V6 6AT | 224 | 300 | Petrol | 2015 | Continental | EMS24xx |
| Ford | Mustang | 3.7 Ti-VCT V6 6MT | 224 | 300 | Petrol | 2015 | Continental | EMS24xx |
| Ford | Mustang | 5.0 Ti-VCT V8 6AT | 310 | 416 | Petrol | 2015 | Continental | EMS24xx |
| Ford | Mustang | 5.0 Ti-VCT V8 6AT | 320 | 429 | Petrol | 2015 | Continental | EMS24xx |
| Ford | Mustang | 5.0 Ti-VCT V8 6MT | 320 | 429 | Petrol | 2015 | Continental | EMS24xx |
| Ford | Mustang | 5.0 Ti-VCT V8 6MT | 310 | 416 | Petrol | 2015 | Continental | EMS24xx |
| Ford | Mustang Convertible | 3.7 Ti-VCT V6 6AT | 224 | 300 | Petrol | 2015 | Continental | EMS24xx |
| Ford | Mustang Convertible | 3.7 Ti-VCT V6 6MT | 224 | 300 | Petrol | 2015 | Continental | EMS24xx |
| Ford | Mustang Convertible | 5.0 Ti-VCT V8 6AT | 320 | 429 | Petrol | 2015 | Continental | EMS24xx |
| Ford | Mustang Convertible | 5.0 Ti-VCT V8 6AT | 310 | 416 | Petrol | 2015 | Continental | EMS24xx |
| Ford | Mustang Convertible | 5.0 Ti-VCT V8 6MT | 320 | 429 | Petrol | 2015 | Continental | EMS24xx |
| Ford | Mustang Convertible | 5.0 Ti-VCT V8 6MT | 310 | 416 | Petrol | 2015 | Continental | EMS24xx |
Ford Continental 5WY8
| Model | Model Name | Engine | KW | HP | Fuel | MY | ECU | ECU Version |
| --- | --- | --- | --- | --- | --- | --- | --- | --- |
| Ford | Mustang | 5.0 V8 6MT | 307 | 412 | Petrol | 2011 | Continental | 5WY8 |
| Ford | Mustang | 5.0 V8 6MT | 313 | 420 | Petrol | 2013 | Continental | 5WY8 |
| Ford | Mustang | 5.0 V8 AT | 307 | 412 | Petrol | 2011 | Continental | 5WY8 |
| Ford | Mustang | 5.0 V8 AT | 313 | 420 | Petrol | 2013 | Continental | 5WY8 |
| Ford | Mustang | 5.0 V8 California Special 6AT | 313 | 420 | Petrol | 2013 | Continental | 5WY8 |
| Ford | Mustang | 5.0 V8 California Special 6MT | 313 | 420 | Petrol | 2013 | Continental | 5WY8 |
| Ford | Mustang Boss 302 | 5.0 V8 6AT | 331 | 444 | Petrol | 2012 | Continental | 5WY8 |
| Ford | Mustang Boss 302 | 5.0 V8 Laguna Seca 6MT | 331 | 444 | Petrol | 2012 | Continental | 5WY8 |
| Ford | Mustang Convertible | 5.0 V8 6MT | 307 | 412 | Petrol | 2011 | Continental | 5WY8 |
| Ford | Mustang Convertible | 5.0 V8 6MT | 313 | 420 | Petrol | 2013 | Continental | 5WY8 |
| Ford | Mustang Convertible | 5.0 V8 AT | 307 | 412 | Petrol | 2011 | Continental | 5WY8 |
| Ford | Mustang Convertible | 5.0 V8 AT | 313 | 420 | Petrol | 2013 | Continental | 5WY8 |