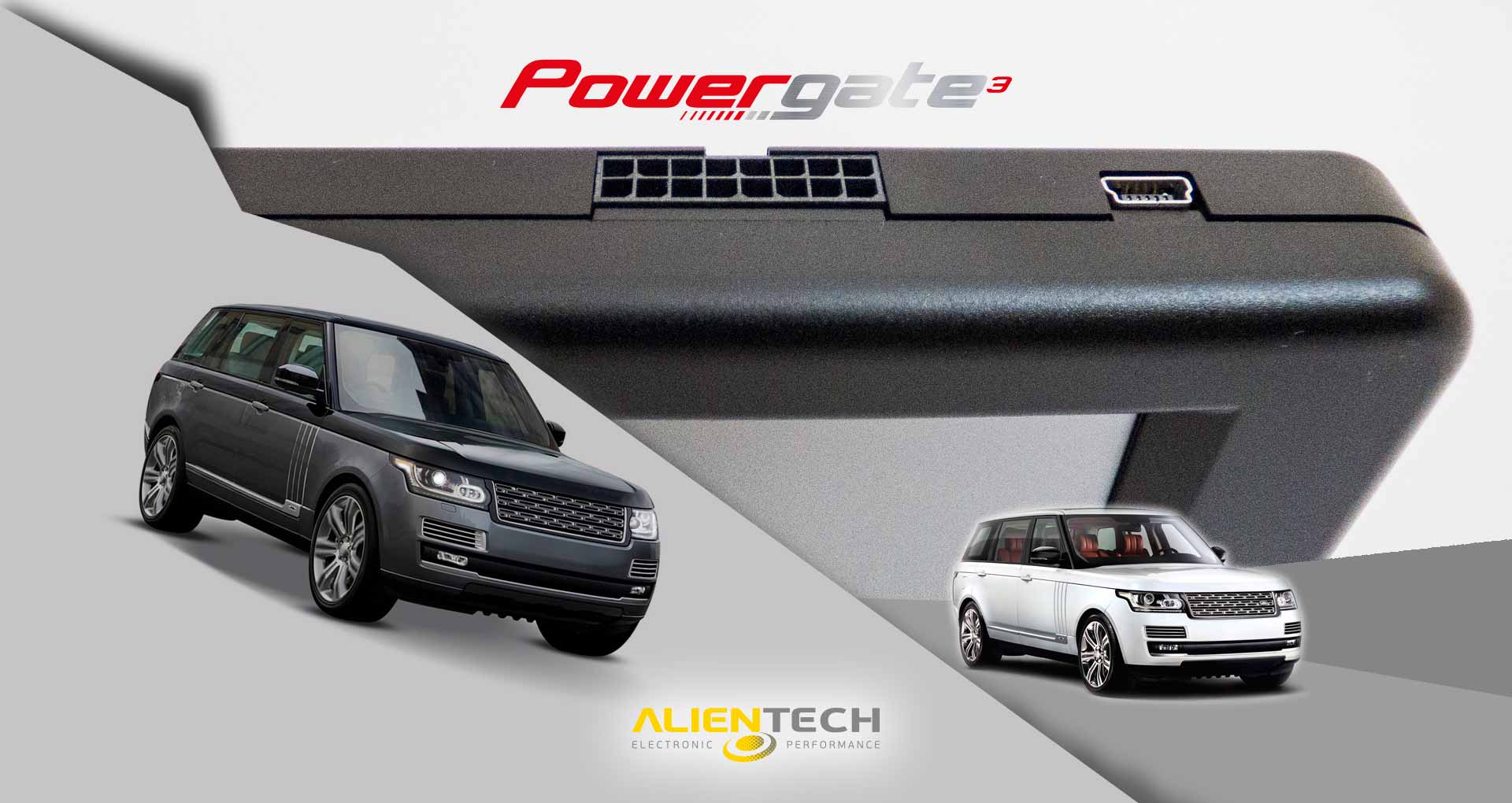 05 Oct 2016

Powergate3 – 1.37

New update for Alientech Manager, the management software for Powergate3. From today, you can work via OBD in a professional and fast way on Land Rover Range Rover 4.4 SDV8 and 3.0 TDV6 equipped with Bosch EDC17CP55. Moreover, by consulting the list, you can find out the latest news about the other protocols and their updated vehicles.

Powergate3 is our latest tool. But in just a few years it has become a benchmark for the Ecu tuning world. The reasons are many: above all, versatility, reliability and the option to be customized, features that allow the retailer to create his own "users' network", according to the requests of the business; in addition, we periodically update the available vehicles – for car, bike and tractor – to rise and increase the interest in this business more and more.

Thanks to Alientech Manager, the new software for Powergate3, you can also customize language, logo, images and vehicles to be selected for your version. Alientech Manager is updated each time our R & D team is able to test a new vehicle: when we find the necessary information, we study and develop what we need to let the vehicle list grow more and more.

Update 1.37 – With this latest update Alientech Manager includes new fundamental Car protocols, much awaited by all tuners. An example? The new Land Rover Bosch EDC17CP55 and much more: new vehicles of the VAG group equipped with EDC17CP14, MED17.5.21 and also Jaguar Denso MB279700 and Ferrari Bosch MED9.6.1! Discover all new vehicles supported.

In addition, our engineering and technical team in charge of Powergate3, improved Alientech Manager software to achieve significant changes that will make your job even faster and more professional. Here's what will change after this update!

– Device Configuration Time reduced by half.

– To load a new template, just go in the "Custom Profiles" section and you will be able to upload the template directly from "Upload to device", after modifying it.
New vehicles availables
Land Rover Bosch EDC17CP55

| Model | Model Name | Model Family | Engine | Engine Code | KW | HP | Fuel | MY | ECU | ECU Version |
| --- | --- | --- | --- | --- | --- | --- | --- | --- | --- | --- |
| Land Rover | Range Rover | ( 4th) | 3.0 TDV6 Autobiography | | 190 | 255 | Diesel | 2015 | Bosch | EDC17CP55 |
| Land Rover | Range Rover | ( 4th) | 3.0 TDV6 HSE | | 190 | 255 | Diesel | 2015 | Bosch | EDC17CP55 |
| Land Rover | Range Rover | ( 4th) | 3.0 TDV6 SE | | 183 | 245 | Diesel | 2015 | Bosch | EDC17CP55 |
| Land Rover | Range Rover | ( 4th) | 3.0 TDV6 Vogue | | 190 | 255 | Diesel | 2015 | Bosch | EDC17CP55 |
| Land Rover | Range Rover | ( 4th) | 4.4 SDV8 Autobiography | 448DT | 249 | 334 | Diesel | 2015 | Bosch | EDC17CP55 |
| Land Rover | Range Rover | ( 4th) | 4.4 SDV8 Vogue | 448DT | 249 | 334 | Diesel | 2015 | Bosch | EDC17CP55 |
Vag Bosch EDC17CP14

| Model | Model Name | Model Family | Engine | Engine Code | KW | HP | Fuel | MY | ECU | ECU Version |
| --- | --- | --- | --- | --- | --- | --- | --- | --- | --- | --- |
| Audi | A3 | ( 2nd-II) | 2.0 TDI (136) | CBAA | 103 | 138 | Diesel | 2008 | Bosch | EDC17CP14 |
| Audi | A3 | ( 2nd-II) | 2.0 TDI (140) Quattro Sportback | CBAB | 103 | 138 | Diesel | 2009 | Bosch | EDC17CP14 |
| Audi | A3 | ( 2nd-II) | 2.0 TDI (140) Sportback | CBAB | 103 | 138 | Diesel | 2009 | Bosch | EDC17CP14 |
| Audi | A3 | ( 2nd-II) | 2.0 TDI (140) Sportback | CBEA | 103 | 138 | Diesel | 2009 | Bosch | EDC17CP14 |
| Audi | A3 | ( 2nd-II) | 2.0 TDI (140) S-Tronic Sportback | CBAB | 103 | 138 | Diesel | 2009 | Bosch | EDC17CP14 |
| Audi | A3 | ( 2nd-II) | 2.0 TDI (140) S-Tronic Sportback | CBEA | 103 | 138 | Diesel | 2009 | Bosch | EDC17CP14 |
| Audi | A3 | ( 2nd-II) | 2.0 TDI (170) Quattro Sportback | CBBB | 125 | 168 | Diesel | 2008 | Bosch | EDC17CP14 |
| Audi | A3 | ( 2nd-II) | 2.0 TDI (170) Quattro Sportback | CFGB | 125 | 168 | Diesel | 2009 | Bosch | EDC17CP14 |
| Audi | A3 | ( 2nd-II) | 2.0 TDI (170) Sportback | CBBB | 125 | 168 | Diesel | 2009 | Bosch | EDC17CP14 |
| Audi | A3 | ( 2nd-II) | 2.0 TDI (170) Sportback | CFGB | 125 | 168 | Diesel | 2009 | Bosch | EDC17CP14 |
| Audi | A3 | ( 2nd-III) | 2.0 TDI (136) | CBAA | 103 | 138 | Diesel | 2008 | Bosch | EDC17CP14 |
| Audi | A3 | ( 2nd-III) | 2.0 TDI (140) | CBAB | 103 | 138 | Diesel | 2009 | Bosch | EDC17CP14 |
| Audi | A3 | ( 2nd-III) | 2.0 TDI (140) Quattro | CBAB | 103 | 138 | Diesel | 2010 | Bosch | EDC17CP14 |
| Audi | A3 | ( 2nd-III) | 2.0 TDI (140) S-Tronic | CBAB | 103 | 138 | Diesel | 2009 | Bosch | EDC17CP14 |
| Audi | A3 | ( 2nd-III) | 2.0 TDI (170) | CBBB | 125 | 168 | Diesel | 2009 | Bosch | EDC17CP14 |
| Audi | A3 | ( 2nd-III) | 2.0 TDI (170) | CFGB | 125 | 168 | Diesel | 2009 | Bosch | EDC17CP14 |
| Audi | A3 | ( 2nd-III) | 2.0 TDI (170) Quattro | CBBB | 125 | 168 | Diesel | 2009 | Bosch | EDC17CP14 |
| Audi | A3 | ( 2nd-III) | 2.0 TDI (170) Quattro | CFGB | 125 | 168 | Diesel | 2009 | Bosch | EDC17CP14 |
| Audi | A3 | ( 2nd-III) | 2.0 TDI (170) S-Tronic | CBBB | 125 | 168 | Diesel | 2009 | Bosch | EDC17CP14 |
| Audi | A3 | ( 2nd-III) | 2.0 TDI (170) S-Tronic | CFGB | 125 | 168 | Diesel | 2009 | Bosch | EDC17CP14 |
| Audi | A4 | ( 4th) | 2.0 TDI (120) | CAGC | 88 | 118 | Diesel | 2008 | Bosch | EDC17CP14 |
| Audi | A4 | ( 4th) | 2.0 TDI (136) | CAGB | 100 | 134 | Diesel | 2009 | Bosch | EDC17CP14 |
| Audi | A4 | ( 4th) | 2.0 TDI (143) | CAGA | 105 | 141 | Diesel | 2007 | Bosch | EDC17CP14 |
| Audi | A4 | ( 4th) | 2.0 TDI (143) | CAGA | 105 | 141 | Diesel | 2009 | Bosch | EDC17CP14 |
| Audi | A4 | ( 4th) | 2.0 TDI (143) | CMEA | 105 | 141 | Diesel | 2010 | Bosch | EDC17CP14 |
| Audi | A4 | ( 4th) | 2.0 TDI (143) Multitronic | CAGA | 105 | 141 | Diesel | 2007 | Bosch | EDC17CP14 |
| Audi | A4 | ( 4th) | 2.0 TDI (143) Multitronic | CAGA | 105 | 141 | Diesel | 2009 | Bosch | EDC17CP14 |
| Audi | A4 | ( 4th) | 2.0 TDI (143) Multitronic | CMEA | 105 | 141 | Diesel | 2010 | Bosch | EDC17CP14 |
| Audi | A4 | ( 4th) | 2.0 TDI (143) Quattro | CAGA | 105 | 141 | Diesel | 2008 | Bosch | EDC17CP14 |
| Audi | A4 | ( 4th) | 2.0 TDI (163) | CAHB | 120 | 161 | Diesel | 2008 | Bosch | EDC17CP14 |
| Audi | A4 | ( 4th) | 2.0 TDI (163) Multitronic | CAHB | 120 | 161 | Diesel | 2008 | Bosch | EDC17CP14 |
| Audi | A4 | ( 4th) | 2.0 TDI (170) | CAHA | 125 | 168 | Diesel | 2008 | Bosch | EDC17CP14 |
| Audi | A4 | ( 4th) | 2.0 TDI (170) Quattro | CAHA | 125 | 168 | Diesel | 2009 | Bosch | EDC17CP14 |
| Audi | A4 | ( 4th) | 2.0 TDI E | CAGB | 100 | 134 | Diesel | 2009 | Bosch | EDC17CP14 |
| Audi | A4 | ( 4th) | 2.7 TDI | CGKA | 140 | 188 | Diesel | 2008 | Bosch | EDC17CP14 |
| Audi | A4 | ( 4th) | 2.7 TDI | CGKB | 120 | 161 | Diesel | 2008 | Bosch | EDC17CP14 |
| Audi | A4 | ( 4th) | 2.7 TDI Multitronic | CAMB | 120 | 161 | Diesel | 2007 | Bosch | EDC17CP14 |
| Audi | A4 | ( 4th) | 2.7 TDI Multitronic | CGKA | 140 | 188 | Diesel | 2008 | Bosch | EDC17CP14 |
| Audi | A4 | ( 4th) | 2.7 TDI Multitronic | CGKB | 120 | 161 | Diesel | 2008 | Bosch | EDC17CP14 |
| Audi | A4 | ( 4th) | 3.0 TDI Quattro | CCWA | 176 | 236 | Diesel | 2008 | Bosch | EDC17CP14 |
| Audi | A4 | ( 4th) | 3.0 TDI Quattro | CCWB | 155 | 208 | Diesel | 2008 | Bosch | EDC17CP14 |
| Audi | A4 | ( 4th) | 3.0 TDI Quattro S-Tronic | CCWA | 176 | 236 | Diesel | 2009 | Bosch | EDC17CP14 |
| Audi | A4 | ( 4th) | 3.0 TDI Quattro Tiptronic | CCWA | 176 | 236 | Diesel | 2008 | Bosch | EDC17CP14 |
| Audi | A4 | ( 4th) | 3.0 TDI Quattro Tiptronic | CCWB | 155 | 208 | Diesel | 2008 | Bosch | EDC17CP14 |
| Audi | A5 | ( 1st) | 2.0 TDI (136) Multitronic Sportback | CAGB | 100 | 134 | Diesel | 2009 | Bosch | EDC17CP14 |
| Audi | A5 | ( 1st) | 2.0 TDI (136) Sportback | CAGB | 100 | 134 | Diesel | 2010 | Bosch | EDC17CP14 |
| Audi | A5 | ( 1st) | 2.0 TDI (143) Multitronic Sportback | CAGA | 105 | 141 | Diesel | 2009 | Bosch | EDC17CP14 |
| Audi | A5 | ( 1st) | 2.0 TDI (143) Multitronic Sportback | CMEA | 105 | 141 | Diesel | 2010 | Bosch | EDC17CP14 |
| Audi | A5 | ( 1st) | 2.0 TDI (143) Sportback | CAGA | 105 | 141 | Diesel | 2010 | Bosch | EDC17CP14 |
| Audi | A5 | ( 1st) | 2.0 TDI (143) Sportback | CMEA | 105 | 141 | Diesel | 2010 | Bosch | EDC17CP14 |
| Audi | A5 | ( 1st) | 2.0 TDI Coupe | CAHA | 125 | 168 | Diesel | 2008 | Bosch | EDC17CP14 |
| Audi | A5 | ( 1st) | 2.0 TDI Quattro Coupe | CAHA | 125 | 168 | Diesel | 2008 | Bosch | EDC17CP14 |
| Audi | A5 | ( 1st) | 2.7 TDI Cabriolet | CGKA | 140 | 188 | Diesel | 2009 | Bosch | EDC17CP14 |
| Audi | A5 | ( 1st) | 2.7 TDI Cabriolet | CGKB | 120 | 161 | Diesel | 2009 | Bosch | EDC17CP14 |
| Audi | A5 | ( 1st) | 2.7 TDI Coupe | CGKA | 140 | 188 | Diesel | 2009 | Bosch | EDC17CP14 |
| Audi | A5 | ( 1st) | 2.7 TDI Coupe | CGKB | 120 | 161 | Diesel | 2009 | Bosch | EDC17CP14 |
| Audi | A5 | ( 1st) | 2.7 TDI Multitronic Cabriolet | CGKA | 140 | 188 | Diesel | 2009 | Bosch | EDC17CP14 |
| Audi | A5 | ( 1st) | 2.7 TDI Multitronic Cabriolet | CGKB | 120 | 161 | Diesel | 2009 | Bosch | EDC17CP14 |
| Audi | A5 | ( 1st) | 2.7 TDI Multitronic Coupe | CGKA | 140 | 188 | Diesel | 2009 | Bosch | EDC17CP14 |
| Audi | A5 | ( 1st) | 2.7 TDI Multitronic Coupe | CGKB | 120 | 161 | Diesel | 2009 | Bosch | EDC17CP14 |
| Audi | A5 | ( 1st) | 2.7 TDI Multitronic Sportback | CGKB | 120 | 161 | Diesel | 2009 | Bosch | EDC17CP14 |
| Audi | A5 | ( 1st) | 2.7 TDI Sportback | CGKA | 140 | 188 | Diesel | 2009 | Bosch | EDC17CP14 |
| Audi | A5 | ( 1st) | 2.7 TDI Sportback | CGKB | 120 | 161 | Diesel | 2009 | Bosch | EDC17CP14 |
| Audi | A5 | ( 1st) | 2.7 TDI Sportback Multitronic | CGKA | 140 | 188 | Diesel | 2009 | Bosch | EDC17CP14 |
| Audi | A5 | ( 1st) | 3.0 TDI Quattro Coupe | CCWA | 176 | 236 | Diesel | 2009 | Bosch | EDC17CP14 |
| Audi | A5 | ( 1st) | 3.0 TDI Quattro Sportback | CCWA | 176 | 236 | Diesel | 2009 | Bosch | EDC17CP14 |
| Audi | A5 | ( 1st) | 3.0 TDI Quattro Sportback | CCWB | 155 | 208 | Diesel | 2009 | Bosch | EDC17CP14 |
| Audi | A5 | ( 1st) | 3.0 TDI Quattro S-Tronic Cabriolet | CCWA | 176 | 236 | Diesel | 2009 | Bosch | EDC17CP14 |
| Audi | A5 | ( 1st) | 3.0 TDI Quattro S-Tronic Coupe | CCWA | 176 | 236 | Diesel | 2009 | Bosch | EDC17CP14 |
| Audi | A5 | ( 1st) | 3.0 TDI Quattro S-Tronic Sportback | CCWA | 176 | 236 | Diesel | 2009 | Bosch | EDC17CP14 |
| Audi | A5 | ( 1st) | 3.0 TDI Quattro S-Tronic Sportback | CCWB | 155 | 208 | Diesel | 2009 | Bosch | EDC17CP14 |
| Audi | A5 | ( 2nd) | 2.0 TDI (143) Multitronic Sportback | CMEA | 105 | 141 | Diesel | 2011 | Bosch | EDC17CP14 |
| Audi | A5 | ( 2nd) | 2.0 TDI (143) Sportback | CMEA | 105 | 141 | Diesel | 2011 | Bosch | EDC17CP14 |
| Audi | A6 | ( 3rd-II) | 2.0 16v TDI (136) Multitronic | CAGB | 100 | 134 | Diesel | 2010 | Bosch | EDC17CP14 |
| Audi | A6 | ( 3rd-II) | 2.0 16v TDI (170) DPF | CAHA | 125 | 168 | Diesel | 2009 | Bosch | EDC17CP14 |
| Audi | A6 | ( 3rd-II) | 2.0 16v TDI (170) Multitronic | CAHA | 125 | 168 | Diesel | 2009 | Bosch | EDC17CP14 |
| Audi | A6 | ( 3rd-II) | 2.0 16v TDI E | CAGB | 100 | 134 | Diesel | 2010 | Bosch | EDC17CP14 |
| Audi | A6 | ( 3rd-II) | 2.7 V6 TDI (163) DPF | CAHB | 120 | 161 | Diesel | 2008 | Bosch | EDC17CP14 |
| Audi | A6 | ( 3rd-II) | 2.7 V6 TDI (163) DPF | CANB | 120 | 161 | Diesel | 2009 | Bosch | EDC17CP14 |
| Audi | A6 | ( 3rd-II) | 2.7 V6 TDI (163) Multitronic DPF | CAHB | 120 | 161 | Diesel | 2009 | Bosch | EDC17CP14 |
| Audi | A6 | ( 3rd-II) | 2.7 V6 TDI (163) Multitronic DPF | CANB | 120 | 161 | Diesel | 2009 | Bosch | EDC17CP14 |
| Audi | A6 | ( 3rd-II) | 2.7 V6 TDI (163) Quattro Tiptronic DPF | CAND | 120 | 161 | Diesel | 2009 | Bosch | EDC17CP14 |
| Audi | A6 | ( 3rd-II) | 2.7 V6 TDI (190) DPF | CANA | 140 | 188 | Diesel | 2009 | Bosch | EDC17CP14 |
| Audi | A6 | ( 3rd-II) | 2.7 V6 TDI (190) Multitronic DPF | CANA | 140 | 188 | Diesel | 2009 | Bosch | EDC17CP14 |
| Audi | A6 | ( 3rd-II) | 2.7 V6 TDI (190) Quattro Tiptronic DPF | CANC | 140 | 188 | Diesel | 2009 | Bosch | EDC17CP14 |
| Audi | A6 | ( 3rd-II) | 3.0 V6 TDI Quattro DPF | CDYA | 176 | 236 | Diesel | 2009 | Bosch | EDC17CP14 |
| Audi | A6 | ( 3rd-II) | 3.0 V6 TDI Quattro DPF | CDYB | 155 | 208 | Diesel | 2009 | Bosch | EDC17CP14 |
| Audi | A6 | ( 3rd-II) | 3.0 V6 TDI Quattro DPF | CDYC | 176 | 236 | Diesel | 2009 | Bosch | EDC17CP14 |
| Audi | A6 | ( 3rd-II) | 3.0 V6 TDI Quattro Tiptronic DPF | CDYA | 176 | 236 | Diesel | 2009 | Bosch | EDC17CP14 |
| Audi | A6 | ( 3rd-II) | 3.0 V6 TDI Quattro Tiptronic DPF | CDYB | 155 | 208 | Diesel | 2009 | Bosch | EDC17CP14 |
| Audi | A6 | ( 3rd-II) | 3.0 V6 TDI Quattro Tiptronic DPF | CDYC | 176 | 236 | Diesel | 2009 | Bosch | EDC17CP14 |
| Audi | A6 Allroad | ( 2nd-II) | 2.7 V6 TDI Quattro Triptronic | CANC | 140 | 188 | Diesel | 2008 | Bosch | EDC17CP14 |
| Audi | A6 Allroad | ( 2nd-II) | 2.7 V6 TDI Quattro Triptronic | CAND | 120 | 161 | Diesel | 2008 | Bosch | EDC17CP14 |
| Audi | A6 Allroad | ( 2nd-II) | 3.0 V6 TDI Quattro | CDYA | 176 | 236 | Diesel | 2008 | Bosch | EDC17CP14 |
| Audi | A6 Allroad | ( 2nd-II) | 3.0 V6 TDI Quattro | CDYB | 155 | 208 | Diesel | 2008 | Bosch | EDC17CP14 |
| Audi | A6 Allroad | ( 2nd-II) | 3.0 V6 TDI Quattro | CDYC | 176 | 236 | Diesel | 2008 | Bosch | EDC17CP14 |
| Audi | A6 Allroad | ( 2nd-II) | 3.0 V6 TDI Quattro Tiptronic | CDYA | 176 | 236 | Diesel | 2008 | Bosch | EDC17CP14 |
| Audi | A6 Allroad | ( 2nd-II) | 3.0 V6 TDI Quattro Tiptronic | CDYB | 155 | 208 | Diesel | 2008 | Bosch | EDC17CP14 |
| Audi | A6 Allroad | ( 2nd-II) | 3.0 V6 TDI Quattro Tiptronic | CDYC | 176 | 236 | Diesel | 2008 | Bosch | EDC17CP14 |
| Audi | Q5 | ( 1st) | 2.0 16v TDI | CAGA | 105 | 141 | Diesel | 2009 | Bosch | EDC17CP14 |
| Audi | Q5 | ( 1st) | 2.0 16v TDI | CAGB | 100 | 134 | Diesel | 2009 | Bosch | EDC17CP14 |
| Audi | Q5 | ( 1st) | 2.0 16v TDI | CAHA | 125 | 168 | Diesel | 2008 | Bosch | EDC17CP14 |
| Audi | Q5 | ( 1st) | 2.0 16v TDI | CAHB | 120 | 161 | Diesel | 2008 | Bosch | EDC17CP14 |
| Audi | Q5 | ( 1st) | 3.0 V6 24v TDI | CCWA | 176 | 236 | Diesel | 2008 | Bosch | EDC17CP14 |
| Audi | Q5 | ( 1st) | 3.0 V6 24v TDI | CCWB | 155 | 208 | Diesel | 2008 | Bosch | EDC17CP14 |
| Audi | Tt | ( 2nd) | 2.0 16v TDI | CBBB | 125 | 168 | Diesel | 2008 | Bosch | EDC17CP14 |
| Seat | Exeo | ( 1st) | 2.0 16v TDI | CAGA | 105 | 141 | Diesel | 2008 | Bosch | EDC17CP14 |
| Seat | Exeo | ( 1st) | 2.0 16v TDI | CAHA | 125 | 168 | Diesel | 2009 | Bosch | EDC17CP14 |
| Skoda | Octavia | ( 2nd) | 2.0 16v TDI | CEGA | 125 | 168 | Diesel | 2008 | Bosch | EDC17CP14 |
| Skoda | Superb | ( 2nd) | 2.0 16v TDI | CBBB | 125 | 168 | Diesel | 2008 | Bosch | EDC17CP14 |
| Skoda | Yeti | ( 1st) | 2.0 16v TDI | CEGA | 125 | 168 | Diesel | 2009 | Bosch | EDC17CP14 |
| Volkswagen | Beetle | ( 1st) | 2.0 TDI | CJJA | 103 | 138 | Diesel | 2012 | Bosch | EDC17CP14 |
| Volkswagen | Beetle | ( 1st) | 2.0 TDI DSG | CJJA | 103 | 138 | Diesel | 2012 | Bosch | EDC17CP14 |
| Volkswagen | California | | 2.0 16v TDI | CCHA | 103 | 138 | Diesel | 2009 | Bosch | EDC17CP14 |
| Volkswagen | Eos | ( 1st) | 2.0 16v TDI | CBAB | 103 | 138 | Diesel | 2008 | Bosch | EDC17CP14 |
| Volkswagen | Eos | ( 1st) | 2.0 16v TDI | CFBB | 103 | 138 | Diesel | 2009 | Bosch | EDC17CP14 |
| Volkswagen | Golf | ( 6th) | 2.0 16v TDI | CBAA | 103 | 138 | Diesel | 2008 | Bosch | EDC17CP14 |
| Volkswagen | Golf | ( 6th) | 2.0 16v TDI | CBAB | 103 | 138 | Diesel | 2008 | Bosch | EDC17CP14 |
| Volkswagen | Golf | ( 6th) | 2.0 16v TDI | CBDA | 100 | 134 | Diesel | 2008 | Bosch | EDC17CP14 |
| Volkswagen | Golf | ( 6th) | 2.0 16v TDI | CBDB | 103 | 138 | Diesel | 2008 | Bosch | EDC17CP14 |
| Volkswagen | Golf | ( 6th) | 2.0 16v TDI | CBDC | 81 | 109 | Diesel | 2008 | Bosch | EDC17CP14 |
| Volkswagen | Golf | ( 6th) | 2.0 16v TDI | CJAA | 103 | 138 | Diesel | 2009 | Bosch | EDC17CP14 |
| Volkswagen | Golf | ( 6th) | 2.0 16v TDI GTD | CBBB | 125 | 168 | Diesel | 2009 | Bosch | EDC17CP14 |
| Volkswagen | Golf | ( 6th) | 2000 16v TDI | CJAA | 103 | 138 | Diesel | 2012 | Bosch | EDC17CP14 |
| Volkswagen | Golf Plus | ( 6th) | 2.0 16v TDI | CBDA | 100 | 134 | Diesel | 2009 | Bosch | EDC17CP14 |
| Volkswagen | Golf Plus | ( 6th) | 2.0 16v TDI | CBDB | 103 | 138 | Diesel | 2009 | Bosch | EDC17CP14 |
| Volkswagen | Golf Plus | ( 6th) | 2.0 16v TDI | CBDC | 81 | 109 | Diesel | 2009 | Bosch | EDC17CP14 |
| Volkswagen | Jetta | ( 5th) | 2.0 16v TDI | CBDB | 103 | 138 | Diesel | 2007 | Bosch | EDC17CP14 |
| Volkswagen | Jetta | ( 5th) | 2.0 16v TDI | CBEA | 103 | 138 | Diesel | 2007 | Bosch | EDC17CP14 |
| Volkswagen | Jetta | ( 5th) | 2.0 16v TDI | CEGA | 125 | 168 | Diesel | 2008 | Bosch | EDC17CP14 |
| Volkswagen | Jetta | ( 6th) | 2.0 16v TDI | CBDB | 103 | 138 | Diesel | 2010 | Bosch | EDC17CP14 |
| Volkswagen | Jetta | ( 6th) | 2.0 16v TDI | CJAA | 103 | 138 | Diesel | 2009 | Bosch | EDC17CP14 |
| Volkswagen | Jetta | ( 6th) | 2.0 16v TDI (CR) | CBDB | 103 | 138 | Diesel | 2010 | Bosch | EDC17CP14 |
| Volkswagen | Multivan | | 2.0 16v TDI | CCHA | 103 | 138 | Diesel | 2009 | Bosch | EDC17CP14 |
| Volkswagen | Passat | ( 6th) | 2.0 16v TDI | CBAA | 103 | 138 | Diesel | 2008 | Bosch | EDC17CP14 |
| Volkswagen | Passat | ( 6th) | 2.0 16v TDI | CBAB | 103 | 138 | Diesel | 2007 | Bosch | EDC17CP14 |
| Volkswagen | Passat | ( 6th) | 2.0 16v TDI | CBAC | 105 | 141 | Diesel | 2008 | Bosch | EDC17CP14 |
| Volkswagen | Passat | ( 6th) | 2.0 16v TDI | CBBB | 125 | 168 | Diesel | 2008 | Bosch | EDC17CP14 |
| Volkswagen | Passat | ( 6th) | 2.0 16v TDI | CBDC | 81 | 109 | Diesel | 2008 | Bosch | EDC17CP14 |
| Volkswagen | Passat | ( 7th) | 2.0 16v TDI | CBAB | 103 | 138 | Diesel | 2009 | Bosch | EDC17CP14 |
| Volkswagen | Passat | ( 7th) | 2.0 16v TDI | CFAA | 100 | 134 | Diesel | 2010 | Bosch | EDC17CP14 |
| Volkswagen | Passat Cc | ( 1st) | 2.0 16v TDI | CBAA | 103 | 138 | Diesel | 2008 | Bosch | EDC17CP14 |
| Volkswagen | Passat Cc | ( 1st) | 2.0 16v TDI | CBAB | 103 | 138 | Diesel | 2008 | Bosch | EDC17CP14 |
| Volkswagen | Passat Cc | ( 1st) | 2.0 16v TDI | CBAC | 105 | 141 | Diesel | 2009 | Bosch | EDC17CP14 |
| Volkswagen | Passat Cc | ( 1st) | 2.0 16v TDI | CBBB | 125 | 168 | Diesel | 2008 | Bosch | EDC17CP14 |
| Volkswagen | Scirocco | ( 3rd) | 2.0 16v TDI | CBBB | 125 | 168 | Diesel | 2009 | Bosch | EDC17CP14 |
| Volkswagen | Scirocco | ( 3rd) | 2.0 16v TDI | CBDB | 103 | 138 | Diesel | 2008 | Bosch | EDC17CP14 |
| Volkswagen | Tiguan | ( 1st) | 2.0 16v TDI | CBAA | 103 | 138 | Diesel | 2007 | Bosch | EDC17CP14 |
| Volkswagen | Tiguan | ( 1st) | 2.0 16v TDI | CBAB | 103 | 138 | Diesel | 2007 | Bosch | EDC17CP14 |
| Volkswagen | Tiguan | ( 1st) | 2.0 16v TDI | CBBA | 120 | 161 | Diesel | 2008 | Bosch | EDC17CP14 |
| Volkswagen | Tiguan | ( 1st) | 2.0 16v TDI | CBBB | 125 | 168 | Diesel | 2008 | Bosch | EDC17CP14 |
| Volkswagen | Touareg | ( 1st) | 3.0 V6 24v TDI | CASA | 176 | 236 | Diesel | 2007 | Bosch | EDC17CP14 |
| Volkswagen | Touareg | ( 1st) | 3.0 V6 24v TDI | CASA | 176 | 236 | Diesel | 2007 | Bosch | EDC17CP14 |
| Volkswagen | Touareg | ( 1st) | 3.0 V6 24v TDI | CASB | 155 | 208 | Diesel | 2007 | Bosch | EDC17CP14 |
| Volkswagen | Touareg | ( 1st) | 3.0 V6 24v TDI | CASC | 176 | 236 | Diesel | 2008 | Bosch | EDC17CP14 |
| Volkswagen | Touareg | ( 1st) | 3.0 V6 24v TDI | CATA | 165 | 221 | Diesel | 2008 | Bosch | EDC17CP14 |
| Volkswagen | Touareg | ( 2nd) | 3.0 V6 24v TDI | CASA | 176 | 236 | Diesel | 2010 | Bosch | EDC17CP14 |
| Volkswagen | Touareg | ( 2nd) | 3.0 V6 24v TDI | CASA | 176 | 236 | Diesel | 2010 | Bosch | EDC17CP14 |
| Volkswagen | Touareg | ( 2nd) | 3.0 V6 24v TDI | CASD | 150 | 201 | Diesel | 2010 | Bosch | EDC17CP14 |
| Volkswagen | Touareg | ( 2nd) | 3.0 V6 24v TDI | CATA | 165 | 221 | Diesel | 2010 | Bosch | EDC17CP14 |
| Volkswagen | Transporter | | 2.0 16v TDI | CCHA | 103 | 138 | Diesel | 2009 | Bosch | EDC17CP14 |
Ferrari Bosch MED9.6.1
| Model | Model Name | Engine | Engine Code | KW | HP | Fuel | MY | ECU | ECU Version |
| --- | --- | --- | --- | --- | --- | --- | --- | --- | --- |
| Ferrari | 458 Italia | 4.5 V8 Italia | F136FB | 425 | 570 | F136FB | 2010 | Bosch | MED9.6.1 |
| Ferrari | 458 Italia | 4.5 V8 Speciale | F136FB | 445 | 597 | F136FB | 2014 | Bosch | MED9.6.1 |
| Ferrari | 458 Italia | 4.5 V8 Speciale A | F136FB | 445 | 597 | F136FB | 2014 | Bosch | MED9.6.1 |
| Ferrari | 458 Italia | 4.5 V8 Spider | F136FB | 425 | 570 | F136FB | 2011 | Bosch | MED9.6.1 |
| Ferrari | California | 4.3 V8 | F136IB | 338 | 453 | F136IB | 2009 | Bosch | MED9.6.1 |
| Ferrari | California | 4.3 V8 F1 | F136IB | 338 | 453 | F136IB | 2009 | Bosch | MED9.6.1 |
| Ferrari | California | 4.3 V8 F1 | F136IB | 360 | 483 | F136IB | 2012 | Bosch | MED9.6.1 |
| Ferrari | F12 Berlinetta | 6.2 V12 | | 545 | 731 | | 2012 | Bosch | MED9.6.1 |
| Ferrari | Ff | 6.2 V12 | F140EB | 485 | 650 | F140EB | 2011 | Bosch | MED9.6.1 |
Jaguar \ Land Rover Denso MB279700

| Model | Model Name | Engine | Engine Code | KW | HP | Fuel | MY | ECU | ECU Version |
| --- | --- | --- | --- | --- | --- | --- | --- | --- | --- |
| Jaguar | S-Type | 4.2 V8 R | AJ34 | 291 | 390 | Petrol | 2007 | Denso | MB279700 |
| Jaguar | Xf | 4.2 V8 Supercharged | AJ34 | 306 | 410 | Petrol | 2008 | Denso | MB279700 |
| Jaguar | Xj | 4.2 V8 Supercharged XJR | AJ34 | 291 | 390 | Petrol | 2006 | Denso | MB279700 |
| Jaguar | Xj | 4.2 V8 Supercharged XJR | AJ34 | 291 | 390 | Petrol | 2008 | Denso | MB279700 |
| Jaguar | Xk | 4.2 V8 XKR | AJ34 | 291 | 390 | Petrol | 2002 | Denso | MB079700 |
| Jaguar | Xk | 4.2 V8 XKR | AJ34 | 306 | 410 | Petrol | 2006 | Denso | MB279700 |
Vag Bosch MED17.5.21
| Model | Model Name | Model Family | Engine | Engine Code | KW | HP | Fuel | MY | ECU | ECU Version |
| --- | --- | --- | --- | --- | --- | --- | --- | --- | --- | --- |
| Audi | A3 | ( 3rd) | 1.2 TFSI (105) | CJZA | 77 | 103 | Petrol | 2013 | Bosch | MED17.5.21 |
| Audi | A3 | ( 3rd) | 1.2 TFSI (105) Sportback | CJZA | 77 | 103 | Petrol | 2013 | Bosch | MED17.5.21 |
| Audi | A3 | ( 3rd) | 1.2 TFSI (105) S-Tronic | CJZA | 77 | 103 | Petrol | 2013 | Bosch | MED17.5.21 |
| Audi | A3 | ( 3rd) | 1.2 TFSI (105) S-Tronic Sportback | CJZA | 77 | 103 | Petrol | 2013 | Bosch | MED17.5.21 |
| Audi | A3 | ( 3rd) | 1.4 TFSI (122) | CXSA | 90 | 121 | Petrol | 2013 | Bosch | MED17.5.21 |
| Audi | A3 | ( 3rd) | 1.4 TFSI (122) Sportback | CXSA | 90 | 121 | Petrol | 2013 | Bosch | MED17.5.21 |
| Audi | A3 | ( 3rd) | 1.4 TFSI (122) S-Tronic | CXSA | 90 | 121 | Petrol | 2014 | Bosch | MED17.5.21 |
| Audi | A3 | ( 3rd) | 1.4 TFSI (122) S-Tronic Sportback | CXSA | 90 | 121 | Petrol | 2013 | Bosch | MED17.5.21 |
| Audi | A3 | ( 3rd) | 1.4 TFSI (125) | CXSB | 92 | 123 | Petrol | 2014 | Bosch | MED17.5.21 |
| Audi | A3 | ( 3rd) | 1.4 TFSI (125) Sedan | CXSB | 92 | 123 | Petrol | 2013 | Bosch | MED17.5.21 |
| Audi | A3 | ( 3rd) | 1.4 TFSI (125) Sportback | CXSB | 92 | 123 | Petrol | 2014 | Bosch | MED17.5.21 |
| Audi | A3 | ( 3rd) | 1.4 TFSI (125) S-Tronic | CXSB | 92 | 123 | Petrol | 2014 | Bosch | MED17.5.21 |
| Audi | A3 | ( 3rd) | 1.4 TFSI (125) S-Tronic Sedan | CXSB | 92 | 123 | Petrol | 2014 | Bosch | MED17.5.21 |
| Audi | A3 | ( 3rd) | 1.4 TFSI (125) S-Tronic Sportback | CXSB | 92 | 123 | Petrol | 2014 | Bosch | MED17.5.21 |
| Audi | A3 | ( 3rd) | 1.4 TFSI G-Tron Sportback | CPWA | 81 | 109 | Petrol | 2014 | Bosch | MED17.5.21 |
| Audi | A3 | ( 3rd) | 1.4 TFSI G-Tron S-Tronic Sportback | CPWA | 81 | 109 | Petrol | 2014 | Bosch | MED17.5.21 |
| Audi | Q3 | ( 1st) | 1.4 16v TFSI | CHPB | 110 | 148 | Petrol | 2013 | Bosch | MED17.5.25 |
| Audi | Tt | ( 2nd) | 1400 16v TSI | | 90 | 121 | Petrol | 2013 | Bosch | MED17.5.21 |
| Seat | Leon | ( 3rd) | 1.2 16v TSI | CJZB | 63 | 84 | Petrol | 2012 | Bosch | MED17.5.21 |
| Seat | Leon | ( 3rd) | 1.2 16v TSI | CJZA | 77 | 103 | Petrol | 2013 | Bosch | MED17.5.21 |
| Seat | Leon | ( 3rd) | 1.4 16v TGI | CPWA | 81 | 109 | Petrol | 2014 | Bosch | MED17.5.21 |
| Skoda | Octavia | ( 3rd) | 1200 16v TSI | CJZB | 63 | 84 | Petrol | 2012 | Bosch | MED17.5.21 |
| Skoda | Octavia | ( 3rd) | 1200 16v TSI | CJZA | 77 | 103 | Petrol | 2012 | Bosch | MED17.5.21 |
| Volkswagen | Golf | ( 7th) | 1.2 16v TSI | CJZB | 63 | 84 | Petrol | 2012 | Bosch | MED17.5.21 |
| Volkswagen | Golf | ( 7th) | 1.2 16v TSI | CJZA | 77 | 103 | Petrol | 2013 | Bosch | MED17.5.21 |
| Volkswagen | Golf | ( 7th) | 1.2 16v TSI | CJZA | 77 | 103 | Petrol | 2012 | Bosch | MED17.5.21 |
| Volkswagen | Golf | ( 7th) | 1.2 16v TSI | CYVB | 81 | 109 | Petrol | 2013 | Bosch | MED17.5.25 |
| Volkswagen | Golf | ( 7th) | 1.2 16v TSI DSG | CJZA | 77 | 103 | Petrol | 2012 | Bosch | MED17.5.21 |
| Volkswagen | Golf | ( 7th) | 1.2 16v TSI DSG | CYVB | 81 | 109 | Petrol | 2013 | Bosch | MED17.5.25 |
| Volkswagen | Golf | ( 7th) | 1.4 16v TGI | CPWA | 81 | 109 | Petrol | 2013 | Bosch | MED17.5.21 |
| Volkswagen | Golf | ( 7th) | 1.4 16v TGI DSG | CPWA | 81 | 109 | Petrol | 2013 | Bosch | MED17.5.21 |
| Volkswagen | Golf | ( 7th) | 1.4 16v TSI | CMBA | 90 | 121 | Petrol | 2012 | Bosch | MED17.5.21 |
| Volkswagen | Golf | ( 7th) | 1.4 16v TSI | CHPA | 103 | 138 | Petrol | 2012 | Bosch | MED17.5.21 |
| Volkswagen | Golf | ( 7th) | 1.4 16v TSI | CZDA | 110 | 148 | Petrol | 2014 | Bosch | MED17.5.25 |
| Volkswagen | Golf | ( 7th) | 1.4 16v TSI | CZCA | 92 | 123 | Petrol | 2014 | Bosch | MED17.5.25 |
| Volkswagen | Golf | ( 7th) | 1.4 16v TSI | CXSA | 103 | 138 | Petrol | 2013 | Bosch | MED17.5.21 |
| Volkswagen | Golf | ( 7th) | 1.4 16v TSI | CZEA | 110 | 148 | Petrol | 2014 | Bosch | MED17.5.25 |
| Volkswagen | Golf | ( 7th) | 1.4 16v TSI ACT | CPTA | 103 | 138 | Petrol | 2012 | Bosch | MED17.5.21 |
| Volkswagen | Golf | ( 7th) | 1.4 16v TSI ACT DSG | CPTA | 103 | 138 | Petrol | 2012 | Bosch | MED17.5.21 |
| Volkswagen | Golf | ( 7th) | 1.4 16v TSI DSG | CMBA | 90 | 121 | Petrol | 2012 | Bosch | MED17.5.21 |
| Volkswagen | Golf | ( 7th) | 1.4 16v TSI DSG | CHPA | 103 | 138 | Petrol | 2012 | Bosch | MED17.5.21 |
| Volkswagen | Golf | ( 7th) | 1.4 16v TSI DSG | CZDA | 110 | 148 | Petrol | 2014 | Bosch | MED17.5.25 |
| Volkswagen | Golf | ( 7th) | 1.4 16v TSI DSG | CZCA | 92 | 123 | Petrol | 2014 | Bosch | MED17.5.25 |
| Volkswagen | Golf | ( 7th) | 1.4 16v TSI DSG | CXSA | 103 | 138 | Petrol | 2013 | Bosch | MED17.5.21 |
| Volkswagen | Golf | ( 7th) | 1.4 16v TSI DSG | CZEA | 110 | 148 | Petrol | 2014 | Bosch | MED17.5.25 |
| Volkswagen | Polo | ( 5th) | 1.2 16v TSI | CJZD | 81 | 109 | Petrol | Petrol | Bosch | MED17.5.25 |