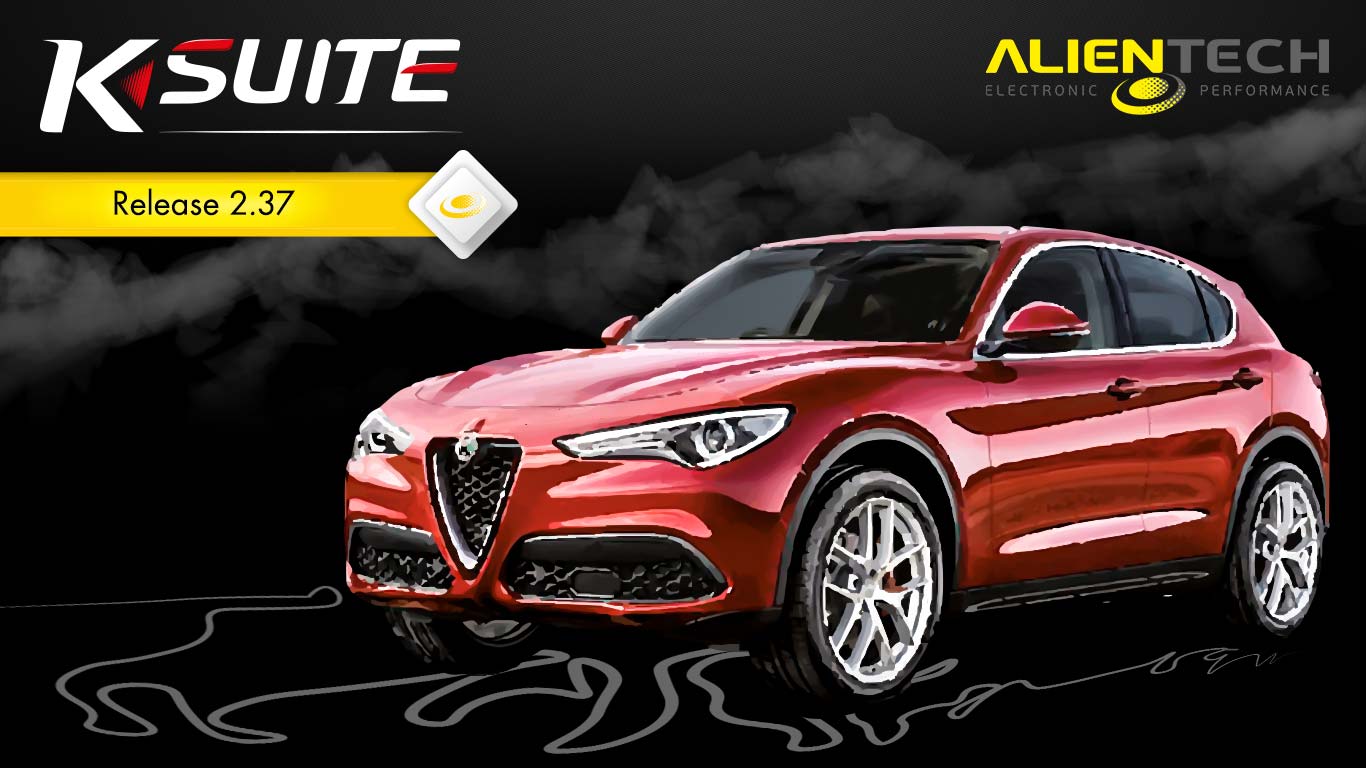 28 Jun 2017

K-Suite 2.37

Just a few weeks after the last update, we're introducing you a very important new one: as of today, only with Alientech K-TAG, you can work on the latest Alfa Romeo Giulia and Stelvio.

Alientech, actually, is the first to give you the chance to safely and professionally read and write at bench the ECU Marelli M10JA, equipped on the 2.0 Turbo Euro 6 engine, found on the latest Alfa.

And there's much more: 14 new protocols for Car, Bike, Truck and Tractor, new additions to the Vehicle List which is reaching tens of thousands of vehicles available to you.
Here's what's new in this Release
JTAG Freescale MPC5xxxx
Car | Protocol 953 | Alfa Romeo Marelli M10JA
Bootloader Mitsubishi MH72xx/MH8xxx
Bike | Protocol 963 | Suzuki Mitsubishi 33920-24AGx
NBD NEC 76F00xx Toyota
Car | Protocol 962 | Toyota Denso 275136-1910 76F0039GD
Tractor | Protocol 976 | Toyota Fujitsu Ten 211841-3581A830
Bootloader ST10Fxxx
Tractor | Protocol 457 | John Deere Siemens UIC2
Tractor | Protocol 811 | Fendt AGCO Gearbox C167
Car | Protocol 968 | South East Motors Siemens SimK43 5WY1xxxx
Bootloader Infineon Tricore
Car | Protocol 775 – Plugin 961 | Toyota Bosch EDC17C47 Irom GPT TC1782
Car | Protocol 975 – Plugin 975 | Toyota Bosch ME17.9.52 Irom GPT TC1782
Car | Protocol 966 – Plugin 966 | Lada Bosch ME17.9.71 Irom GPT
Car | Protocol 966 – Plugin 966 | UAZ Bosch ME17.9.71 Irom GPT
JTAG Nexus MPC5xxx
Truck | Protocol 967 | BMC Cummins Continental CM2150E
JTAG Renesas SH705x
Truck | Protocol 964 | CASE IH Transtron 4HK1 SH72544
Truck | Protocol 964 | Isuzu Transtron 4HK1 SH72544
Truck | Protocol 977 | Isuzu Transtron 6HK1 / 6UK1 SH7058
Truck | Protocol 978 | Isuzu Nikki CNG 3896 – 002
K-TAG | New protocols
Alfa Romeo Marelli M10JA
JTAG Freescale MPC5xxxx
K-TAG – Prt 953
– Read: YES
– Write: YES
– Checksum Correction: YES
– Direct Connection: 14P600KT02
| Model | Model Name | Engine | Engine Code | KW | HP | Fuel | MY | ECU | ECU Version |
| --- | --- | --- | --- | --- | --- | --- | --- | --- | --- |
| Alfa Romeo | Giulia | 2.0 Turbo 8AT | 55273835 | 147 | 197 | Petrol | 2016 | Magneti Marelli | M10JA |
| Alfa Romeo | Giulia | 2.0 Turbo 8AT | 55273835 | 206 | 276 | Petrol | 2017 | Magneti Marelli | M10JA |
| Alfa Romeo | Giulia Q4 | 2.0 Turbo 8AT | 55273835 | 206 | 276 | Petrol | 2017 | Magneti Marelli | M10JA |
| Alfa Romeo | Stelvio Q4 | 2.0 Turbo 8AT | 55273835 | 206 | 276 | Petrol | 2017 | Magneti Marelli | M10JA |
| Alfa Romeo | Stelvio Q4 | 2.0 Turbo 8AT | 55273835 | 147 | 197 | Petrol | 2017 | Magneti Marelli | M10JA |
Suzuki Mitsubishi 33920-24AGx
Bootloader Mitsubishi MH72xx/MH8xxx
K-TAG – Prt 963
– Read: YES
– Write: YES
– Checksum Correction: YES
– Direct Connection: 14P600KT02
| Model | Model Name | Engine | Engine Code | KW | HP | Fuel | MY | ECU | ECU Version |
| --- | --- | --- | --- | --- | --- | --- | --- | --- | --- |
| Suzuki | Sport Enduro Tourer | V-Strom | DL650 | 51 | 68 | Petrol | 2004 | Mitsubishi | 33920-24AGx |
NBD NEC 76F00xx Toyota
Toyota Denso 275136-1910 76F0039GD
K-TAG – Prt 962
– Read: YES
– Write: YES
– Checksum Correction: YES
– Direct Connection: 14P600KT02, 144300T110, 14AS00T08S, 144300T102, 144300T105
– Connecting using positioning frame: 14P800ADB1, 14P600KT02, 144300T110, 14AM00T15M, 144300T102
| Model | Model Name | Engine | Engine Code | KW | HP | Fuel | MY | ECU | ECU Version |
| --- | --- | --- | --- | --- | --- | --- | --- | --- | --- |
| Toyota | Hiace | 2.7 VVT-i | 2TR-FE | 118 | 158 | Petrol | 2015 | Denso | 275136-1910 |
NBD NEC 76F00xx Toyota
Toyota Fujitsu Ten 211841-3581A830
K-TAG – Prt 976
– Read: YES
– Write: YES
– Checksum Correction: YES
– Direct Connection: 14P600KT02, 14AS00T08S, 144300T102, 144300T105
– Connecting using positioning frame: 14P800ADBO, 14P600KT02, 14AM00T15M, 144300T102
| Model | Model Name | Engine | Engine Code | KW | HP | Fuel | MY | ECU | ECU Version |
| --- | --- | --- | --- | --- | --- | --- | --- | --- | --- |
| Toyota | 8-Series | 8FG30 | 4Y | 40 | 54 | Petrol | 2006 | FUJITSU TEN | 211841-3581A830 |
| Toyota | 8-Series | 8FG35 | 4Y | 43 | 58 | Petrol | 2007 | FUJITSU TEN | 211841-3581A830 |
John Deere Siemens UIC2
Bootloader ST10Fxxx
K-TAG – Prt 457
– Read: YES
– Write: YES
– Checksum Correction: YES
– Direct Connection: 14P600KT02
| Model | Model Name | Engine | Engine Code | KW | HP | Fuel | MY | ECU | ECU Version |
| --- | --- | --- | --- | --- | --- | --- | --- | --- | --- |
| John Deere | Tractor 7030 Series | 7130 4.5L I4 | 4045HL288 | 93 | 125 | Diesel | 2010 | Siemens | UIC2 |
| John Deere | Tractor 7030 Series | 7130 6.8L I6 | 6068HL280 | 93 | 125 | Diesel | 2007 | Siemens | UIC2 |
| John Deere | Tractor 7030 Series | 7130 Premium 4.5L I4 | 4045HL288 | 93 | 125 | Diesel | 2010 | Siemens | UIC2 |
| John Deere | Tractor 7030 Series | 7130 Premium 6.8L I6 | 6068HL280 | 93 | 125 | Diesel | 2007 | Siemens | UIC2 |
| John Deere | Tractor 7030 Series | 7230 6.8L I6 | 6068HL280 | 101 | 135 | Diesel | 2007 | Siemens | UIC2 |
| John Deere | Tractor 7030 Series | 7230 Premium 6.8L I6 | 6068HL280 | 101 | 135 | Diesel | 2007 | Siemens | UIC2 |
| John Deere | Tractor 7030 Series | 7330 6.8L I6 | 6068HRW74 | 112 | 150 | Diesel | 2007 | Siemens | UIC2 |
| John Deere | Tractor 7030 Series | 7330 Premium 6.8L I6 | 6068HRW75 | 112 | 150 | Diesel | 2007 | Siemens | UIC2 |
| John Deere | Tractor 7030 Series | 7430 Premium 6.8L I6 | 6068HRW74 | 124 | 166 | Diesel | 2007 | Siemens | UIC2 |
| John Deere | Tractor 7030 Series | 7430 Premium 6.8L I6 | 6068HRW77 | 124 | 166 | Diesel | 2010 | Siemens | UIC2 |
| John Deere | Tractor 7030 Series | 7530 Premium 6.8L I6 | 6068HRW77 | 124 | 166 | Diesel | 2007 | Siemens | UIC2 |
| John Deere | Tractor 7030 Series | 7630 6.8L I6 | 6068T | 130 | 174 | Diesel | 2007 | Siemens | UIC2 |
| John Deere | Tractor 7030 Series | 7730 6.8L I6 | 6068T | 142 | 190 | Diesel | 2007 | Siemens | UIC2 |
| John Deere | Tractor 7030 Series | 7830 6.8L I6 | 6068T 4V-CR | 153 | 205 | Diesel | 2007 | Siemens | UIC2 |
| John Deere | Tractor 7030 Series | 7930 6.8L I6 | 6068T 4V-CR | 164 | 220 | Diesel | 2007 | Siemens | UIC2 |
| John Deere | Tractor 8030 Series | 8130 9.0L I6 | | 168 | 225 | Diesel | 2006 | Siemens | UIC2 |
| John Deere | Tractor 8030 Series | 8230 9.0L I6 | | 183 | 245 | Diesel | 2006 | Siemens | UIC2 |
| John Deere | Tractor 8030 Series | 8330 9.0L I6 | | 205 | 275 | Diesel | 2006 | Siemens | UIC2 |
| John Deere | Tractor 8030 Series | 8430 9.0L I6 | | 227 | 304 | Diesel | 2006 | Siemens | UIC2 |
| John Deere | Tractor 8030 Series | 8530 9.0L I6 | | 246 | 330 | Diesel | 2006 | Siemens | UIC2 |
Fendt AGCO Gearbox C167
Bootloader ST10Fxxx
K-TAG – Prt 811
– Read: YES
– Write: YES
– Checksum Correction: YES
– Direct Connection: 14P600KT02
| Model | Model Name | Engine | KW | HP | Fuel | MY | ECU | ECU Version |
| --- | --- | --- | --- | --- | --- | --- | --- | --- |
| Fendt | 400 Vario | 409 3.8L I4 | 63 | 84 | Diesel | 2003 | Agco | Gearbox |
South East Motors Siemens SimK43 5WY1xxxx
Bootloader ST10Fxxx
K-TAG – Prt 968
– Read: YES
– Write: YES
– Checksum Correction: YES
– Direct Connection: 14P600KT02, 144300T109
| Model | Model Name | KW | HP | Fuel | MY | ECU | ECU Version |
| --- | --- | --- | --- | --- | --- | --- | --- |
| South East Motor | DX7 | 115 | 154 | 1.5 16v turbo | 2015 | Siemens | SIMK43 |
Toyota Bosch EDC17C47 Irom GPT TC1782
Bootloader Infineon Tricore
K-TAG – Prt 775 – Plugin 961
– Read: YES
– Write: YES
– Checksum Correction: YES
– Direct Connection: 14P600KT02 + 14P600KT06
– Connection using the positioning frame: 14P800ADB1, 14P800ADB3, 14P600KT06, 14P600KT04, 14P600KT03
| Model | Model Name | Engine | Engine Code | KW | HP | Fuel | MY | ECU | ECU Version |
| --- | --- | --- | --- | --- | --- | --- | --- | --- | --- |
| Toyota | Yaris | 1.4 D-4D Dpf | 1ND-TV | 66 | 89 | Diesel | 2014 | Bosch | EDC17C47 |
BMC Cummins Continental CM2150E
JTAG Nexus MPC5xxx
K-TAG – Prt 967
– Read: YES
– Write: YES
– Checksum Correction: YES
– Direct Connection: 14P600KT02, 144300T105
| Model | Model Name | Engine | KW | HP | Fuel | ECU | ECU Version |
| --- | --- | --- | --- | --- | --- | --- | --- |
| BMC | Probus | 850 TBX 6.7L l6 | 210 | 282 | Diesel | Continental | CM2150E |
CASE / Isuzu IH Transtron 4HK1 SH72544
JTAG Renesas SH705x
K-TAG – Prt 964
– Read: YES
– Write: YES
– Checksum Correction: YES
– Direct Connection: 14P600KT02, 144300T105 + 144300T104
| Model | Model Name | Engine | Engine Code | KW | HP | Fuel | MY | ECU | ECU Version |
| --- | --- | --- | --- | --- | --- | --- | --- | --- | --- |
| Case Ih | CX Utility Series | CX130D 3.0L I4 | AR | 76 | 102 | Diesel | 2015 | Transtron | 4HK1 |
Isuzu Transtron 6HK1 / 6UK1 SH7058
JTAG Renesas SH705x
K-TAG – Prt 977
– Read: YES
– Write: YES
– Checksum Correction: YES
– Direct Connection: 14P600KT02, 144300T105 + 144300T104
| Model | Model Name | Engine | Engine Code | KW | HP | Fuel | ECU | ECU Version |
| --- | --- | --- | --- | --- | --- | --- | --- | --- |
| Isuzu | GigaMAX EXY 510 | 15.6L TD | 6WG1-TCS | 382 | 512 | Diesel | Transtron | 6xK1 |
Isuzu Nikki CNG 3896 – 002
JTAG Renesas SH705x
K-TAG – Prt 978
– Read: YES
– Write: YES
– Checksum Correction: YES
– Direct Connection: 144300T105 + 144300T104
| Model | Model Name | Engine | Engine Code | KW | HP | Fuel | MY | ECU | ECU Version |
| --- | --- | --- | --- | --- | --- | --- | --- | --- | --- |
| Isuzu | F-Series | FSR 700 7.8L CNG | 6HK1-TCN-CNG | 162 | 217 | CNG | 2011 | Nikki | 3896-002 |
| Isuzu | F-Series | FSR 850 7.8L CNG | 6HK1-TCN-CNG | 162 | 217 | CNG | 2011 | Nikki | 3896-002 |