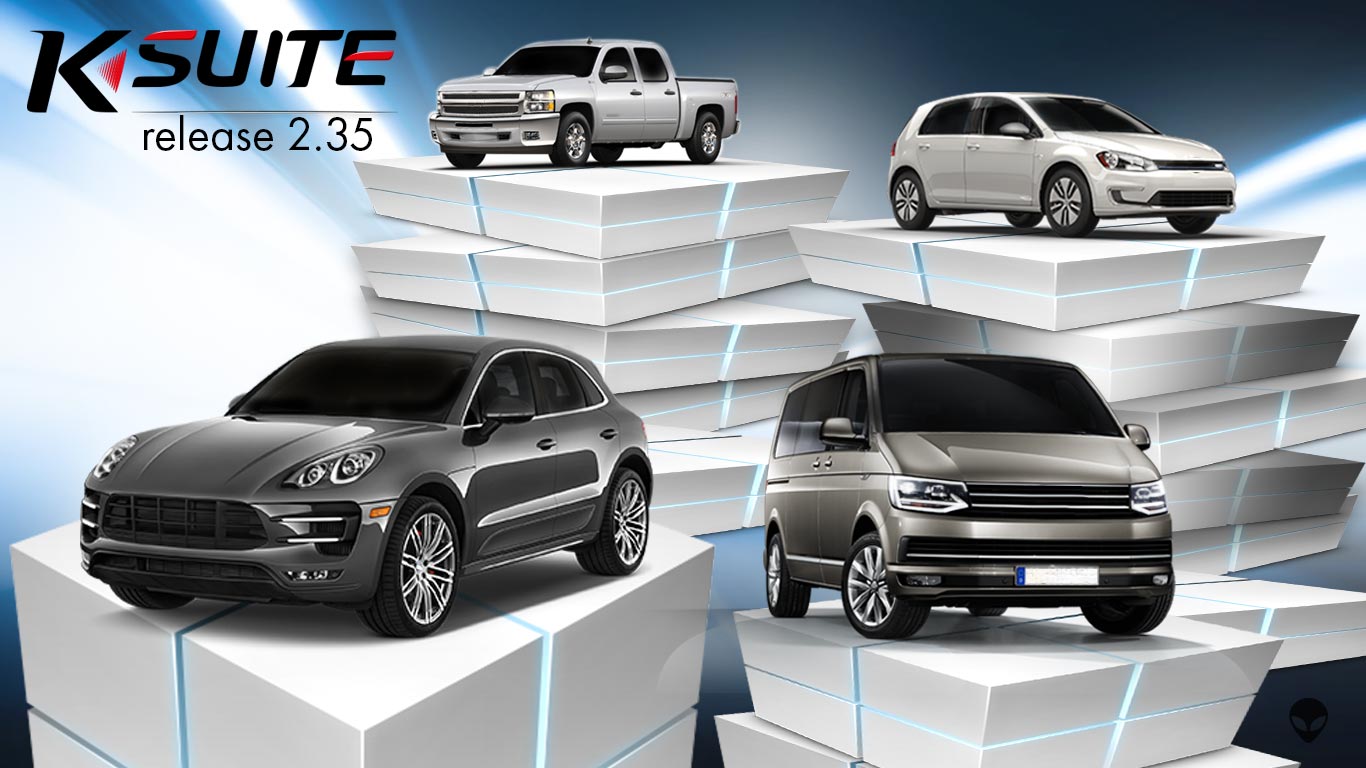 31 May 2017

K-Suite 2.35

Just a couple of days ago, we released an update dedicated to K-TAG. Today we are introducing you a new one dedicated to KESSv2, that will let you work on many different vehicles, older and newer, among the most required in the markets worldwide. Porsche, Volkswagen, Chevrolet just to quote a few of the most important brands of this long-awaited and important update.

Discover the news.
Car
Prt 573 | Ford Continental EMS24XX MY2015
Prt 582 | PSA Bosch ME7.4.7
Prt 584 | GM / Opel / Chevrolet Delco E38
Prt 585 | Ssangyong Delphi DCM6.2
Prt 587 | Ford Bosch EDC17CP05
Prt 590 | Porsche Continental SDI10.2
Prt 595 | VAG Delphi DCM6.2V
Prt 596 | Iveco Bosch EDC17C69
DSG Gearbox
Prt 577 | DSG DL501 CAN
Truck
Prt 588 | Cummins Hyundai Truck Continental CM2350A CAN
Prt 591 | Cummins Autosan Truck Continental CM2150E CAN
Prt 592 | Cummins Peterbilt Truck Motorola CM875 CAN
Prt 594 | Cummins BCI Truck Motorola CM850 CAN
Prt 598 | Cummins International Truck Motorola CM876 CAN
Prt 601 | Cummins Alexander-Dennis Truck Motorola CM850 CAN
Prt 603 | Cummins Freightliner Truck Recon CM2150E CAN
Tractor
Prt 586 | Cummins GVM Tractor Motorola CM850 CAN
Prt 597 | Cummins Hudding Tractor Continental CM2250 CAN
Prt 599 | Cummins Hagie Tractor Motorola CM850 CAN
Prt 600 | Cummins Crary Tractor Motorola CM850 CAN
Prt 602 | Cummins John Deere Tractor 2350A
In this way, from now on, you can easily and professionally read and write the ECUs of the newest Porsche Macan, Volkswagen Golf 7, Volkswagen Transporter T6, Chevrolet Silverado and many others. Vehicles older and newer that will meet all the demands.
From this update, in order to use KESSv2, an internet connection is necessary, as with K-TAG.
To ensure you efficiency, seriousness, authenticity and to give you the best service we can and real-time protocols updates, we are continually evolving and rethinking our tool to offer you: new opportunities, more versatility and dynamism, constant updates to increase the value of your tool and, consequently, your work.
Connect and immediately update your tool and, with an active subscription, you'll have at your disposal the new vehicles updated.
Available vehicle list, switch to the version 2.35.
KESSv2 | New Protocols

Ford Continental EMS24XX MY2015
KESSv2 – Prt 573
– Read: YES
– Write: YES
– Checksum Correction: YES
– Direct Connection: 144300KCAN
| Model | Model Name | Engine | KW | HP | Fuel | MY | ECU | ECU Version |
| --- | --- | --- | --- | --- | --- | --- | --- | --- |
| Ford | Mustang | 3.7 Ti-VCT V6 6AT | 224 | 300 | Petrol | 2015 | Continental | EMS24xx |
| Ford | Mustang | 3.7 Ti-VCT V6 6MT | 224 | 300 | Petrol | 2015 | Continental | EMS24xx |
| Ford | Mustang | 5.0 Ti-VCT V8 6AT | 310 | 416 | Petrol | 2015 | Continental | EMS24xx |
| Ford | Mustang | 5.0 Ti-VCT V8 6AT | 320 | 429 | Petrol | 2015 | Continental | EMS24xx |
| Ford | Mustang | 5.0 Ti-VCT V8 6MT | 320 | 429 | Petrol | 2015 | Continental | EMS24xx |
| Ford | Mustang | 5.0 Ti-VCT V8 6MT | 310 | 416 | Petrol | 2015 | Continental | EMS24xx |
| Ford | Mustang Convertible | 3.7 Ti-VCT V6 6AT | 224 | 300 | Petrol | 2015 | Continental | EMS24xx |
| Ford | Mustang Convertible | 3.7 Ti-VCT V6 6MT | 224 | 300 | Petrol | 2015 | Continental | EMS24xx |
| Ford | Mustang Convertible | 5.0 Ti-VCT V8 6AT | 320 | 429 | Petrol | 2015 | Continental | EMS24xx |
| Ford | Mustang Convertible | 5.0 Ti-VCT V8 6AT | 310 | 416 | Petrol | 2015 | Continental | EMS24xx |
| Ford | Mustang Convertible | 5.0 Ti-VCT V8 6MT | 320 | 429 | Petrol | 2015 | Continental | EMS24xx |
| Ford | Mustang Convertible | 5.0 Ti-VCT V8 6MT | 310 | 416 | Petrol | 2015 | Continental | EMS24xx |
PSA Bosch ME7.4.7
KESSv2 – Prt 582
– Read: YES
– Write: YES
– Checksum Correction: YES
– Direct Connection: 144300KCAN
| Model | Model Name | Engine | Engine Code | KW | HP | Fuel | MY | ECU | ECU Version |
| --- | --- | --- | --- | --- | --- | --- | --- | --- | --- |
| Citroen | C5 | 3.0 V6 24v | XFV | 155 | 208 | Petrol | 2004 | Bosch | ME7.4.7 |
| Citroen | C6 | 3.0 V6 24v | XFV | 155 | 208 | Petrol | 2005 | Bosch | ME7.4.7 |
| Peugeot | 407 | 3.0 V6 24v | XFV | 155 | 208 | Petrol | 2004 | Bosch | ME7.4.7 |
| Peugeot | 607 | 3.0 V6 24v | XFV | 155 | 208 | Petrol | 2004 | Bosch | ME7.4.7 |
GM / Opel / Chevrolet Delco E38
KESSv2 – Prt 584
– Read: YES
– Write: YES
– Checksum Correction: YES
– Direct Connection: 144300KCAN
| Model | Model Name | Engine | Engine Code | KW | HP | Fuel | MY | ECU | ECU Version |
| --- | --- | --- | --- | --- | --- | --- | --- | --- | --- |
| Cadillac | Escalade | 6.2 V8 6AT | | 301 | 565 | Petrol | 2007 | Ac Delco | E38 |
| Chevrolet | Corvette | 6.0 V8 | LS2 | 300 | 402 | Petrol | 2006 | Ac Delco | E38 |
| Chevrolet | Corvette | 6.2 V8 | LS3 | 321 | 430 | Petrol | 2008 | Ac Delco | E38 |
| Chevrolet | Express | 4.8 V8 | | 194 | 260 | Petrol | 2010 | Ac Delco | E38 |
| Chevrolet | Express | 5.3 V8 | | 239 | 320 | Petrol | 2008 | Ac Delco | E38 |
| Chevrolet | Express | 6.0 V8 | | 255 | 342 | Petrol | 2010 | Ac Delco | E38 |
| Chevrolet | Impala | 3.5 V6 | LZ4 | 167 | 565 | Petrol | 2006 | Ac Delco | E38 |
| Chevrolet | Impala | 3.9 V6 | LZ9 | 180 | 565 | Petrol | 2006 | Ac Delco | E38 |
| Chevrolet | Malibu | 3.5 V6 6AT | LZ4 | 157 | 217 | Petrol | 2007 | Ac Delco | E38 |
| Chevrolet | Monte Carlo | 3.5 V6 6AT | LZ4 | 157 | 211 | Petrol | 2006 | Ac Delco | E38 |
| Chevrolet | Monte Carlo | 3.9 V6 | LZ9 | 180 | 565 | Petrol | 2006 | Ac Delco | E38 |
| Chevrolet | Silverado | 4.8 V8 | | 220 | 295 | Petrol | 2007 | Ac Delco | E38 |
| Chevrolet | Silverado | 4.8 V8 | | 225 | 302 | Petrol | 2010 | Ac Delco | E38 |
| Chevrolet | Silverado | 5.3 V8 | | 235 | 315 | Petrol | 2007 | Ac Delco | E38 |
| Chevrolet | Silverado | 6.0 V8 | | 274 | 367 | Petrol | 2007 | Ac Delco | E38 |
| Chevrolet | Silverado | 6.2 V8 | | 301 | 404 | Petrol | 2009 | Ac Delco | E38 |
| Chevrolet | SS | 6.2 V8 6AT | LS3 | 310 | 416 | Petrol | 2014 | Ac Delco | E38 |
| Chevrolet | Suburban | 5.3 V8 6AT | LY5 | 243 | 326 | Petrol | 2007 | Ac Delco | E38 |
| Chevrolet | Suburban | 6.0 V8 4AT | L76 | 262 | 351 | Petrol | 2007 | Ac Delco | E38 |
| Chevrolet | Tahoe | 4.8 V8 | LY2 | 220 | 295 | Petrol | 2007 | Ac Delco | E38 |
| Chevrolet | Tahoe | 5.3 V8 | LY5 | 235 | 315 | Petrol | 2007 | Ac Delco | E38 |
| Chevrolet | Tahoe | 6.2 V8 | | 301 | 404 | Petrol | 2007 | Ac Delco | E38 |
| GMC | Savana | 4.8 V8 | | 194 | 260 | Petrol | 2010 | Ac Delco | E38 |
| GMC | Savana | 5.3 V8 | | 239 | 320 | Petrol | 2008 | Ac Delco | E38 |
| GMC | Savana | 6.0 V8 | | 255 | 342 | Petrol | 2010 | Ac Delco | E38 |
| GMC | Sierra | 4.8 V8 | | 220 | 295 | Petrol | 2007 | Ac Delco | E38 |
| GMC | Sierra | 4.8 V8 | | 225 | 302 | Petrol | 2010 | Ac Delco | E38 |
| GMC | Sierra | 5.3 V8 | | 235 | 315 | Petrol | 2007 | Ac Delco | E38 |
| GMC | Sierra | 6.0 V8 | | 274 | 367 | Petrol | 2007 | Ac Delco | E38 |
| GMC | Sierra | 6.2 V8 | | 301 | 404 | Petrol | 2009 | Ac Delco | E38 |
| GMC | Yukon | 4.8 V8 | LY2 | 220 | 295 | Petrol | 2007 | Ac Delco | E38 |
| GMC | Yukon | 5.3 V8 | LY5 | 235 | 315 | Petrol | 2007 | Ac Delco | E38 |
| GMC | Yukon | 6.2 V8 | | 301 | 404 | Petrol | 2007 | Ac Delco | E38 |
| Holden | Commodore | 6.0 V8 6AT | L77 | 260 | 349 | Petrol | 2013 | Ac Delco | E38 |
| Holden | Commodore | 6.0 V8 6MT | L77 | 270 | 362 | Petrol | 2013 | Ac Delco | E38 |
| Holden | Commodore | 6.2 V8 6MT | LS3 | 304 | 408 | Petrol | 2015 | Ac Delco | E38 |
| Pontiac | G6 | 3.5 V6 6AT | LZ4 | 157 | 211 | Petrol | 2007 | Ac Delco | E38 |
| Pontiac | G8 | 6.0 V8 6AT | L76 | 270 | 362 | Petrol | 2009 | Ac Delco | E38 |
| Pontiac | G8 | 6.2 V8 6MT | LS3 | 304 | 408 | Petrol | 2009 | Ac Delco | E38 |
| Saturn | Aura | 3.5 V6 6AT | LZ4 | 157 | 211 | Petrol | 2007 | Ac Delco | E38 |
| Saturn | Vue | 3.5 V6 6AT | LZ4 | 157 | 211 | Petrol | 2008 | Ac Delco | E38 |
Ssangyong Delphi DCM6.2
KESSv2 – Prt 585
– Read: YES
– Write: YES
– Checksum Correction: YES
– Direct Connection: 144300KCAN
| Model | Model Name | Engine | Engine Code | KW | HP | Fuel | MY | ECU | ECU Version |
| --- | --- | --- | --- | --- | --- | --- | --- | --- | --- |
| Ssangyong | Actyon | 2.2 e-XDi | | 131 | 176 | Diesel | 2016 | Delphi | DCM6.2AP |
| Ssangyong | Actyon Sports | 2.2 e-XDi | | 131 | 176 | Diesel | 2016 | Delphi | DCM6.2AP |
| Ssangyong | Korando | 2.2 e-XDi | D22DTF | 131 | 176 | Diesel | 2015 | Delphi | DCM6.2AP |
| Ssangyong | Rexton | 2.2 e-XDi | D22DTR | 131 | 176 | Diesel | 2015 | Delphi | DCM6.2AP |
Ford Bosch EDC17CP05
KESSv2 – Prt 587
– Read: YES
– Write: YES
– Checksum Correction: YES
– Direct Connection: 144300KCAN
| Model | Model Name | Engine | KW | HP | Fuel | MY | ECU | ECU Version |
| --- | --- | --- | --- | --- | --- | --- | --- | --- |
| Ford | F-250 Super Duty | 6.7 V8 Powerstroke | 298 | 400 | Diesel | 2011 | Bosch | EDC17CP05 |
| Ford | F-250 Super Duty | 6.7 V8 Powerstroke | 328 | 440 | Diesel | 2015 | Bosch | EDC17CP05 |
| Ford | F-350 Super Duty | 6.7 V8 Powerstroke | 298 | 400 | Diesel | 2011 | Bosch | EDC17CP05 |
| Ford | F-350 Super Duty | 6.7 V8 Powerstroke | 328 | 440 | Diesel | 2015 | Bosch | EDC17CP05 |
| Ford | F-450 Super Duty | 6.7 V8 Powerstroke | 298 | 400 | Diesel | 2011 | Bosch | EDC17CP05 |
| Ford | F-450 Super Duty | 6.7 V8 Powerstroke | 328 | 440 | Diesel | 2015 | Bosch | EDC17CP05 |
| Ford | F-550 Super Duty | 6.7 V8 Powerstroke | 298 | 400 | Diesel | 2011 | Bosch | EDC17CP05 |
| Ford | F-550 Super Duty | 6.7 V8 Powerstroke | 328 | 440 | Diesel | 2015 | Bosch | EDC17CP05 |
Porsche Continental SDI10.2
KESSv2 – Prt 590
– Read: Virtual reading
– Write: YES
– Checksum Correction: YES
– Direct Connection: 144300KCAN
| Model | Model Name | Engine | Engine Code | KW | HP | Fuel | MY | ECU | ECU Version |
| --- | --- | --- | --- | --- | --- | --- | --- | --- | --- |
| Porsche | Macan GTS | 3.0 V6 Turbo 7AT | MDC.NA | 265 | 355 | Petrol | 2015 | Continental | SDI10.2 |
| Porsche | Macan S | 3.0 V6 Turbo 7AT | MCT.MA | 250 | 335 | Petrol | 2014 | Continental | SDI10.2 |
VAG Delphi DCM6.2V
KESSv2 – Prt 595
– Read: Virtual reading
– Write: YES
– Checksum Correction: YES
– Direct Connection: 144300KCAN
| Model | Model Name | Engine | Engine Code | KW | HP | Fuel | MY | ECU | ECU Version |
| --- | --- | --- | --- | --- | --- | --- | --- | --- | --- |
| Audi | A1 | 1.4 TDI Ultra (90) | CUSB | 66 | 89 | Diesel | 2015 | Delphi | DCM6.2V |
| Audi | A1 | 1.4 TDI Ultra (90) S-Tronic | CUSB | 66 | 89 | Diesel | 2015 | Delphi | DCM6.2V |
| Audi | A1 | 1.6 TDI (115) | CXMA | 85 | 114 | Diesel | 2015 | Delphi | DCM6.2V |
| Audi | A1 | 1.6 TDI (115) S-Tronic | CXMA | 85 | 114 | Diesel | 2015 | Delphi | DCM6.2V |
| Audi | A1 Sportback | 1.4 TDI Ultra (90) | CUSB | 66 | 89 | Diesel | 2015 | Delphi | DCM6.2V |
| Audi | A1 Sportback | 1.4 TDI Ultra (90) S-Tronic | CUSB | 66 | 89 | Diesel | 2015 | Delphi | DCM6.2V |
| Audi | A1 Sportback | 1.6 TDI (115) | CXMA | 85 | 114 | Diesel | 2015 | Delphi | DCM6.2V |
| Audi | A1 Sportback | 1.6 TDI (115) S-Tronic | CXMA | 85 | 114 | Diesel | 2015 | Delphi | DCM6.2V |
| Audi | A3 | 1.6 TDI (110) Clean Diesel | CXXB | 81 | 109 | Diesel | 2015 | Delphi | DCM6.2V |
| Audi | A3 | 1.6 TDI (110) Clean Diesel | DBKA | 81 | 109 | Diesel | 2015 | Delphi | DCM6.2V |
| Audi | A3 | 1.6 TDI (110) Clean Diesel S-Tronic | CXXB | 81 | 109 | Diesel | 2015 | Delphi | DCM6.2V |
| Audi | A3 | 1.6 TDI (110) Clean Diesel S-Tronic | DBKA | 81 | 109 | Diesel | 2015 | Delphi | DCM6.2V |
| Audi | A3 | 1.6 TDI Ultra (110) | CXXB | 81 | 109 | Diesel | 2015 | Delphi | DCM6.2V |
| Audi | A3 | 1.6 TDI Ultra (110) | DBKA | 81 | 109 | Diesel | 2015 | Delphi | DCM6.2V |
| Audi | A3 Sedan | 1.6 TDI (110) Clean Diesel | DBKA | 81 | 109 | Diesel | 2015 | Delphi | DCM6.2V |
| Audi | A3 Sedan | 1.6 TDI (110) Clean Diesel | CXXB | 81 | 109 | Diesel | 2015 | Delphi | DCM6.2V |
| Audi | A3 Sedan | 1.6 TDI (110) Clean Diesel S-Tronic | CXXB | 81 | 109 | Diesel | 2015 | Delphi | DCM6.2V |
| Audi | A3 Sedan | 1.6 TDI (110) Clean Diesel S-Tronic | DBKA | 81 | 109 | Diesel | 2015 | Delphi | DCM6.2V |
| Audi | A3 Sedan | 1.6 TDI Ultra (110) | CXXB | 81 | 109 | Diesel | 2015 | Delphi | DCM6.2V |
| Audi | A3 Sedan | 1.6 TDI Ultra (110) | DBKA | 81 | 109 | Diesel | 2015 | Delphi | DCM6.2V |
| Audi | A3 Sportback | 1.6 TDI (110) Clean Diesel | CXXB | 81 | 109 | Diesel | 2015 | Delphi | DCM6.2V |
| Audi | A3 Sportback | 1.6 TDI (110) Clean Diesel | DBKA | 81 | 109 | Diesel | 2015 | Delphi | DCM6.2V |
| Audi | A3 Sportback | 1.6 TDI (110) Clean Diesel S-Tronic | CXXB | 81 | 109 | Diesel | 2015 | Delphi | DCM6.2V |
| Audi | A3 Sportback | 1.6 TDI (110) Clean Diesel S-Tronic | DBKA | 81 | 109 | Diesel | 2015 | Delphi | DCM6.2V |
| Audi | A3 Sportback | 1.6 TDI Ultra (110) | CXXB | 81 | 109 | Diesel | 2015 | Delphi | DCM6.2V |
| Audi | A3 Sportback | 1.6 TDI Ultra (110) | DBKA | 81 | 109 | Diesel | 2015 | Delphi | DCM6.2V |
| Audi | Q2 | 1.6 TDI (115) | DDYA | 85 | 114 | Diesel | 2016 | Delphi | DCM6.2V |
| Audi | Q2 | 1.6 TDI (115) S-Tronic | DDYA | 85 | 114 | Diesel | 2016 | Delphi | DCM6.2V |
| Audi | Q2 | 2.0 TDI (150) Quattro S-Tronic | DCYA | 110 | 148 | Diesel | 2016 | Delphi | DCM6.2V |
| Seat | Ibiza | 1.4 TDI | CUTA | 77 | 103 | Diesel | 2015 | Delphi | DCM6.2V |
| Seat | Ibiza | 1.4 TDI | CUSA | 55 | 74 | Diesel | 2015 | Delphi | DCM6.2V |
| Seat | Ibiza | 1.4 TDI | CUSB | 66 | 89 | Diesel | 2015 | Delphi | DCM6.2V |
| Seat | Leon | 1.6 TDI | CXXB | 81 | 109 | Diesel | 2014 | Delphi | DCM6.2V |
| Seat | Leon | 1.6 TDI | CXXA | 66 | 89 | Diesel | 2015 | Delphi | DCM6.2V |
| Seat | Leon | 1.6 TDI | DBKA | 81 | 109 | Diesel | 2015 | Delphi | DCM6.2V |
| Seat | Toledo | 1.4 TDI | CUSB | 66 | 89 | Diesel | 2015 | Delphi | DCM6.2V |
| Seat | Toledo | 1.6 TDI | CXMA | 85 | 114 | Diesel | 2015 | Delphi | DCM6.2V |
| Skoda | Fabia | 1.4 TDI | CUTA | 77 | 103 | Diesel | 2014 | Delphi | DCM6.2V |
| Skoda | Fabia | 1.4 TDI | CUSB | 66 | 89 | Diesel | 2014 | Delphi | DCM6.2V |
| Skoda | Fabia | 1.4 TDI | CUSA | 55 | 74 | Diesel | 2015 | Delphi | DCM6.2V |
| Skoda | Octavia | 1.6 TDI | CXXB | 81 | 109 | Diesel | 2014 | Delphi | DCM6.2V |
| Skoda | Octavia | 1.6 TDI | CXXA | 66 | 89 | Diesel | 2015 | Delphi | DCM6.2V |
| Skoda | Octavia | 1.6 TDI | CRKB | 81 | 109 | Diesel | 2015 | Delphi | DCM6.2V |
| Skoda | Octavia | 1.6 TDI | DBKA | 81 | 109 | Diesel | 2015 | Delphi | DCM6.2V |
| Skoda | Rapid | 1.4 TDI | CUSB | 66 | 89 | Diesel | 2015 | Delphi | DCM6.2V |
| Skoda | Rapid | 1.6 16v TDI | CXMA | 85 | 114 | Diesel | 2015 | Delphi | DCM6.2V |
| Volkswagen | California | 2.0 16v TDI | CXGB | 75 | 101 | Diesel | 2015 | Delphi | DCM6.2V |
| Volkswagen | California | 2.0 16v TDI | CXGA | 62 | 83 | Diesel | 2015 | Delphi | DCM6.2V |
| Volkswagen | California | 2.0 16v TDI | CXEB | 150 | 201 | Diesel | 2015 | Delphi | DCM6.2V |
| Volkswagen | California | 2.0 16v TDI | CXHA | 110 | 148 | Diesel | 2015 | Delphi | DCM6.2V |
| Volkswagen | California | 2.0 16v TDI | CXFA | 110 | 148 | Diesel | 2015 | Delphi | DCM6.2V |
| Volkswagen | California | 2.0 16v TDI | CXHB | 84 | 113 | Diesel | 2016 | Delphi | DCM6.2V |
| Volkswagen | Caravelle | 2.0 16v TDI | CXGB | 75 | 101 | Diesel | 2015 | Delphi | DCM6.2V |
| Volkswagen | Caravelle | 2.0 16v TDI | CXGA | 62 | 83 | Diesel | 2015 | Delphi | DCM6.2V |
| Volkswagen | Caravelle | 2.0 16v TDI | CXEB | 150 | 201 | Diesel | 2015 | Delphi | DCM6.2V |
| Volkswagen | Caravelle | 2.0 16v TDI | CXFA | 110 | 148 | Diesel | 2015 | Delphi | DCM6.2V |
| Volkswagen | Caravelle | 2.0 16v TDI | CXHA | 110 | 148 | Diesel | 2015 | Delphi | DCM6.2V |
| Volkswagen | Caravelle | 2.0 16v TDI | CXHB | 84 | 113 | Diesel | 2016 | Delphi | DCM6.2V |
| Volkswagen | Golf | 1.6 TDI 4Motion 6MT | CXXB | 81 | 109 | Diesel | 2014 | Delphi | DCM6.2V |
| Volkswagen | Golf | 1.6 TDI 4Motion 6MT | DBKA | 81 | 109 | Diesel | 2015 | Delphi | DCM6.2V |
| Volkswagen | Golf | 1.6 TDI 4Motion 6MT | CRKB | 81 | 109 | Diesel | 2015 | Delphi | DCM6.2V |
| Volkswagen | Golf | 1.6 TDI BlueMotion 5MT | CXXA | 66 | 89 | Diesel | 2014 | Delphi | DCM6.2V |
| Volkswagen | Golf | 1.6 TDI BlueMotion 5MT | CXXB | 81 | 109 | Diesel | 2014 | Delphi | DCM6.2V |
| Volkswagen | Golf | 1.6 TDI BlueMotion 5MT | DBKA | 81 | 109 | Diesel | 2015 | Delphi | DCM6.2V |
| Volkswagen | Golf | 1.6 TDI BlueMotion 5MT | CRKB | 81 | 109 | Diesel | 2015 | Delphi | DCM6.2V |
| Volkswagen | Golf | 1.6 TDI BlueMotion 7AT | CXXB | 81 | 109 | Diesel | 2014 | Delphi | DCM6.2V |
| Volkswagen | Golf | 1.6 TDI BlueMotion 7AT | DBKA | 81 | 109 | Diesel | 2015 | Delphi | DCM6.2V |
| Volkswagen | Golf | 1.6 TDI BlueMotion 7AT | CRKB | 81 | 109 | Diesel | 2015 | Delphi | DCM6.2V |
| Volkswagen | Golf | 1.6 TDI BlueMotion 7AT | DDYA | 85 | 114 | Diesel | 2017 | Delphi | DCM6.2V |
| Volkswagen | Golf | 2.0 TDI 4Motion 6MT | DCYA | 110 | 148 | Diesel | 2017 | Delphi | DCM6.2V |
| Volkswagen | Golf | 2.0 TDI BlueMotion 6AT | DCYA | 110 | 148 | Diesel | 2017 | Delphi | DCM6.2V |
| Volkswagen | Golf | 2.0 TDI BlueMotion 6MT | DCYA | 110 | 148 | Diesel | 2017 | Delphi | DCM6.2V |
| Volkswagen | Golf Alltrack | 1.6 TDI 4Motion 6MT | CXXB | 81 | 109 | Diesel | 2014 | Delphi | DCM6.2V |
| Volkswagen | Golf Alltrack | 1.6 TDI 4Motion 6MT | CRKB | 81 | 109 | Diesel | 2015 | Delphi | DCM6.2V |
| Volkswagen | Golf Alltrack | 2.0 TDI 4Motion 6MT | DCYA | 110 | 148 | Diesel | 2017 | Delphi | DCM6.2V |
| Volkswagen | Golf Sportsvan | 1.6 TDI BlueMotion 5MT | CXXB | 81 | 109 | Diesel | 2014 | Delphi | DCM6.2V |
| Volkswagen | Golf Sportsvan | 1.6 TDI BlueMotion 5MT | CXXA | 66 | 89 | Diesel | 2014 | Delphi | DCM6.2V |
| Volkswagen | Golf Sportsvan | 1.6 TDI BlueMotion 5MT | DBKA | 81 | 109 | Diesel | 2015 | Delphi | DCM6.2V |
| Volkswagen | Golf Sportsvan | 1.6 TDI BlueMotion 7AT | CXXB | 81 | 109 | Diesel | 2014 | Delphi | DCM6.2V |
| Volkswagen | Golf Sportsvan | 1.6 TDI BlueMotion 7AT | DBKA | 81 | 109 | Diesel | 2015 | Delphi | DCM6.2V |
| Volkswagen | Golf Sportsvan | 1.6 TDI BlueMotion 7AT | DDYA | 85 | 114 | Diesel | 2017 | Delphi | DCM6.2V |
| Volkswagen | Golf Sportsvan | 2.0 TDI BlueMotion 6AT | DCYA | 110 | 148 | Diesel | 2017 | Delphi | DCM6.2V |
| Volkswagen | Golf Sportsvan | 2.0 TDI BlueMotion 6MT | DCYA | 110 | 148 | Diesel | 2017 | Delphi | DCM6.2V |
| Volkswagen | Golf Variant | 1.6 TDI 4Motion 6MT | CXXB | 81 | 109 | Diesel | 2014 | Delphi | DCM6.2V |
| Volkswagen | Golf Variant | 1.6 TDI 4Motion 6MT | DBKA | 81 | 109 | Diesel | 2015 | Delphi | DCM6.2V |
| Volkswagen | Golf Variant | 1.6 TDI 4Motion 6MT | CRKB | 81 | 109 | Diesel | 2015 | Delphi | DCM6.2V |
| Volkswagen | Golf Variant | 1.6 TDI BlueMotion 5MT | CXXB | 81 | 109 | Diesel | 2014 | Delphi | DCM6.2V |
| Volkswagen | Golf Variant | 1.6 TDI BlueMotion 5MT | CXXA | 66 | 89 | Diesel | 2014 | Delphi | DCM6.2V |
| Volkswagen | Golf Variant | 1.6 TDI BlueMotion 5MT | DBKA | 81 | 109 | Diesel | 2015 | Delphi | DCM6.2V |
| Volkswagen | Golf Variant | 1.6 TDI BlueMotion 5MT | CRKB | 81 | 109 | Diesel | 2015 | Delphi | DCM6.2V |
| Volkswagen | Golf Variant | 1.6 TDI BlueMotion 7AT | CXXB | 81 | 109 | Diesel | 2014 | Delphi | DCM6.2V |
| Volkswagen | Golf Variant | 1.6 TDI BlueMotion 7AT | CRKB | 81 | 109 | Diesel | 2015 | Delphi | DCM6.2V |
| Volkswagen | Golf Variant | 1.6 TDI BlueMotion 7AT | DBKA | 81 | 109 | Diesel | 2015 | Delphi | DCM6.2V |
| Volkswagen | Golf Variant | 1.6 TDI BlueMotion 7AT | DDYA | 85 | 114 | Diesel | 2017 | Delphi | DCM6.2V |
| Volkswagen | Golf Variant | 2.0 TDI 4Motion 6MT | DCYA | 110 | 148 | Diesel | 2017 | Delphi | DCM6.2V |
| Volkswagen | Golf Variant | 2.0 TDI BlueMotion 6AT | DCYA | 110 | 148 | Diesel | 2017 | Delphi | DCM6.2V |
| Volkswagen | Golf Variant | 2.0 TDI BlueMotion 6MT | DCYA | 110 | 148 | Diesel | 2017 | Delphi | DCM6.2V |
| Volkswagen | Multivan | 2.0 16v TDI | CXGB | 75 | 101 | Diesel | 2015 | Delphi | DCM6.2V |
| Volkswagen | Multivan | 2.0 16v TDI | CXGA | 62 | 83 | Diesel | 2015 | Delphi | DCM6.2V |
| Volkswagen | Multivan | 2.0 16v TDI | CXEB | 150 | 201 | Diesel | 2015 | Delphi | DCM6.2V |
| Volkswagen | Multivan | 2.0 16v TDI | CXFA | 110 | 148 | Diesel | 2015 | Delphi | DCM6.2V |
| Volkswagen | Multivan | 2.0 16v TDI | CXHA | 110 | 148 | Diesel | 2015 | Delphi | DCM6.2V |
| Volkswagen | Multivan | 2.0 16v TDI | CXHB | 84 | 113 | Diesel | 2016 | Delphi | DCM6.2V |
| Volkswagen | Polo | 1.4 TDI | CUTA | 77 | 103 | Diesel | 2014 | Delphi | DCM6.2V |
| Volkswagen | Polo | 1.4 TDI | CUSA | 55 | 74 | Diesel | 2014 | Delphi | DCM6.2V |
| Volkswagen | Polo | 1.4 TDI | CUSB | 66 | 89 | Diesel | 2014 | Delphi | DCM6.2V |
| Volkswagen | Transporter | 2.0 16v TDI | CXGB | 75 | 101 | Diesel | 2015 | Delphi | DCM6.2V |
| Volkswagen | Transporter | 2.0 16v TDI | CXGA | 62 | 83 | Diesel | 2015 | Delphi | DCM6.2V |
| Volkswagen | Transporter | 2.0 16v TDI | CXHA | 110 | 148 | Diesel | 2015 | Delphi | DCM6.2V |
| Volkswagen | Transporter | 2.0 16v TDI | CXFA | 110 | 148 | Diesel | 2015 | Delphi | DCM6.2V |
| Volkswagen | Transporter | 2.0 16v TDI | CXHB | 84 | 113 | Diesel | 2016 | Delphi | DCM6.2V |
| Volkswagen | Transporter | 2.0 16v TDI | CXEB | 150 | 201 | Diesel | 2016 | Delphi | DCM6.2V |
Iveco Bosch EDC17C69
KESSv2 – Prt 596
– Read: YES
– Write: YES
– Checksum Correction: YES
– Direct Connection: 144300K208
| Model | Model Name | Engine | Engine Code | KW | HP | Fuel | MY | ECU | ECU Version |
| --- | --- | --- | --- | --- | --- | --- | --- | --- | --- |
| Iveco | Daily | 35C12 2.3L I4 | F1AGL411H | 85 | 114 | Diesel | 2016 | Bosch | EDC17C69 |
| Iveco | Daily | 35C14 2.3L I4 | F1AGL411J | 100 | 134 | Diesel | 2016 | Bosch | EDC17C69 |
| Iveco | Daily | 35C16 2.3L I4 | F1AGL411G | 110 | 148 | Diesel | 2016 | Bosch | EDC17C69 |
| Iveco | Daily | 35S12 2.3L I4 | F1AGL411G | 110 | 148 | Diesel | 2016 | Bosch | EDC17C69 |
| Iveco | Daily | 35S12 2.3L I4 | F1AGL411J | 100 | 134 | Diesel | 2016 | Bosch | EDC17C69 |
| Iveco | Daily | 35S12 2.3L I4 | F1AGL411H | 85 | 114 | Diesel | 2016 | Bosch | EDC17C69 |
DSG Gearbox
KESSv2 – Prt 577
– Read: YES
– Write: YES
– Checksum Correction: YES
– Direct Connection: 144300K265
| Model | Model Name | Engine | Engine Code | KW | HP | Fuel | MY | ECU | ECU Version |
| --- | --- | --- | --- | --- | --- | --- | --- | --- | --- |
| Audi | A4 | 3.0 TDI Quattro S-Tronic | CCWA | Diesel | 176 | 236 | 2009 | TCM | Temic |
| Audi | A5 | 3.0 TDI Quattro S-Tronic | CCWA | Diesel | 176 | 236 | 2009 | TCM | Temic |
| Audi | A5 | 2.0 TFSI Quattro S-Tronic | CDNC | Petrol | 155 | 208 | 2009 | TCM | Temic |
| Audi | A5 Cabriolet | 3.0 TDI Quattro S-Tronic | CCWA | Diesel | 176 | 236 | 2009 | TCM | Temic |
| Audi | A5 Cabriolet | 2.0 TFSI Quattro S-Tronic | CDNC | Petrol | 155 | 208 | 2009 | TCM | Temic |
| Audi | A5 Sportback | 3.0 TDI Quattro S-Tronic | CCWA | Diesel | 176 | 236 | 2009 | TCM | Temic |
| Audi | A5 Sportback | 2.0 TFSI Quattro S-Tronic | CDNC | Petrol | 155 | 208 | 2009 | TCM | Temic |
| Audi | A5 Sportback | 2.0 TFSI Quattro S-Tronic | CDNC | Petrol | 155 | 208 | 2011 | TCM | Temic |
| Audi | A6 | 3.0 TDI (245) Quattro S-Tronic | CDUD | Diesel | 180 | 241 | 2012 | TCM | Temic |
| Audi | A6 | 3.0 TFSI Quattro S-Tronic | CGWD | Petrol | 228 | 306 | 2013 | TCM | Temic |
| Audi | A6 Allroad | 3.0 TDI (245) Quattro S-Tronic | CDUD | Diesel | 180 | 241 | 2012 | TCM | Temic |
| Audi | A6 Allroad | 3.0 TFSI Quattro S-Tronic | CGWD | Petrol | 228 | 306 | 2012 | TCM | Temic |
| Audi | A7 | 3.0 TFSI Quattro S-Tronic | CGWD | Petrol | 228 | 306 | 2013 | TCM | Temic |
| Audi | A7 | 3.0 TFSI Quattro S-Tronic | CTUA | Petrol | 228 | 306 | 2013 | TCM | Temic |
| Audi | Q5 | 2.0 16v TDI | CNHA | Diesel | 140 | 188 | 2015 | TCM | Temic |
| Audi | Q5 | 2.0 16v TDI quattro | CNHA | Diesel | 140 | 188 | 2014 | TCM | Temic |
| Audi | Q5 | 2.0 16v TDI quattro S-Tronic | CAHA | Diesel | 125 | 168 | 2008 | TCM | Temic |
| Audi | Q5 | 2.0 16v TDI quattro S-Tronic | CGLB | Diesel | 125 | 168 | 2008 | TCM | Temic |
| Audi | Q5 | 2.0 16v TDI quattro S-Tronic | CGLC | Diesel | 130 | 174 | 2011 | TCM | Temic |
| Audi | Q5 | 2.0 16v TDI quattro S-Tronic | CAHB | Diesel | 120 | 161 | 2014 | TCM | Temic |
| Audi | Q5 | 3.0 V6 24v TDI quattro S-Tronic | CCWA | Diesel | 176 | 236 | 2008 | TCM | Temic |
| Audi | Q5 | 3.0 V6 24v TDI quattro S-Tronic | CDUD | Diesel | 180 | 241 | 2011 | TCM | Temic |
| Audi | Q5 | 2.0 16v TFSI quattro S-Tronic | CDNC | Petrol | 155 | 208 | 2008 | TCM | Temic |
| Audi | Q5 | 3.0 V6 24v TFSI quattro S-Tronic | CTVA | Petrol | 200 | 268 | 2012 | TCM | Temic |
| Audi | Q5 | 3.0 V6 24v TFSI quattro S-Tronic | CTUC | Petrol | 200 | 268 | 2012 | TCM | Temic |
| Audi | Q5 | 3.2 V6 24v FSI quattro S-Tronic | CALB | Petrol | 199 | 267 | 2008 | TCM | Temic |
| Audi | S4 | 3.0 V6 TFSI Quattro 7AT | CAKA | Petrol | 245 | 329 | 2008 | TCM | Temic |
| Audi | S4 | 3.0 V6 TFSI Quattro 7AT | CCBA | Petrol | 245 | 329 | 2009 | TCM | Temic |
| Audi | S4 Avant | 3.0 V6 TFSI Quattro 7AT | CAKA | Petrol | 245 | 329 | 2008 | TCM | Temic |
| Audi | S5 | 3.0 V6 24v TFSI quattro S-Tronic | CAKA | Petrol | 245 | 329 | 2009 | TCM | Temic |
| Audi | S5 | 3.0 V6 24v TFSI quattro | CGWC | Petrol | 245 | 329 | 2011 | TCM | Temic |
| Audi | S5 | 3.0 V6 24v TFSI quattro | CGXC | Petrol | 245 | 329 | 2012 | TCM | Temic |
| Audi | S5 | 3.0 V6 24v TFSI quattro | CTDA | Petrol | 245 | 329 | 2014 | TCM | Temic |
| Audi | S5 | 3.0 V6 24v TFSI quattro | CREC | Petrol | 245 | 329 | 2014 | TCM | Temic |
| Audi | S5 | 3.0 V6 24v TFSI quattro | CGWC | Petrol | 245 | 329 | 2011 | TCM | Temic |
| Audi | S5 | 3.0 V6 24v TFSI quattro | CTDA | Petrol | 245 | 329 | 2014 | TCM | Temic |
| Audi | S5 | 3.0 V6 24v TFSI quattro | CREC | Petrol | 245 | 329 | 2014 | TCM | Temic |
| Audi | S5 | 3.0 V6 24v TFSI quattro S-Tronic | CAKA | Petrol | 245 | 329 | 2010 | TCM | Temic |
| Audi | S6 | 4.0 V8 TFSI Quattro | CEUC | Petrol | 309 | 414 | 2012 | TCM | Temic |
| Audi | S7 | 4.0 V8 32v TFSI Quattro | CEUC | Petrol | 309 | 414 | 2012 | TCM | Temic |
| Porsche | Macan S Diesel | 3.0 V6 Turbo 7AT | MCT.BB | Diesel | 155 | 208 | 2014 | TCM | Temic |
| Porsche | Macan S Diesel | 3.0 V6 Turbo 7AT | MCT.BC | Diesel | 184 | 247 | 2014 | TCM | Temic |
| Porsche | Macan S Diesel | 3.0 V6 Turbo 7AT | MCT.BA | Diesel | 190 | 255 | 2014 | TCM | Temic |

Cummins Hyundai Truck Continental CM2350A CAN
KESSv2 – Prt 588
– Read: YES
– Write: YES
– Checksum Correction: YES
– Direct Connection: 144300K226
Cummins Autosan Truck Continental CM2150E CAN
KESSv2 – Prt 591
– Read: YES
– Write: YES
– Checksum Correction: YES
– Direct Connection: 144300KCAN
Cummins Peterbilt Truck Motorola CM875 CAN
KESSv2 – Prt 592
– Read: YES
– Write: YES
– Checksum Correction: YES
– Direct Connection: 144300K226
Cummins BCI Truck Motorola CM850 CAN
KESSv2 – Prt 594
– Read: YES
– Write: YES
– Checksum Correction: YES
– Direct Connection: 144300K235
Cummins International Truck Motorola CM876 CAN
KESSv2 – Prt 598
– Read: YES
– Write: YES
– Checksum Correction: YES
– Direct Connection: 144300K235
Cummins Alexander-Dennis Truck Motorola CM850 CAN
KESSv2 – Prt 601
– Read: YES
– Write: YES
– Checksum Correction: YES
– Direct Connection: 144300K235
Cummins Freightliner Truck Recon CM2150E CAN
KESSv2 – Prt 603
– Read: YES
– Write: YES
– Checksum Correction: YES
– Direct Connection: 144300KCAN

Cummins GVM Tractor Motorola CM850 CAN
KESSv2 – Prt 586
– Read: YES
– Write: YES
– Checksum Correction: YES
– Direct Connection: 144300K226
Cummins Hudding Tractor Continental CM2250 CAN
KESSv2 – Prt 597
– Read: YES
– Write: YES
– Checksum Correction: YES
– Direct Connection: 144300K226
Cummins Hagie Tractor Motorola CM850 CAN
KESSv2 – Prt 599
– Read: YES
– Write: YES
– Checksum Correction: YES
– Direct Connection: 144300K226
Cummins Crary Tractor Motorola CM850 CAN
KESSv2 – Prt 600
– Read: YES
– Write: YES
– Checksum Correction: YES
– Direct Connection: 144300K226
Cummins John Deere Tractor 2350A
KESSv2 – Prt 602
– Read: YES
– Write: YES
– Checksum Correction: YES
– Direct Connection: 144300K226