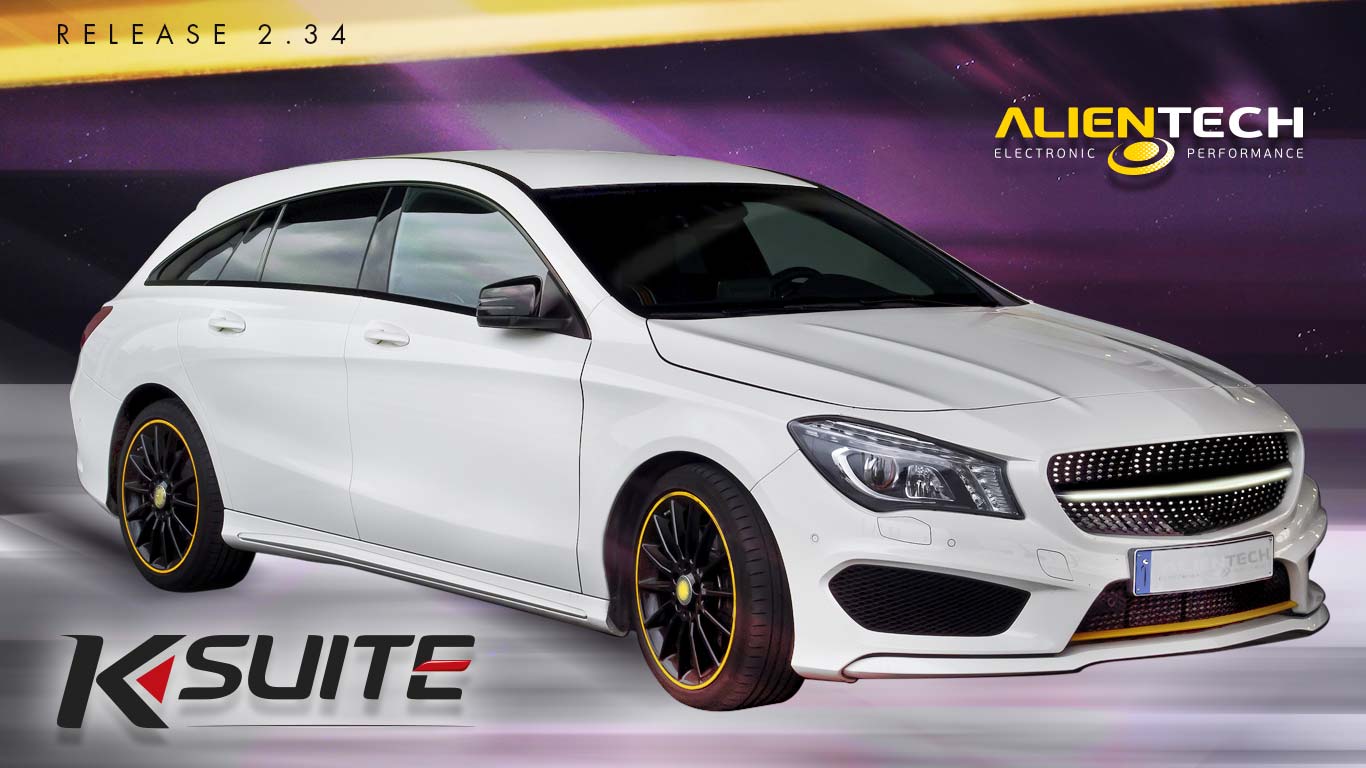 18 Apr 2017

K-Suite 2.34

New update for the K-Suite software. Now released, with this 2.34 update, new protocols for reading and writing ECUs on the bench with K-TAG for Cars, Trucks, Tractors and Boats.
The microcontrollers updated are BDM, Bootloader, JTAG and NEC NBD: many new protocols are added to our List, increasing the number of vehicles on which you can work.
New BAM communication interface
Our R & D department, after a study in microcontrollers Freescale / Motorola MPC5xxx, SPC56xxx and MPC56xxx, has introduced a new system to use the communication interface BAM (Bus Access Module), which is added to the J-TAG mode already existing.
With this new mode, to open the ECU is easier: you can now open the ECU only from the top and so avoiding to remove the tin, which can be a sometimes risky operation. For this reason, we created plug-ins to work in this mode.
These are the plug-ins concerned:
| Group | Plugin BAM mode |
| --- | --- |
| BAM NEXUS MPC5xxx | 948 (DELPHI CRD2.XX MEB BAM) |
| BAM SPC56xxx/MPC56xxx | 947 (DELPHI DCM6.2A PSA BAM) |
| BAM SPC56xxx/MPC56xxx | 949 (DELPHI DCM6.2AP SSANGYONG BAM) |
New protocols | K-TAG

Mercedes Delphi CRD3.E1 IROM TC1793
K-TAG – Bootloader Tricore – Prt 808 – Plugin 935
– Read: YES
– Write: YES
– Checksum Correction: YES
– Direct Connection: 14P600KT02
| Model | Model Name | Engine | Engine Code | KW | HP | Fuel | MY | ECU | ECU Version |
| --- | --- | --- | --- | --- | --- | --- | --- | --- | --- |
| Mercedes-Benz | CLA-Class | 200 CDI 4Matic 7AT | 651.930 | 100 | 134 | Diesel | 2015 | Delphi | CRD3.E1 |
| Mercedes-Benz | CLA-Class | 200 CDI 6MT | 651.901 | 100 | 134 | Diesel | 2015 | Delphi | CRD3.E1 |
| Mercedes-Benz | CLA-Class | 200 CDI 7AT | 651.930 | 100 | 134 | Diesel | 2015 | Delphi | CRD3.E1 |
| Mercedes-Benz | CLA-Class | 200 CDI 7AT | 651.901 | 100 | 134 | Diesel | 2015 | Delphi | CRD3.E1 |
| Mercedes-Benz | CLA-Class | 220 CDI 4Matic 7AT | 651.930 | 125 | 168 | Diesel | 2015 | Delphi | CRD3.E1 |
| Mercedes-Benz | CLA-Class | 220 CDI 7AT | 651.930 | 125 | 168 | Diesel | 2015 | Delphi | CRD3.E1 |
| Mercedes-Benz | CLA-Class Shooting Brake | 200 CDI 4Matic 7AT | 651.930 | 100 | 134 | Diesel | 2015 | Delphi | CRD3.E1 |
| Mercedes-Benz | CLA-Class Shooting Brake | 200 CDI 6MT | 651.930 | 100 | 134 | Diesel | 2015 | Delphi | CRD3.E1 |
| Mercedes-Benz | CLA-Class Shooting Brake | 200 CDI 7AT | 651.930 | 100 | 134 | Diesel | 2015 | Delphi | CRD3.E1 |
| Mercedes-Benz | CLA-Class Shooting Brake | 220 4Matic | 651.930 | 125 | 168 | Diesel | 2015 | Delphi | CRD3.E1 |
| Mercedes-Benz | CLA-Class Shooting Brake | 220 CDI 7AT | 651.930 | 125 | 168 | Diesel | 2015 | Delphi | CRD3.E1 |
| Mercedes-Benz | GLA-Class | 200 CDI 4Matic 7AT | 651.930 | 100 | 134 | Diesel | 2015 | Delphi | CRD3.E1 |
| Mercedes-Benz | GLA-Class | 200 CDI 6MT | 651.930 | 100 | 134 | Diesel | 2015 | Delphi | CRD3.E1 |
| Mercedes-Benz | GLA-Class | 200 CDI 7AT | 651.930 | 100 | 134 | Diesel | 2015 | Delphi | CRD3.E1 |
| Mercedes-Benz | GLA-Class | 200 d 4Matic 7AT | 651.930 | 100 | 134 | Diesel | 2016 | Delphi | CRD3.E1 |
| Mercedes-Benz | GLA-Class | 200 d 6MT | 651.930 | 100 | 134 | Diesel | 2016 | Delphi | CRD3.E1 |
| Mercedes-Benz | GLA-Class | 200 d 7AT | 651.930 | 100 | 134 | Diesel | 2016 | Delphi | CRD3.E1 |
| Mercedes-Benz | GLA-Class | 220 CDI 4Matic 7AT | 651.930 | 125 | 168 | Diesel | 2015 | Delphi | CRD3.E1 |
| Mercedes-Benz | GLA-Class | 220 CDI 7AT | 651.930 | 125 | 168 | Diesel | 2015 | Delphi | CRD3.E1 |
| Mercedes-Benz | GLA-Class | 220 d 4Matic 7AT | 651.930 | 125 | 168 | Diesel | 2016 | Delphi | CRD3.E1 |
| Mercedes-Benz | GLA-Class | 220 d 7AT | 651.930 | 125 | 168 | Diesel | 2016 | Delphi | CRD3.E1 |
| Mercedes-Benz | SLC-Class | 250 d 9AT | 651.980 | 150 | 201 | Diesel | 2016 | Delphi | CRD3.E1 |
Ssangyong Delphi DCM6.2AP BAM
K-TAG – JTAG / BAM SPC – Prt 949
– Read: YES
– Write: YES
– Checksum Correction: YES
– Direct Connection: 14P600KT02
| Model | Model Name | Engine | Engine Code | KW | HP | Fuel | MY | ECU | ECU Version |
| --- | --- | --- | --- | --- | --- | --- | --- | --- | --- |
| Ssangyong | Actyon Sports | 2.2 e-XDI XVT | | 131 | 176 | Diesel | 2016 | Delphi | DCM6.2AP |
| Ssangyong | Korando | 2.2 e-XDI XVT | D22DTF | 131 | 176 | Diesel | 2015 | Delphi | DCM6.2AP |
| Ssangyong | Rexton | 2.2 e-XDI XVT | D22DTR | 131 | 176 | Diesel | 2015 | Delphi | DCM6.2AP |
| Ssangyong | Tivoli | 1.6 e-XDI | D16DTF | 85 | 114 | Diesel | 2015 | Delphi | DCM6.2AP |
| Ssangyong | XLV | 1.6 e-XDI | D16DTF | 85 | 114 | Diesel | 2016 | Delphi | DCM6.2AP |
PSA Bosch ME7.4.7
K-TAG – Bootloader ST – Prt 939
– Read: YES
– Write: YES
– Checksum Correction: YES
– Direct Connection: 14P600KT02 + 144300T109
| Model | Model Name | Engine | Engine Code | KW | HP | Fuel | MY | ECU | ECU Version |
| --- | --- | --- | --- | --- | --- | --- | --- | --- | --- |
| Citroen | C5 | 3.0 V6 | XFU (ES9A) | 154 | 207 | Petrol | 2008 | Bosch | ME7.4.7 |
| Citroen | C6 | 3.0 V6 | XFV (ES9A) | 154 | 207 | Petrol | 2005 | Bosch | ME7.4.7 |
Mitsubishi Bosch EDC17CV54
K-TAG – Bootloader Tricore – Prt 170 – Plugin 943
– Read: YES
– Write: YES
– Checksum Correction: YES
– Direct Connection: 14P600KT02
| Model | Model Name | Engine | Engine Code | KW | HP | Fuel | MY | ECU | ECU Version |
| --- | --- | --- | --- | --- | --- | --- | --- | --- | --- |
| Mitsubishi Fuso | FA Rigid | 3900 TD | 4D37 | 100 | 134 | Diesel | 2016 | Bosch | EDC17CV54 |
| Mitsubishi Fuso | FA Rigid | 3900 TD | 4D37 | 100 | 134 | Diesel | 2016 | Bosch | EDC17CV54 |
| Mitsubishi Fuso | FA Rigid | 3900 TD | 4D37 | 100 | 134 | Diesel | 2016 | Bosch | EDC17CV54 |
| Mitsubishi Fuso | FI Mixer | 3900 TD | 4D37 | 125 | 168 | Diesel | 2016 | Bosch | EDC17CV54 |
| Mitsubishi Fuso | FI Rigid | 3900 TD | 4D37 | 100 | 134 | Diesel | 2016 | Bosch | EDC17CV54 |
| Mitsubishi Fuso | FI Rigid | 3900 TD | 4D37 | 100 | 134 | Diesel | 2016 | Bosch | EDC17CV54 |
| Mitsubishi Fuso | FI Tipper | 3900 TD | 4D37 | 125 | 168 | Diesel | 2016 | Bosch | EDC17CV54 |
VAG Bosch ME17.5.26 IROM TC1724 GPT
K-TAG – Bootloader Tricore – Prt 686 – Plugin 917
– Read: YES
– Write: YES
– Checksum Correction: YES
– Direct Connection: 14P600KT02 + 14P600KT06
| Model | Model Name | Engine | Engine Code | KW | HP | Fuel | MY | ECU | ECU Version |
| --- | --- | --- | --- | --- | --- | --- | --- | --- | --- |
| Skoda | Rapid | 1.6 MPI | | 77 | 103 | Petrol | 2014 | Bosch | MED17.5.26 |
Ford Bosch EDC17CP65 IROM TC1793 GPT
K-TAG – Bootloader Tricore – Prt 698 – Plugin 942
– Read: YES
– Write: YES
– Checksum Correction: YES
– Direct Connection: 14P600KT02 + 14P600KT06
– Connection using the positioning frame: 14P800ADB1, 144300T109, 14P600KT04, 14P600KT03
| Model | Model Name | Engine | Engine Code | KW | HP | Fuel | MY | ECU | ECU Version |
| --- | --- | --- | --- | --- | --- | --- | --- | --- | --- |
| Ford | F-250 Super Duty | 6.7 V8 Powerstroke | | 328 | 440 | Diesel | 2017 | Bosch | EDC17CP65 |
Nissan Bosch EDC17C45 IROM TC1767 GPT
K-TAG – Bootloader Tricore – Prt 724 – Plugin 941
– Read: YES
– Write: YES
– Checksum Correction: YES
– Direct Connection: 14P600KT02 + 14P600KT06
| Model | Model Name | Engine | Engine Code | KW | HP | Fuel | MY | ECU | ECU Version |
| --- | --- | --- | --- | --- | --- | --- | --- | --- | --- |
| Nissan | Atleon | 3.0 dCi | ZD30kai | 110 | 148 | Diesel | 2016 | Bosch | EDC17C45 |
Suzuki Bosch ME17.9.61 IROM TC1724
K-TAG – Bootloader Tricore – Prt 880 – Plugin 960
– Read: YES
– Write: YES
– Checksum Correction: YES
– Direct Connection: 14P600KT02, 144300T105
| Model | Model Name | Engine | Engine Code | KW | HP | Fuel | MY | ECU | ECU Version |
| --- | --- | --- | --- | --- | --- | --- | --- | --- | --- |
| Suzuki | S-Cross | 1.6 16v | | 88 | 118 | Petrol | 2016 | Bosch | ME17.9.61 |
Kia / Hiunday Delphi MT86 IROM TC1766
K-TAG – Bootloader Tricore – Prt 938 – Plugin 938
– Read: YES
– Write: YES
– Checksum Correction: YES
– Direct Connection: 14P600KT02
| Model | Model Name | Engine | Engine Code | KW | HP | Fuel | MY | ECU | ECU Version |
| --- | --- | --- | --- | --- | --- | --- | --- | --- | --- |
| Hyundai | Genesis Coupe | 3.8 V6 | G6D | 228 | 306 | Petrol | 2010 | Delphi | MT86 |
| Hyundai | Genesis Coupe | 3.8 V6 | G6D | 223 | 299 | Petrol | 2010 | Delphi | MT86 |
| Hyundai | Genesis Coupe | 3.8 V6 | G6D | 259 | 347 | Petrol | 2015 | Delphi | MT86 |
| Hyundai | Genesis Coupe | 3.8 V6 Automatic | G6D | 228 | 306 | Petrol | 2010 | Delphi | MT86 |
| Hyundai | Genesis Coupe | 3.8 V6 Automatic | G6D | 223 | 299 | Petrol | 2010 | Delphi | MT86 |
| Hyundai | Genesis Coupe | 3.8 V6 Automatic | G6D | 259 | 347 | Petrol | 2015 | Delphi | MT86 |
| Hyundai | Genesis Coupe | 3.8 V6 GT | G6D | 223 | 299 | Petrol | 2009 | Delphi | MT86 |
| Hyundai | Genesis Coupe | 3.8 V6 GT | G6D | 259 | 347 | Petrol | 2013 | Delphi | MT86 |
| Hyundai | Genesis Coupe | 3.8 V6 GT Automatic | G6D | 223 | 299 | Petrol | 2009 | Delphi | MT86 |
| Hyundai | Genesis Coupe | 3.8 V6 GT Automatic | G6D | 259 | 347 | Petrol | 2013 | Delphi | MT86 |
| Hyundai | Genesis Coupe | 3.8 V6 R-Spec | G6D | 228 | 306 | Petrol | 2011 | Delphi | MT86 |
| Hyundai | Genesis Coupe | 3.8 V6 R-Spec | G6D | 259 | 347 | Petrol | 2013 | Delphi | MT86 |
| Hyundai | Genesis Coupe | 3.8 V6 Track | G6D | 228 | 306 | Petrol | 2010 | Delphi | MT86 |
| Hyundai | Genesis Coupe | 3.8 V6 Track | G6D | 259 | 347 | Petrol | 2013 | Delphi | MT86 |
| Hyundai | Genesis Coupe | 3.8 V6 Track Automatic | G6D | 228 | 306 | Petrol | 2010 | Delphi | MT86 |
| Hyundai | Genesis Coupe | 3.8 V6 Track Automatic | G6D | 259 | 347 | Petrol | 2013 | Delphi | MT86 |
| Kia | Cadenza | 3.0 V6 GDI | | 198 | 266 | Petrol | 2013 | Delphi | MT86 |
| Kia | K7 | 3.0 V6 GDI | | 198 | 266 | Petrol | 2013 | Delphi | MT86 |
GMC AC Delco E86 IROM TC1797 GPT
K-TAG – Bootloader Tricore – Prt 950 – Plugin 950
– Read: YES
– Write: YES
– Checksum Correction: YES
– Direct Connection: 14P600KT02
| Model | Model Name | Engine | Engine Code | KW | HP | Fuel | MY | ECU | ECU Version |
| --- | --- | --- | --- | --- | --- | --- | --- | --- | --- |
| GMC | Sierra | 6.6 Duramax V8 | LML | 292 | 392 | diesel | 2015 | Ac Delco | E86 |
PSA Delphi DCM6.2A BAM
K-TAG – JTAG / BAM SPC – Prt 947
– Read: YES
– Write: YES
– Checksum Correction: YES
– Direct Connection: 14P600KT02
| Model | Model Name | Engine | Engine Code | KW | HP | Fuel | MY | ECU | ECU Version |
| --- | --- | --- | --- | --- | --- | --- | --- | --- | --- |
| Citroen | C4 | 2.0 BlueHDi | DW10FD | 110 | 148 | Diesel | 2013 | Delphi | DCM6.2A |
| Citroen | C4 | 2.0 BlueHDi | DW10FDD | 100 | 134 | Diesel | 2013 | Delphi | DCM6.2A |
| Citroen | C4 Grand Picasso | 2.0 BlueHDi | DW10FD | 110 | 148 | Diesel | 2013 | Delphi | DCM6.2A |
| Citroen | C4 Grand Picasso | 2.0 BlueHDi | DW10FDD | 100 | 134 | Diesel | 2013 | Delphi | DCM6.2A |
| Citroen | C4 Picasso | 2.0 BlueHDi | DW10FD | 110 | 148 | Diesel | 2013 | Delphi | DCM6.2A |
| Citroen | C4 Picasso | 2.0 BlueHDi | DW10FDD | 100 | 134 | Diesel | 2013 | Delphi | DCM6.2A |
| Citroen | C5 | 2.0 BlueHDi | DW10FC | 132 | 177 | Diesel | 2015 | Delphi | DCM6.2A |
| Citroen | C5 | 2.0 BlueHDi | DW10FD | 110 | 148 | Diesel | 2015 | Delphi | DCM6.2A |
| Citroen | C5 Tourer | 2.0 BlueHDi | DW10FC | 132 | 177 | Diesel | 2015 | Delphi | DCM6.2A |
| Citroen | C5 Tourer | 2.0 BlueHDi | DW10FD | 110 | 148 | Diesel | 2015 | Delphi | DCM6.2A |
| Citroen | DS4 | 2.0 BlueHDi | DW10FD | 110 | 148 | Diesel | 2015 | Delphi | DCM6.2A |
| Citroen | DS4 | 2.0 BlueHDi | DW10FC | 132 | 177 | Diesel | 2015 | Delphi | DCM6.2A |
| Citroen | DS4 | 2.0 BlueHDi | DW10FDD | 100 | 134 | Diesel | 2015 | Delphi | DCM6.2A |
| Citroen | DS5 | 2.0 BlueHDi | DW10FC | 132 | 177 | Diesel | 2013 | Delphi | DCM6.2A |
| Citroen | DS5 | 2.0 BlueHDi | DW10FD | 110 | 148 | Diesel | 2014 | Delphi | DCM6.2A |
| Citroen | DS5 | 2.0 BlueHDi | DW10FDD | 100 | 134 | Diesel | 2014 | Delphi | DCM6.2A |
| Citroen | Jumper | 2.0 BlueHDi | | 120 | 161 | Diesel | 2015 | Delphi | DCM6.2A |
| Peugeot | 308 | 2.0 BlueHDi | DW10FD | 110 | 148 | Diesel | 2015 | Delphi | DCM6.2A |
| Peugeot | 308 | 2.0 BlueHDi GT | DW10FC | 132 | 177 | Diesel | 2014 | Delphi | DCM6.2A |
| Peugeot | 508 | 2.0 BlueHDi | DW10FC | 132 | 177 | Diesel | 2013 | Delphi | DCM6.2A |
| Peugeot | 508 | 2.0 BlueHDi | DW10FD | 110 | 148 | Diesel | 2013 | Delphi | DCM6.2A |
| Peugeot | 3008 | 2.0 BlueHDi | DW10FC | 132 | 177 | Diesel | 2015 | Delphi | DCM6.2A |
| Peugeot | 3008 | 2.0 BlueHDi | DW10FD | 110 | 148 | Diesel | 2015 | Delphi | DCM6.2A |
| Peugeot | 5008 | 2.0 BlueHDi | DW10FD | 110 | 148 | Diesel | 2015 | Delphi | DCM6.2A |
| Peugeot | Boxer | 2.0 BlueHDi | | 120 | 161 | Diesel | 2015 | Delphi | DCM6.2A |
Mercedes Delphi CRD2.XX BAM
K-TAG – JTAG / BAM NEXUS – Prt 948
– Read: YES
– Write: YES
– Checksum Correction: YES
– Direct Connection: 14P600KT02
| Model | Model Name | Engine | Engine Code | KW | HP | Fuel | MY | ECU | ECU Version |
| --- | --- | --- | --- | --- | --- | --- | --- | --- | --- |
| Mercedes-Benz | C-Class | 250 CDI 6MT | 651.911 | 150 | 201 | Diesel | 2007 | Delphi | CRD2 |
| Mercedes-Benz | C-Class T-Model | 250 CDI 4Matic 7AT | 651.911 | 150 | 201 | Diesel | 2007 | Delphi | CRD2 |
| Mercedes-Benz | E-Class | 200 CDi BlueEFFICIENCY 5AT | 651.925 | 100 | 134 | Diesel | 2009 | Delphi | CRD2 |
| Mercedes-Benz | E-Class | 200 CDi BlueEFFICIENCY 6MT | 651.925 | 100 | 134 | Diesel | 2009 | Delphi | CRD2 |
| Mercedes-Benz | E-Class | 220 CDi BlueEFFICIENCY 6MT | 651.924 | 125 | 168 | Diesel | 2009 | Delphi | CRD2 |
| Mercedes-Benz | E-Class | 220 CDi BlueEFFICIENCY 7AT | 651.924 | 125 | 168 | Diesel | 2009 | Delphi | CRD2 |
| Mercedes-Benz | E-Class | 250 CDi BlueEFFICIENCY 4Matic 7AT | 651.924 | 150 | 201 | Diesel | 2009 | Delphi | CRD2 |
| Mercedes-Benz | E-Class | 250 CDi BlueEFFICIENCY 5AT | 651.924 | 150 | 201 | Diesel | 2009 | Delphi | CRD2 |
| Mercedes-Benz | E-Class | 250 CDi BlueEFFICIENCY 6MT | 651.924 | 150 | 201 | Diesel | 2009 | Delphi | CRD2 |
| Mercedes-Benz | E-Class | 250 CDi BlueEFFICIENCY 7AT | 651.924 | 150 | 201 | Diesel | 2009 | Delphi | CRD2 |
| Mercedes-Benz | E-Class | 300 BlueTEC Hybrid 7AT | 651.924 | 150 | 201 | Diesel | 2009 | Delphi | CRD2 |
| Mercedes-Benz | E-Class Cabriolet | 220 CDI BlueEFFICIENCY 6MT | 651.911 | 125 | 168 | Diesel | 2009 | Delphi | CRD2 |
| Mercedes-Benz | E-Class Cabriolet | 220 CDI BlueEFFICIENCY 7AT | 651.911 | 125 | 168 | Diesel | 2009 | Delphi | CRD2 |
| Mercedes-Benz | E-Class Coupe | 220 CDI BlueEFFICIENCY 6MT | 651.911 | 125 | 168 | Diesel | 2009 | Delphi | CRD2 |
| Mercedes-Benz | E-Class Coupe | 220 CDI BlueEFFICIENCY 7AT | 651.911 | 125 | 168 | Diesel | 2009 | Delphi | CRD2 |
| Mercedes-Benz | E-Class T-Model | 200 CDi BlueEFFICIENCY 5AT | 651.925 | 100 | 134 | Diesel | 2009 | Delphi | CRD2 |
| Mercedes-Benz | E-Class T-Model | 200 CDi BlueEFFICIENCY 6MT | 651.925 | 100 | 134 | Diesel | 2009 | Delphi | CRD2 |
| Mercedes-Benz | E-Class T-Model | 220 CDi BlueEFFICIENCY 6MT | 651.924 | 125 | 168 | Diesel | 2009 | Delphi | CRD2 |
| Mercedes-Benz | E-Class T-Model | 220 CDi BlueEFFICIENCY 7AT | 651.924 | 125 | 168 | Diesel | 2009 | Delphi | CRD2 |
| Mercedes-Benz | E-Class T-Model | 250 CDi BlueEFFICIENCY 4Matic 7AT | 651.924 | 150 | 201 | Diesel | 2009 | Delphi | CRD2 |
| Mercedes-Benz | E-Class T-Model | 250 CDi BlueEFFICIENCY 5AT | 651.924 | 150 | 201 | Diesel | 2009 | Delphi | CRD2 |
| Mercedes-Benz | E-Class T-Model | 250 CDi BlueEFFICIENCY 6MT | 651.924 | 150 | 201 | Diesel | 2009 | Delphi | CRD2 |
| Mercedes-Benz | E-Class T-Model | 250 CDi BlueEFFICIENCY 7AT | 651.924 | 150 | 201 | Diesel | 2009 | Delphi | CRD2 |
| Mercedes-Benz | E-Class T-Model | 300 BlueTEC Hybrid 7AT | 651.924 | 150 | 201 | Diesel | 2009 | Delphi | CRD2 |
Toyota Denso 275036-7400 | 76F0085
K-TAG – NEC NBD – Prt 940
– Read: YES
– Write: YES
– Checksum Correction: YES
– Direct Connection: 14P600KT02, 14AS00T09S, 144300T102, 144300T105
– Connection using the positioning frame: 14P800ADBO, 14P600KT02, 14AM00T16M, 144300T102
| Model | Model Name | Engine | Engine Code | KW | HP | Fuel | MY | ECU | ECU Version |
| --- | --- | --- | --- | --- | --- | --- | --- | --- | --- |
| Toyota | Land Cruiser Prado | 2.7 16v VVT-i | 2TR-FE | 119 | 160 | Petrol | 2010 | Denso | 275036-7400 (CAN) |
Toyota Denso 275036-5280 | 76F0085 HWII
K-TAG – NEC NBD – Prt 956
– Read: YES
– Write: YES
– Checksum Correction: YES
– Direct Connection: 14P600KT02, 14AS00T09S, 144300T102, 144300T105
– Connection using the positioning frame: 14P800ADBO, 14P600KT02, 14AM00T16M, 144300T102
| Model | Model Name | Engine | Engine Code | KW | HP | Fuel | MY | ECU | ECU Version |
| --- | --- | --- | --- | --- | --- | --- | --- | --- | --- |
| Toyota | IQ | 1.33 16v VVT-i | 1NR-FE | 72 | 97 | Petrol | 2008 | Denso | 275036-5280 (CAN) |
Toyota Denso 275036-5920 | 76F0085 HWII
K-TAG – NEC NBD – Prt 957
– Read: YES
– Write: YES
– Checksum Correction: YES
– Direct Connection: 14P600KT02, 14AS00T09S, 144300T102, 144300T105
– Connection using the positioning frame: 14P800ADBO, 14P600KT02, 14AM00T16M, 144300T102
| Model | Model Name | Engine | Engine Code | KW | HP | Fuel | MY | ECU | ECU Version |
| --- | --- | --- | --- | --- | --- | --- | --- | --- | --- |
| Toyota | 4Runner | 4.0 V6 VVT-i | 1GR-FE | 183 | 245 | Petrol | 2015 | Denso | 275036-5920 (CAN) |
Toyota Denso 275036-5130 | 76F0085 HWII
K-TAG – NEC NBD – Prt 959
– Read: YES
– Write: YES
– Checksum Correction: YES
– Direct Connection: 14P600KT02, 14AS00T09S, 144300T102, 144300T105
– Connection using the positioning frame: 14P800ADBO, 14P600KT02, 14AM00T16M, 144300T102
| Model | Model Name | Engine | Engine Code | KW | HP | Fuel | MY | ECU | ECU Version |
| --- | --- | --- | --- | --- | --- | --- | --- | --- | --- |
| Toyota | Sienna | 3.5 V6 VVT-i | 2GR-FE | 200 | 268 | Petrol | 2011 | Denso | 275036-5130 (CAN) |
Toyota Denso 275922-320 | 76F0085
K-TAG – NEC NBD – Prt 955
– Read: YES
– Write: YES
– Checksum Correction: YES
– Direct Connection: 14P600KT02, 14AS00T08S, 144300T102, 144300T105
– Connection using the positioning frame: 14P800ADBO, 14P600KT02, 14AM00T15M, 144300T102
| Model | Model Name | Engine | Engine Code | KW | HP | Fuel | MY | ECU | ECU Version |
| --- | --- | --- | --- | --- | --- | --- | --- | --- | --- |
| Hino | 300 Series | 4.0 D 16v | N04C | 125 | 168 | Diesel | 2011 | Denso | 275922-320 (CAN) |
Valtra Sisu EEM2
K-TAG – BDM 68K – Prt 825
– Read: YES
– Write: YES
– Checksum Correction: YES
– Direct Connection: 14P600KT02, 144300T06S, 144300T102, 144300T105
| Model | Model Name | Engine | Engine Code | KW | HP | Fuel | MY | ECU | ECU Version |
| --- | --- | --- | --- | --- | --- | --- | --- | --- | --- |
| Valtra | 6000 HiTech | 6250Hi 4.4L I4 | | 69 | 93 | Diesel | 2004 | SisuTronic | EEM2 |
| Valtra | 6000 HiTech | 6350Hi 4.4L I4 | | 74 | 99 | Diesel | 2003 | SisuTronic | EEM2 |
| Valtra | 6000 HiTech | 6550Hi 4.4L I4 | | 74 | 99 | Diesel | 2003 | SisuTronic | EEM2 |
| Valtra | 6000 HiTech | 6850Hi 4.4L I4 | | 90 | 121 | Diesel | 2003 | SisuTronic | EEM2 |
| Valtra | 6000 Mezzo | 6200 4.4L I4 | | 69 | 93 | Diesel | 2004 | SisuTronic | EEM2 |
| Valtra | 6000 Mezzo | 6300 4.4L I4 | | 74 | 99 | Diesel | 2003 | SisuTronic | EEM2 |
| Valtra | 6000 Mezzo | 6400 4.4L I4 | | 75 | 101 | Diesel | 2003 | SisuTronic | EEM2 |
| Valtra | 8000 Series | 8050 6.6L I6 | 66EWA | 81 | 109 | Diesel | 2003 | SisuTronic | EEM2 |
| Valtra | 8000 Series | 8150 6.6L I6 | 66EWA | 92 | 123 | Diesel | 2003 | SisuTronic | EEM2 |
| Valtra | 8000 Series | 8950 7.4L I6 | | 92 | 123 | Diesel | 2003 | SisuTronic | EEM2 |
| Valtra | C Series | C 90 4.4L I4 | 44DT | 70 | 94 | Diesel | 2004 | SisuTronic | EEM2 |
| Valtra | C Series | C100 4.4L I4 | 44DT | 74 | 99 | Diesel | 2004 | SisuTronic | EEM2 |
| Valtra | C Series | C110 4.4L I4 | 44DT | 84 | 113 | Diesel | 2004 | SisuTronic | EEM2 |
| Valtra | C Series | C120 4.4L I4 | 44EWA | 88 | 118 | Diesel | 2004 | SisuTronic | EEM2 |
| Valtra | C Series | C130 4.4L I4 | 44EWA | 99 | 133 | Diesel | 2004 | SisuTronic | EEM2 |
| Valtra | C Series | C150 4.4L I4 | 44EWA | 110 | 148 | Diesel | 2004 | SisuTronic | EEM2 |
| Valtra | M Series | M120 4.4L I4 | 44EWA | 85 | 114 | Diesel | 2003 | SisuTronic | EEM2 |
| Valtra | M Series | M130 4.4L I4 | 44EWA | 99 | 133 | Diesel | 2003 | SisuTronic | EEM2 |
| Valtra | M Series | M150 4.4L I4 | 44EWA | 110 | 148 | Diesel | 2003 | SisuTronic | EEM2 |
| Valtra | T Series | T120 6.6L I6 | 66ET | 92 | 123 | Diesel | 2004 | SisuTronic | EEM2 |
| Valtra | T Series | T130 6.6L I6 | 66ET | 99 | 133 | Diesel | 2004 | SisuTronic | EEM2 |
| Valtra | T Series | T140 6.6L I6 | 66ETA | 107 | 143 | Diesel | 2004 | SisuTronic | EEM2 |
| Valtra | T Series | T150 6.6L I6 | 66ETA | 114 | 153 | Diesel | 2004 | SisuTronic | EEM2 |
| Valtra | T Series | T160 6.6L I6 | 66ETA | 121 | 162 | Diesel | 2004 | SisuTronic | EEM2 |
| Valtra | T Series | T170 7.4L I6 | 74ETA | 129 | 173 | Diesel | 2004 | SisuTronic | EEM2 |
| Valtra | T Series | T180 7.4L I6 | 74ETA | 155 | 208 | Diesel | 2004 | SisuTronic | EEM2 |
| Valtra | T Series | T180 7.4L I6 | 74ETA | 140 | 188 | Diesel | 2004 | SisuTronic | EEM2 |
| Valtra | XM Series | XM130 4.4L I4 | 44EWA | 99 | 133 | Diesel | 2003 | SisuTronic | EEM2 |
| Valtra | XM Series | XM150 4.4L I4 | 44EWA | 110 | 148 | Diesel | 2003 | SisuTronic | EEM2 |
Hyundai Truck Delphi DCMI
K-TAG – BDM MPC5xx – Prt 946 – Plugin 946
– Read: YES
– Write: YES
– Checksum Correction: YES
– Direct Connection: 14P600KT02, 14AS00T01S, 144300T100
| Model | Model Name | Engine | Engine Code | KW | HP | Fuel | MY | ECU | ECU Version |
| --- | --- | --- | --- | --- | --- | --- | --- | --- | --- |
| Hyundai | HD500 | D12H 12.5L | | 283 | 380 | D12H 12.5L | 2010 | Delphi | DCMI |
BCI Cummins Engine Motorola CM850
K-TAG – BDM MPC5xx – Prt 958 – Plugin 958
– Read: YES
– Write: YES
– Checksum Correction: YES
– Direct Connection: 14P600KT02, 14AS00T01S, 144300T100
Iveco Marelli IAW IAW5SF. LO
K-TAG – BDM MPC5xx – Prt 937
– Read: YES
– Write: YES
– Checksum Correction: YES
– Direct Connection: 14P600KT02
| Model | Model Name | Engine | Engine Code | KW | HP | Fuel | MY | ECU | ECU Version |
| --- | --- | --- | --- | --- | --- | --- | --- | --- | --- |
| Iveco | Daily | 35C14 CNG 3.0L I4 | F1CFA401A | 100 | 134 | CNG | 2014 | Magneti Marelli | IAW 5SF.L0 |
| Iveco | Daily | 35S14 CNG 3.0L I4 | F1CFA401A | 100 | 134 | CNG | 2014 | Magneti Marelli | IAW 5SF.L0 |
| Iveco | Daily | 40C14 CNG 3.0L I4 | F1CFA401A | 100 | 134 | CNG | 2014 | Magneti Marelli | IAW 5SF.L0 |
| Iveco | Daily | 50C14 CNG 3.0L I4 | F1CFA401A | 100 | 134 | CNG | 2014 | Magneti Marelli | IAW 5SF.L0 |
| Iveco | Daily | 70C14 CNG 3.0L I4 | F1CFA401A | 100 | 134 | CNG | 2014 | Magneti Marelli | IAW 5SF.L0 |
AGCO Bosch Rexroth SRC 36-20 | Gerabox IVT
K-TAG – Bootloader Tricore – Prt 952 – Plugin 952
– Read: YES
– Write: YES
– Checksum Correction: YES
– Connection using the positioning frame: 14P800ADB1, 14P80ADB3, 14P600KT04, 144300T101
Suzuki Mitsubishi 33920-88LCO
K-TAG – Bootloader Mitsubishi – Prt 936
– Read: YES
– Write: YES
– Checksum Correction: YES
– Direct Connection: 14P600KT02
| Model | Model Name | Engine | Engine Code | KW | HP | Fuel | MY | ECU | ECU Version |
| --- | --- | --- | --- | --- | --- | --- | --- | --- | --- |
| Suzuki Marine | DF40 | DF40A | 04003F-510001 | 30 | 40 | Petrol | 2015 | Mitsubishi | 33920-88LC0 |
| Suzuki Marine | DF40 | DF40A | 04003F-610001 | 30 | 40 | Petrol | 2016 | Mitsubishi | 33920-88LC0 |
| Suzuki Marine | DF40 | DF40A | 04003F-710001 | 30 | 40 | Petrol | 2017 | Mitsubishi | 33920-88LC0 |