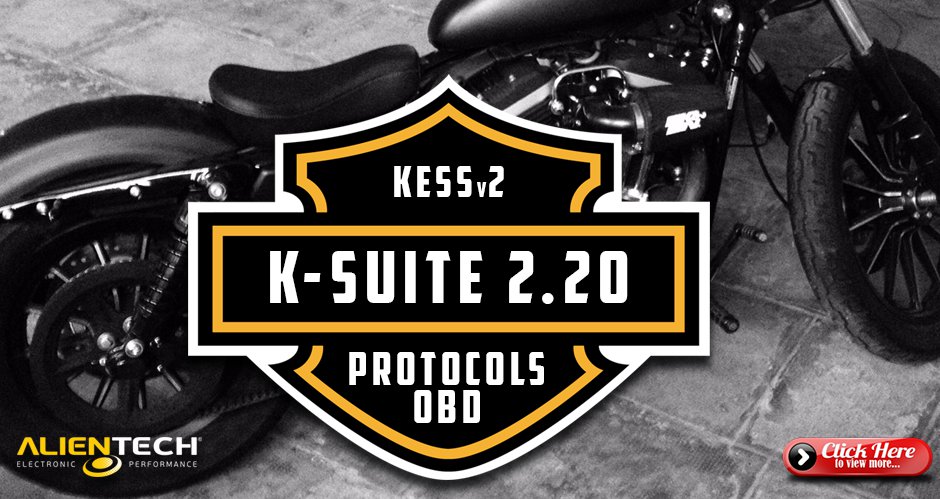 22 Dec 2015

K-Suite 2.20

Yes, guys, this year is coming to the end and we are going straight to 2016 riding Harley Davidson's! We released a very special K-suite update, focused on bikes: new protocols to read and write via OBD for Harley Davidson's ECUs. And not only: new protocols again for Mercedes as well, very important to work on bench on vehicles equipped with Bosch MED17.7.3 and MED17.7.3.1. And of course, other new protocols for Denso Toyota-Lexus Ecus.

"There's who rides a (Cagiva) Elefant; there's who rides a (Triumph) Tiger. We RIDE a BIG, BAD HOG"

Harley, Mercedes, Toyota Lexus: three names for the three stars of this Release, the last of the year. A special focus dedicated to the bikes' world, finally you'll read and write via OBD on Harley Davidson ECUs, and new protocols for K-tag for Mercedes and Toyota-Lexus ECUs: Alientech Research & Development Department is restless!

A very rich update to fill everyone's needs, including yours!

Update your tools – Master and Slave – to include this latest release in your K-Suite and in all your manuals.
New protocols | KESSv2
Harley Davidson J1850
KESSv2 – 460 – Bike
– Read: YES
– Write: YES
– Checksum Correction: YES
– Cable: 144300K256
| Model | Model Name | Model Family | Engine | Engine Code | KW | HP | Fuel | MY | ECU | ECU Version |
| --- | --- | --- | --- | --- | --- | --- | --- | --- | --- | --- |
| Harley Davidson | 883 | Sportster | 883cc | XL883L | 40 | 54 | Petrol | 2007 | DELPHI | HD J1850 |
| Harley Davidson | 1200 Custom | Sportster | 1200cc | XL1200C | 52 | 70 | Petrol | 2008 | DELPHI | HD J1850 |
| Harley Davidson | 1200 Forty-Eight | Sportster | 1200cc | XL1200X | 52 | 70 | Petrol | 2010 | DELPHI | HD J1850 |
| Harley Davidson | 1200 Low | Sportster | 1200cc | XL1200L | 52 | 70 | Petrol | 2007 | DELPHI | HD J1850 |
| Harley Davidson | 1200 Nightster | Sportster | 1200cc | XL1200N | 52 | 70 | Petrol | 2007 | DELPHI | HD J1850 |
| Harley Davidson | 1200 Roadster | Sportster | 1200cc | XL1200R | 52 | 70 | Petrol | 2007 | DELPHI | HD J1850 |
| Harley Davidson | 1200 Sventy-Two | Sportster | 1200cc | XL1200V | 52 | 70 | Petrol | 2012 | DELPHI | HD J1850 |
| Harley Davidson | 883 Custom | Sportster | 883cc | XL883C | 40 | 54 | Petrol | 2008 | DELPHI | HD J1850 |
| Harley Davidson | 883 Iron | Sportster | 883cc | XL883N | 40 | 54 | Petrol | 2009 | DELPHI | HD J1850 |
| Harley Davidson | 883 Super Low | Sportster | 883cc | XL883L | 40 | 54 | Petrol | 2011 | DELPHI | HD J1850 |
| Harley Davidson | Convertible Softail | CVO | 110cu 1803cc | FLSTSE | 71 | 100 | Petrol | 2010 | DELPHI | HD J1850 |
| Harley Davidson | Cross Bones | Softail | 96cu 1584cc | FLSTSB | 49 | 67 | Petrol | 2008 | DELPHI | HD J1850 |
| Harley Davidson | Custom | Softail | 96cu 1584cc | FXSTC | 49 | 67 | Petrol | 2007 | DELPHI | HD J1850 |
| Harley Davidson | Deluxe | Softail | 96cu 1584cc | FLSTN | 49 | 67 | Petrol | 2005 | DELPHI | HD J1850 |
| Harley Davidson | Deuce | Softail | 88cu 1449cc | FXSTDI | 46 | 63 | Petrol | 2002 | DELPHI | HD J1850 |
| Harley Davidson | Deuce | Softail | 96cu 1584cc | FXSTD | 49 | 67 | Petrol | 2007 | DELPHI | HD J1850 |
| Harley Davidson | Deuce SE | Softail | 95cu 1550cc | FXSTDSE | 66 | 88 | Petrol | 2003 | DELPHI | HD J1850 |
| Harley Davidson | Electra Glide | Touring | 96cu 1584cc | FLHT | 49 | 67 | Petrol | 2007 | DELPHI | HD J1850 |
| Harley Davidson | Electra Glide Classic | Touring | 88cu 1449cc | FLHTC | 46 | 63 | Petrol | 2002 | DELPHI | HD J1850 |
| Harley Davidson | Electra Glide Classic | Touring | 96cu 1584cc | FLHTC | 49 | 67 | Petrol | 2007 | DELPHI | HD J1850 |
| Harley Davidson | Electra Glide Ultra Classic | Touring | 103cu 1690cc | FLHTCU | 62 | 84 | Petrol | 2012 | DELPHI | HD J1850 |
| Harley Davidson | Electra Glide Ultra Classic | Touring | 88cu 1449cc | FLHTCUI | 46 | 63 | Petrol | 2001 | DELPHI | HD J1850 |
| Harley Davidson | Electra Glide Ultra Classic | Touring | 96cu 1584cc | FLHTCU | 49 | 67 | Petrol | 2007 | DELPHI | HD J1850 |
| Harley Davidson | Electra Glide Ultra Classic SE | CVO | 110cu 1803cc | FLHTCUSE2 | 71 | 100 | Petrol | 2007 | DELPHI | HD J1850 |
| Harley Davidson | Electra Glide Ultra Limited | Touring | 103cu 1690cc | FLHTK | 62 | 84 | Petrol | 2010 | DELPHI | HD J1850 |
| Harley Davidson | Fat Bob | Dyna | 96cu 1584cc | FXDF | 49 | 67 | Petrol | 2008 | DELPHI | HD J1850 |
| Harley Davidson | Fat Bob SE | CVO | 110cu 1803cc | FXDFSE | 71 | 100 | Petrol | 2009 | DELPHI | HD J1850 |
| Harley Davidson | Fat Boy | Softail | 96cu 1584cc | FLSTF | 49 | 67 | Petrol | 2007 | DELPHI | HD J1850 |
| Harley Davidson | Fat Boy Lo | Softail | 96cu 1584cc | FLSTFB | 49 | 67 | Petrol | 2010 | DELPHI | HD J1850 |
| Harley Davidson | Heritage | Softail | 88cu 1449cc | FLSTC | 46 | 63 | Petrol | 2005 | DELPHI | HD J1850 |
| Harley Davidson | Heritage Classic | Softail | 88cu 1449cc | FLSTCI | 46 | 63 | Petrol | 2003 | DELPHI | HD J1850 |
| Harley Davidson | Heritage Classic | Softail | 96cu 1584cc | FLSTC | 49 | 67 | Petrol | 2007 | DELPHI | HD J1850 |
| Harley Davidson | Heritage Springer Classic | Softail | 88cu 1449cc | FLSTS | 46 | 63 | Petrol | 2005 | DELPHI | HD J1850 |
| Harley Davidson | Low Rider | Dyna | 88cu 1449cc | FXDL | 46 | 63 | Petrol | 2001 | DELPHI | HD J1850 |
| Harley Davidson | Low Rider | Dyna | 96cu 1584cc | FXDL | 49 | 67 | Petrol | 2008 | DELPHI | HD J1850 |
| Harley Davidson | Night Rod | Vrsc | 1130cc | VRSCD | 86 | 116 | Petrol | 2006 | DELPHI | HD J1850 |
| Harley Davidson | Night Rod | Vrsc | 1250cc | VRSCD | 92 | 125 | Petrol | 2008 | DELPHI | HD J1850 |
| Harley Davidson | Night Rod Special | Vrsc | 1250cc | VRSCDX | 92 | 125 | Petrol | 2007 | DELPHI | HD J1850 |
| Harley Davidson | Night Train | Softail | 88cu 1449cc | FXSTB | 46 | 63 | Petrol | 2001 | DELPHI | HD J1850 |
| Harley Davidson | Night Train | Softail | 96cu 1584cc | FXSTB | 49 | 67 | Petrol | 2007 | DELPHI | HD J1850 |
| Harley Davidson | Road Glide | CVO | 88cu 1449cc | FLTRI | 46 | 63 | Petrol | 2000 | DELPHI | HD J1850 |
| Harley Davidson | Road Glide | CVO | 96cu 1584cc | FLTR | 49 | 67 | Petrol | 2007 | DELPHI | HD J1850 |
| Harley Davidson | Road Glide Custom | CVO | 96cu 1584cc | FLTRX | 49 | 67 | Petrol | 2010 | DELPHI | HD J1850 |
| Harley Davidson | Road Glide SE | CVO | 110cu 1803cc | FLTRSE | 71 | 100 | Petrol | 2007 | DELPHI | HD J1850 |
| Harley Davidson | Road King | Touring | 103cu 1690cc | FLHR | 62 | 84 | Petrol | 2011 | DELPHI | HD J1850 |
| Harley Davidson | Road King | Touring | 88cu 1449cc | FLHRI | 46 | 63 | Petrol | 2003 | DELPHI | HD J1850 |
| Harley Davidson | Road King | Touring | 96cu 1584cc | FLHR | 49 | 67 | Petrol | 2007 | DELPHI | HD J1850 |
| Harley Davidson | Road King Classic | Touring | 88cu 1449cc | FLHRC-I | 46 | 63 | Petrol | 2002 | DELPHI | HD J1850 |
| Harley Davidson | Road King Classic | Touring | 96cu 1584cc | FLHRC | 49 | 67 | Petrol | 2006 | DELPHI | HD J1850 |
| Harley Davidson | Road King Custom | Touring | 88cu 1449cc | FLHRSI | 46 | 63 | Petrol | 2004 | DELPHI | HD J1850 |
| Harley Davidson | Road King Custom | Touring | 96cu 1584cc | FLHRS | 49 | 67 | Petrol | 2007 | DELPHI | HD J1850 |
| Harley Davidson | Road King SE | CVO | 110cu 1803cc | FLHRSE4 | 71 | 100 | Petrol | 2008 | DELPHI | HD J1850 |
| Harley Davidson | Road King SE | Touring | 103cu 1690cc | FLHRSEI | 62 | 84 | Petrol | 2003 | DELPHI | HD J1850 |
| Harley Davidson | Rocker | Softail | 96cu 1584cc | FXCW | 49 | 67 | Petrol | 2008 | DELPHI | HD J1850 |
| Harley Davidson | Rocker C | Softail | 96cu 1584cc | FXCWC | 49 | 67 | Petrol | 2008 | DELPHI | HD J1850 |
| Harley Davidson | Screamin Eagle Dyna | CVO | 110cu 1803cc | FXDFSE2 | 71 | 100 | Petrol | 2007 | DELPHI | HD J1850 |
| Harley Davidson | Screamin Eagle Dyna | Dyna | 110cu 1803cc | FXDSE2 | 71 | 100 | Petrol | 2008 | DELPHI | HD J1850 |
| Harley Davidson | Softail Springer SE | CVO | 110cu 1803cc | FXSTSSE | 71 | 100 | Petrol | 2007 | DELPHI | HD J1850 |
| Harley Davidson | Springer | Softail | 88cu 1449cc | FXSTSI | 46 | 63 | Petrol | 2004 | DELPHI | HD J1850 |
| Harley Davidson | Springer Classic | Softail | 96cu 1584cc | FLSTSC | 49 | 67 | Petrol | 2007 | DELPHI | HD J1850 |
| Harley Davidson | Standard | Softail | 88cu 1449cc | FXST | 46 | 63 | Petrol | 2001 | DELPHI | HD J1850 |
| Harley Davidson | Standard | Softail | 96cu 1584cc | FXST | 49 | 67 | Petrol | 2007 | DELPHI | HD J1850 |
| Harley Davidson | Street Bob | Dyna | 88cu 1449cc | FXDBI | 46 | 63 | Petrol | 2006 | DELPHI | HD J1850 |
| Harley Davidson | Street Bob | Dyna | 96cu 1584cc | FXDB | 49 | 67 | Petrol | 2011 | DELPHI | HD J1850 |
| Harley Davidson | Street Bob | Dyna | 96cu 1584cc | FXDB | 50 | 67 | Petrol | 2008 | DELPHI | HD J1850 |
| Harley Davidson | Street Glide | CVO | 110cu 1803cc | FLHXSE | 71 | 100 | Petrol | 2010 | DELPHI | HD J1850 |
| Harley Davidson | Street Glide | Touring | 103cu 1690cc | FLHX | 62 | 84 | Petrol | 2012 | DELPHI | HD J1850 |
| Harley Davidson | Street Glide | Touring | 88cu 1449cc | FLHX | 46 | 63 | Petrol | 2006 | DELPHI | HD J1850 |
| Harley Davidson | Street Glide | Touring | 96cu 1584cc | FLHX | 49 | 67 | Petrol | 2007 | DELPHI | HD J1850 |
| Harley Davidson | Street Glide Trike | Touring | 103cu 1690cc | FLHXXX | 62 | 84 | Petrol | 2010 | DELPHI | HD J1850 |
| Harley Davidson | Street Rod | Vrsc | 1130cc | VRSCR | 86 | 116 | Petrol | 2006 | DELPHI | HD J1850 |
| Harley Davidson | Super Glide | Dyna | 88cu 1449cc | FXDI | 46 | 63 | Petrol | 2006 | DELPHI | HD J1850 |
| Harley Davidson | Super Glide | Dyna | 96cu 1584cc | FXD | 46 | 63 | Petrol | 2007 | DELPHI | HD J1850 |
| Harley Davidson | Super Glide Custom | Dyna | 96cu 1584cc | FXDC | 49 | 67 | Petrol | 2005 | DELPHI | HD J1850 |
| Harley Davidson | Super Glide Sport | Dyna | 88cu 1449cc | FXDXI | 46 | 63 | Petrol | 2004 | DELPHI | HD J1850 |
| Harley Davidson | Tri Glide Ultra Classic | Touring | 103cu 1690cc | FLHTCUTG | 62 | 84 | Petrol | 2009 | DELPHI | HD J1850 |
| Harley Davidson | V-Rod | Vrsc | 1130cc | VRSCA | 86 | 116 | Petrol | 2002 | DELPHI | HD J1850 |
| Harley Davidson | V-Rod | Vrsc | 1130cc | VRSCB | 86 | 116 | Petrol | 2004 | DELPHI | HD J1850 |
| Harley Davidson | V-Rod | Vrsc | 1250cc | VRSCAW | 92 | 125 | Petrol | 2007 | DELPHI | HD J1850 |
| Harley Davidson | V-Rod | Vrsc | 1250cc | VRSCSE2 | 92 | 125 | Petrol | 2006 | DELPHI | HD J1850 |
| Harley Davidson | V-Rod | Vrsc | 1250cc | VRSCX | 92 | 125 | Petrol | 2007 | DELPHI | HD J1850 |
| Harley Davidson | V-Rod Muscle | Vrsc | 1250cc | VRSCF | 92 | 92 | Petrol | 2009 | DELPHI | HD J1850 |
| Harley Davidson | Wide Glide | Dyna | 88cu 1449cc | FXDWGI | 46 | 63 | Petrol | 2004 | DELPHI | HD J1850 |
| Harley Davidson | Wide Glide | Dyna | 96cu 1584cc | FXDWG | 49 | 67 | Petrol | 2007 | DELPHI | HD J1850 |
| Harley Davidson | XR 1200 | Sportster | 1200cc | XR1200 | 67 | 90 | Petrol | 2009 | DELPHI | HD J1850 |
| Harley Davidson | XR 1200X | Sportster | 1200cc | XR1200X | 67 | 90 | Petrol | 2010 | DELPHI | HD J1850 |
Harley Davidson Delphi HD CAN
KESSv2 – 471 – Bike
– Read: YES
– Write: YES
– Checksum Correction: YES
– Cable: 144300K257
| Model | Model Name | Model Family | Engine | Engine Code | KW | HP | Fuel | MY | ECU | ECU Version |
| --- | --- | --- | --- | --- | --- | --- | --- | --- | --- | --- |
| Harley Davidson | 1200 Custom | Sportster | 1200cc | XL1200C | 52 | 70 | Petrol | 2014 | Delphi | HD CAN |
| Harley Davidson | 1200 Forty-Eight | Sportster | 1200cc | XL1200X | 52 | 70 | Petrol | 2014 | Delphi | HD CAN |
| Harley Davidson | 1200 Seventy-Two | Sportster | 1200cc | XL1200V | 52 | 70 | Petrol | 2014 | Delphi | HD CAN |
| Harley Davidson | 1200 Superlow | Sportster | 1200cc | XL1200T | 52 | 70 | Petrol | 2015 | Delphi | HD CAN |
| Harley Davidson | 883 Iron | Sportster | 883cc | XL883N | 40 | 54 | Petrol | 2014 | Delphi | HD CAN |
| Harley Davidson | 883 Super Low | Sportster | 883cc | XL883L | 40 | 54 | Petrol | 2014 | Delphi | HD CAN |
| Harley Davidson | Blackline | Softail | 96cu 1584cc | FXS | 49 | 67 | Petrol | 2011 | Delphi | HD CAN |
| Harley Davidson | Breakout | Softail | 103cu 1690cc | FXSB | 62 | 84 | Petrol | 2014 | Delphi | HD CAN |
| Harley Davidson | Breakout SE | CVO | 110cu 1803cc | FXSBSE | 71 | 100 | Petrol | 2013 | Delphi | HD CAN |
| Harley Davidson | Convertible Softail | CVO | 110cu 1803cc | FLSTSE2 | 71 | 100 | Petrol | 2011 | Delphi | HD CAN |
| Harley Davidson | Deluxe | Softail | 103cu 1690cc | FLSTN | 62 | 84 | Petrol | 2012 | Delphi | HD CAN |
| Harley Davidson | Deluxe | Softail | 96cu 1584cc | FLSTN | 49 | 67 | Petrol | 2011 | Delphi | HD CAN |
| Harley Davidson | Electra Glide Ultra Classic | Touring | 103cu 1690cc | FLHTCU | 62 | 84 | Petrol | 2014 | Delphi | HD CAN |
| Harley Davidson | Electra Glide Ultra Classic Low | Touring | 103cu 1690cc | FLHTCUL | 62 | 84 | Petrol | 2015 | Delphi | HD CAN |
| Harley Davidson | Electra Glide Ultra Limited | CVO | 110cu 1803cc | FLHTK | 71 | 100 | Petrol | 2014 | Delphi | HD CAN |
| Harley Davidson | Electra Glide Ultra Limited | Touring | 103cu 1690cc | FLHTK | 62 | 84 | Petrol | 2014 | Delphi | HD CAN |
| Harley Davidson | Electra Glide Ultra Limited Low | Touring | 103cu 1690cc | FLHTKL | 62 | 84 | Petrol | 2015 | Delphi | HD CAN |
| Harley Davidson | Fat Bob | Dyna | 103cu 1690cc | FXDF | 62 | 84 | Petrol | 2012 | Delphi | HD CAN |
| Harley Davidson | Fat Boy | Softail | 103cu 1690cc | FLSTF | 62 | 84 | Petrol | 2013 | Delphi | HD CAN |
| Harley Davidson | Fat Boy | Softail | 96cu 1584cc | FLSTF | 49 | 67 | Petrol | 2011 | Delphi | HD CAN |
| Harley Davidson | Fat Boy Lo | Softail | 103cu 1690cc | FLSTFB | 62 | 84 | Petrol | 2012 | Delphi | HD CAN |
| Harley Davidson | Fat Boy Lo | Softail | 96cu 1584cc | FLSTFB | 49 | 67 | Petrol | 2011 | Delphi | HD CAN |
| Harley Davidson | Freewheeler | Trike | 103cu 1690cc | FLRT | 62 | 84 | Petrol | 2015 | Delphi | HD CAN |
| Harley Davidson | Heritage Classic | Softail | 103cu 1690cc | FLSTC | 62 | 84 | Petrol | 2012 | Delphi | HD CAN |
| Harley Davidson | Heritage Classic | Softail | 96cu 1584cc | FLSTC | 49 | 67 | Petrol | 2011 | Delphi | HD CAN |
| Harley Davidson | Low Rider | Dyna | 103cu 1690cc | FXDL | 62 | 84 | Petrol | 2015 | Delphi | HD CAN |
| Harley Davidson | Road Glide | CVO | 103cu 1690cc | FLTRX | 62 | 84 | Petrol | 2015 | Delphi | HD CAN |
| Harley Davidson | Road Glide Custom | CVO | 103cu 1690cc | FLTRX | 62 | 84 | Petrol | 2012 | Delphi | HD CAN |
| Harley Davidson | Road Glide Custom SE | CVO | 110cu 1803cc | FLTRXSE | 71 | 100 | Petrol | 2012 | Delphi | HD CAN |
| Harley Davidson | Road Glide Custom SE | CVO | 110cu 1803cc | FLTRXSE2 | 71 | 100 | Petrol | 2013 | Delphi | HD CAN |
| Harley Davidson | Road Glide Special | CVO | 103cu 1690cc | FLTRXS | 62 | 84 | Petrol | 2015 | Delphi | HD CAN |
| Harley Davidson | Road Glide Ultra | CVO | 103cu 1690cc | FLTRU | 62 | 84 | Petrol | 2011 | Delphi | HD CAN |
| Harley Davidson | Road Glide Ultra SE | CVO | 110cu 1803cc | FLTRUSE | 71 | 100 | Petrol | 2012 | Delphi | HD CAN |
| Harley Davidson | Road Glide Ultra SE | CVO | 110cu 1803cc | FLTRUSE | 71 | 100 | Petrol | 2015 | Delphi | HD CAN |
| Harley Davidson | Road King Classic | Touring | 103cu 1690cc | FLHRC | 62 | 84 | Petrol | 2014 | Delphi | HD CAN |
| Harley Davidson | Road King SE | CVO | 110cu 1803cc | FLHRSE5 | 71 | 100 | Petrol | 2013 | Delphi | HD CAN |
| Harley Davidson | Slim | Softail | 103cu 1690cc | FLS | 62 | 84 | Petrol | 2013 | Delphi | HD CAN |
| Harley Davidson | Softail Deluxe | CVO | 110cu 1803cc | FLSTNSE | 71 | 100 | Petrol | 2014 | Delphi | HD CAN |
| Harley Davidson | Street 500 | HD Street | 500cc | XG500 | 71 | 100 | Petrol | 2014 | Delphi | HD CAN |
| Harley Davidson | Street 750 | HD Street | 750cc | XG750 | 40 | 54 | Petrol | 2014 | Delphi | HD CAN |
| Harley Davidson | Street Bob | Dyna | 103cu 1690cc | FXDB | 62 | 84 | Petrol | 2014 | Delphi | HD CAN |
| Harley Davidson | Street Bob | Dyna | 96cu 1584cc | FXDB | 49 | 67 | Petrol | 2012 | Delphi | HD CAN |
| Harley Davidson | Street Glide | CVO | 110cu 1803cc | FLHXSE | 71 | 100 | Petrol | 2011 | Delphi | HD CAN |
| Harley Davidson | Street Glide | Touring | 103cu 1690cc | FLHX | 62 | 84 | Petrol | 2014 | Delphi | HD CAN |
| Harley Davidson | Street Glide Special | Touring | 103cu 1690cc | FLHXS | 62 | 84 | Petrol | 2014 | Delphi | HD CAN |
| Harley Davidson | Super Glide Custom | Dyna | 103cu 1690cc | FXDC | 62 | 84 | Petrol | 2014 | Delphi | HD CAN |
| Harley Davidson | Super Glide Custom | Dyna | 96cu 1584cc | FXDC | 49 | 67 | Petrol | 2012 | Delphi | HD CAN |
| Harley Davidson | Switchback | Dyna | 103cu 1690cc | FLD | 62 | 84 | Petrol | 2012 | Delphi | HD CAN |
| Harley Davidson | Tri Glide Ultra Classic | Touring | 103cu 1690cc | FLHTCUTG | 62 | 84 | Petrol | 2014 | Delphi | HD CAN |
| Harley Davidson | Wide Glide | Dyna | 103cu 1690cc | FXDWG | 62 | 84 | Petrol | 2014 | Delphi | HD CAN |
| Harley Davidson | Wide Glide | Dyna | 96cu 1584cc | FXDWG | 49 | 67 | Petrol | 2012 | Delphi | HD CAN |
KTM Keihin Can
KESSv2 – 506 – Bike
– Read: YES
– Write: YES
– Checksum Correction: YES
– Cable: 144300K252
| Model | Model Name | KW | HP | Fuel | MY | ECU |
| --- | --- | --- | --- | --- | --- | --- |
| Ktm | 1050 Adventure | 70 | 93 | Petrol | 2015 | KEIHIN CAN |
| Ktm | 1190 Adventure | 110 | 147 | Petrol | 2014 | KEIHIN CAN |
| Ktm | 1290 Super Adventure | 134 | 180 | Petrol | 2015 | KEIHIN CAN |
| Ktm | 1290 Super Duke | 134 | 180 | Petrol | 2015 | KEIHIN CAN |
| Ktm | 690 Duke | 52 | 70 | Petrol | 2015 | KEIHIN CAN |
| Ktm | 690 Smc | 50 | 66 | Petrol | 2015 | KEIHIN CAN |
Yamaha TMAX 530 Kline
KESSv2 – 507 – Bike
– Read: YES
– Write: YES
– Checksum Correction: YES
– Cable: 144300K201
| Model | Model Name | Model Family | Engine | KW | HP | Fuel | MY | ECU |
| --- | --- | --- | --- | --- | --- | --- | --- | --- |
| Yamaha | T-Max | XP 530 | 530cc | 34 | 46 | Petrol | 2012 | DENSO |
Yamaha TMAX 500
KESSv2 – 508 – Bike
– Read: YES
– Write: YES
– Checksum Correction: YES
– Cable: 144300K201
| Model | Model Name | Model Family | Engine | KW | HP | Fuel | MY | ECU |
| --- | --- | --- | --- | --- | --- | --- | --- | --- |
| Yamaha | T-Max | XP 500 | 500cc | 34 | 46 | Petrol | 2004 | DENSO |
Porsche Bosch MED17.1.11 TC1797
KESSv2 – 521 – Car
– Read: YES
– Write: YES
– Checksum Correction: YES
– Cable: 144300KCAN
| Model | Model Name | Engine | Engine Code | KW | HP | Fuel | MY | ECU | ECU Version |
| --- | --- | --- | --- | --- | --- | --- | --- | --- | --- |
| Porsche | 911 | 3800 GT3 | MA1.75 | 350 | 476 | Petrol | 2013 | BOSCH | MED17.1.11 |
Ford Bosch MEDG17.0
KESSv2 – 414 – Car
– Read: YES
– Write: YES
– Checksum Correction: YES
– Cable: 144300KCAN
| Model | Model Name | Model Family | Engine | KW | HP | Fuel | MY | ECU | ECU Version |
| --- | --- | --- | --- | --- | --- | --- | --- | --- | --- |
| Ford | Mustang | (VI) | 2300 16v EcoBoost | 231 | 314 | Petrol | 2014 | BOSCH | MEDG17.0 |
Cummins Monaco Truck CM554 CAN
KESSv2 – 524 – Truck
– Read: YES
– Write: YES
– Checksum Correction: YES
– Cable: 144300K226
Cummins Volvo Truck CM2350 CAN
KESSv2 – 525 – Truck
– Read: YES
– Write: YES
– Checksum Correction: YES
– Cable: 144300K226
Muck Truck Motorola CM870 CAN
KESSv2 – 526 – Truck
– Read: YES
– Write: YES
– Checksum Correction: YES
– Cable: 144300K245
Cummins Buhler Tractor CM2250 CAN
KESSv2 – 522 – Tractor
– Read: YES
– Write: YES
– Checksum Correction: YES
– Cable: 144300K235
Cummins Hyundai Tractor CM554 CAN
KESSv2 – 523 – Tractor
– Read: YES
– Write: YES
– Checksum Correction: YES
– Cable: 144300K226
New protocols | K-TAG
Mercedes Bosch MED17.7.3 GPT IROM TC1797
K-TAG – Bootloader Tricore – 736 – Car
– Read: YES
– Write: YES
– Checksum Correction: YES
– Direct Connection: 14P600KT02, 14P600KT06
| Model | Model Name | Model Family | Engine | Engine Code | KW | HP | Fuel | MY | ECU | ECU Version |
| --- | --- | --- | --- | --- | --- | --- | --- | --- | --- | --- |
| Mercedes | C | (W205) | C 400 3000 V6 TwinTurbo | M270823 | 245 | 333 | Petrol | 2014 | BOSCH | MED17.7.3 |
Mercedes Bosch MED17.7.3.1 GPT XROM TC1797
K-TAG – Bootloader Tricore – 740 – Car
– Read: YES
– Write: YES
– Checksum Correction: YES
– Direct Connection: 14P600KT02, 14P600KT06
| Model | Model Name | Model Family | Engine | Engine Code | KW | HP | Fuel | MY | ECU | ECU Version |
| --- | --- | --- | --- | --- | --- | --- | --- | --- | --- | --- |
| Mercedes | C | (W205) | C 400 3000 V6 TwinTurbo | M270823 | 245 | 333 | Petrol | 2015 | BOSCH | MED17.7.3.1 |
VAG Bosch ME17.1.1 IROM TC1797
K-TAG – Bootloader Tricore – 792 – Car
– Read: YES
– Write: YES
– Checksum Correction: YES
– Direct Connection: 14P600KT02
– Connection using the positioning frame: 14P800ADB1, 14P600KT04, 144300T101
| Model | Model Name | Engine | KW | HP | Fuel | MY | ECU | ECU Version |
| --- | --- | --- | --- | --- | --- | --- | --- | --- |
| Bentley | Mulsanne | 6800 V8 TwinTurbo | 377 | 503 | Petrol | 2010 | BOSCH | ME17.1.1 |
Porsche Bosch MED17.1.11 IROM TC1797
K-TAG – Bootloader Tricore – 793 – Car
– Read: YES
– Write: YES
– Checksum Correction: YES
– Direct Connection: 14P600KT02, 14P600KT06
| Model | Model Name | Engine | Engine Code | KW | HP | Fuel | MY | ECU | ECU Version |
| --- | --- | --- | --- | --- | --- | --- | --- | --- | --- |
| Porsche | 911 | 3800 GT3 | MA1.75 | 350 | 476 | Petrol | 2013 | BOSCH | MED17.1.11 |
VAG Bosch MED17.1.21 IROM TC1793
K-TAG – Bootloader Tricore – 800 – Car
– Read: YES
– Write: YES
– Checksum Correction: YES
– Direct Connection: 14P600KT02, 14P600KT06, 144300T109
| Model | Model Name | Model Family | Engine | Engine Code | KW | HP | Fuel | MY | ECU | ECU Version |
| --- | --- | --- | --- | --- | --- | --- | --- | --- | --- | --- |
| Volkswagen | Jetta | VI | 1400 16v TSI Hybrid | CRJA | 110 | 150 | Petrol | 2012 | BOSCH | MED17.1.21 |
Honda Bosch EDC17CP50 IROM TC1797
K-TAG – Bootloader Tricore – 805 – Car
– Read: YES
– Write: YES
– Checksum Correction: YES
– Direct Connection: 14P600KT02, 144300T105
| Model | Model Name | Engine | Engine Code | KW | HP | Fuel | MY | ECU | ECU Version |
| --- | --- | --- | --- | --- | --- | --- | --- | --- | --- |
| Honda | Cr-v | 2200 i-CTDi | N22B4 | 110 | 150 | Diesel | 2012 | BOSCH | EDC17CP50 |
Toyota Denso 275922-001 | 76F0070
K-TAG – NEC NBD – 767 – Car
– Read: YES
– Write: YES
– Checksum Correction: YES
– Direct Connection: 14P600KT02, 14AS00T08S, 144300T102, 144300T105
– Connection using the positioning frame: 14P800ADBO, 14P600KT02, 14AM00T15M, 144300T102
| Model | Model Name | Model Family | Engine | Engine Code | KW | HP | Fuel | MY | ECU | ECU Version |
| --- | --- | --- | --- | --- | --- | --- | --- | --- | --- | --- |
| Toyota | Land Cruiser | (VDJ70) | 4500 V8 D-4D | 1VD-FTV | 151 | 202 | Diesel | 2007 | DENSO | 275922-001 |
Toyota Denso 275036-9160 | 76F0038AGD
K-TAG – NEC NBD – 781 – Car
– Read: YES
– Write: YES
– Checksum Correction: YES
– Direct Connection: 14P600KT02, 14AS00T08S, 144300T102, 144300T105
– Connection using the positioning frame: 14P800ADB1, 14P600KT02, 14AM00T15M, 144300T102
| Model | Model Name | Model Family | Engine | Engine Code | KW | HP | Fuel | MY | ECU | ECU Version |
| --- | --- | --- | --- | --- | --- | --- | --- | --- | --- | --- |
| Toyota | Camry | (ACV40) | 2400 VVT-i | 2AZ-FE | 125 | 170 | Petrol | 2006 | DENSO | 275036-9160 |
Toyota Denso 175822-887 | 76F0039GD
K-TAG – NEC NBD – 782 – Car
– Read: YES
– Write: YES
– Checksum Correction: YES
– Direct Connection: 14P600KT02, 14AS00T08S, 144300T102, 144300T105
– Connection using the positioning frame: 14P800ADB1, 14P600KT02, 14AM00T15M, 144300T102
| Model | Model Name | Model Family | Engine | Engine Code | KW | HP | Fuel | MY | ECU | ECU Version |
| --- | --- | --- | --- | --- | --- | --- | --- | --- | --- | --- |
| Toyota | Land Cruiser | (KDJ120) | 3000 D-4D | 1KD-FTV | 122 | 164 | Diesel | 2004 | DENSO | 175822-887 |
Toyota Denso 175822-773 | 76F0039GD
K-TAG – NEC NBD – 783 – Car
– Read: YES
– Write: YES
– Checksum Correction: YES
– Direct Connection: 14P600KT02, 14AS00T08S, 144300T102, 144300T105
– Connection using the positioning frame: 14P800ADB1, 14P600KT02, 14AM00T15M, 144300T102
| Model | Model Name | Model Family | Engine | Engine Code | KW | HP | Fuel | MY | ECU | ECU Version |
| --- | --- | --- | --- | --- | --- | --- | --- | --- | --- | --- |
| Toyota | Rav4 | ALA30 | 2200 D-4D | 2AD-FTV | 100 | 136 | Diesel | 2006 | DENSO | 175822-773 76F0039GD |
Toyota Denso 275992-428 | 76F0070
K-TAG – NEC NBD – 794 – Car
– Read: YES
– Write: YES
– Checksum Correction: YES
– Direct Connection: 14P600KT02, 14AS00T09S, 144300T102, 144300T105
– Connection using the positioning frame: 14P800ADB1, 14P600KT02, 14AM00T16M, 144300T102
| Model | Model Name | Model Family | Engine | Engine Code | KW | HP | Fuel | MY | ECU | ECU Version |
| --- | --- | --- | --- | --- | --- | --- | --- | --- | --- | --- |
| Toyota | Land Cruiser | VDJ200 | 4500 V8 D-4D | 1VD-FTV | 210 | 282 | Diesel | 2007 | DENSO | 175822-773 |

Toyota Denso 175822-887 | 76F0040AGD
K-TAG – NEC NBD – 795 – Car
– Read: YES
– Write: YES
– Checksum Correction: YES
– Direct Connection: 14P600KT02, 14AS00T08S, 144300T102, 144300T105
– Connection using the positioning frame: 14P800ADB1, 14P600KT02, 14AM00T15M, 144300T102
| Model | Model Name | Model Family | Engine | Engine Code | KW | HP | Fuel | MY | ECU | ECU Version |
| --- | --- | --- | --- | --- | --- | --- | --- | --- | --- | --- |
| Toyota | Hilux | (KUN26) | 3000 D-4D | 1KD-FTV | 126 | 170 | Diesel | 2008 | DENSO | 175822-887 |
Toyota Denso 275036-3410 | 76F0038GD
K-TAG – NEC NBD – 796 – Car
– Read: YES
– Write: YES
– Checksum Correction: YES
– Direct Connection: 14P600KT02, 14AS00T08S, 144300T102, 144300T105
– Connection using the positioning frame: 14P800ADBO, 14P600KT02, 14AM00T15M, 144300T102
| Model | Model Name | Model Family | Engine | Engine Code | KW | HP | Fuel | MY | ECU | ECU Version |
| --- | --- | --- | --- | --- | --- | --- | --- | --- | --- | --- |
| Lexus | IS-F | (USE20) | 5000 V8 Dual VVT-i | 3GR-FSE | 311 | 417 | Petrol | 2005 | DENSO | 275036-3410 |
Toyota Denso 275036-8730 | 76F0038GD
K-TAG – NEC NBD – 797 – Car
– Read: YES
– Write: YES
– Checksum Correction: YES
– Direct Connection: 14P600KT02, 14AS00T08S, 144300T102, 144300T105
– Connection using the positioning frame: 14P800ADB1, 14P600KT02, 14AM00T15M, 144300T102
| Model | Model Name | Model Family | Engine | Engine Code | KW | HP | Fuel | MY | ECU | ECU Version |
| --- | --- | --- | --- | --- | --- | --- | --- | --- | --- | --- |
| Lexus | GS 300 | (GRS190) | 3000 Dual VVT-i | 3GR-FSE | 183 | 245 | Petrol | 2005 | DENSO | 275036-8730 |
Toyota Denso 275036-7341 | 76F0040GD
K-TAG – NEC NBD – 798 – Car
– Read: YES
– Write: YES
– Checksum Correction: YES
– Direct Connection: 14P600KT02, 14AS00T08S, 144300T102, 144300T105
– Connection using the positioning frame: 14P800ADB1, 14P600KT02, 14AM00T15M, 144300T102
| Model | Model Name | Model Family | Engine | Engine Code | KW | HP | Fuel | MY | ECU | ECU Version |
| --- | --- | --- | --- | --- | --- | --- | --- | --- | --- | --- |
| Toyota | Corolla Verso | (ZNR11) | 1800 VVT-i | 1ZZ-FE | 95 | 127 | Petrol | 2005 | DENSO | 275036-7341 |
Toyota Denso 275036-5280 | 76F0085
K-TAG – NEC NBD – 801 – Car
– Read: YES
– Write: YES
– Checksum Correction: YES
– Direct Connection: 14P600KT02, 14AS00T09S, 144300T102, 144300T105
– Connection using the positioning frame: 14P800ADBO, 14P600KT02, 14AM00T16M, 144300T102
| Model | Model Name | Model Family | Engine | Engine Code | KW | HP | Fuel | MY | ECU | ECU Version |
| --- | --- | --- | --- | --- | --- | --- | --- | --- | --- | --- |
| Toyota | Yaris | (NSP90) | 1300 Dual VVT-i | 1NR-FE | 74 | 99 | Petrol | 2008 | DENSO | 275036-5280 |
Renault Hitachi EWR20-0XX
K-TAG – JTAG Renesas – 799 – Car
– Read: YES
– Write: YES
– Checksum Correction: YES
– Direct Connection: 14P600KT02, 144300T104
| Model | Model Name | Engine | Engine Code | KW | HP | Fuel | MY | ECU | ECU Version |
| --- | --- | --- | --- | --- | --- | --- | --- | --- | --- |
| Renault | Vel Satis | 3500 V6 | VQ35DE | 182 | 245 | Petrol | 2002 | HITACHI | EWR20-0XX |
Indian Bosch ME17.9.74
K-TAG – Bootloader Tricore – 703 – Bike
– Read: YES
– Write: YES
– Checksum Correction: YES
– Direct Connection: 14P600KT02
| Model | Model Name | Engine | KW | HP | Fuel | MY | ECU | ECU Version |
| --- | --- | --- | --- | --- | --- | --- | --- | --- |
| Indian | Chief Classic | 1811cc | 54 | 73 | Petrol | 2014 | BOSCH | ME17.9.74 |
| Indian | Chief Roadmaster | 1811cc | 54 | 73 | Petrol | 2014 | BOSCH | ME17.9.74 |
| Indian | Chief Vintage | 1811cc | 54 | 73 | Petrol | 2014 | BOSCH | ME17.9.74 |
| Indian | Chieftain | 1811cc | 54 | 73 | Petrol | 2014 | BOSCH | ME17.9.74 |
| Indian | Scout | 1133cc | 63 | 85 | Petrol | 2015 | BOSCH | ME17.9.74 |
Doosan Bosch EDC17C1
K-TAG – BDM MPC5xx – 791 – Tractor
– Read: YES
– Write: YES
– Checksum Correction: YES
– Direct Connection: 14P600KT02, 14AS00T03S, 144300T100
International Siemens SID904
K-TAG – BDM MPC5xx – 804 – Truck
– Read: YES
– Write: YES
– Checksum Correction: YES
– Direct Connection: 14P600KT02, 14AS00T03S, 144300T100
– Connection using the positioning frame: 14P800ADBO, 14P600KT02, 14AM00TBAS, 14AM00TB02, 144300T100
– Cable: 144300K218