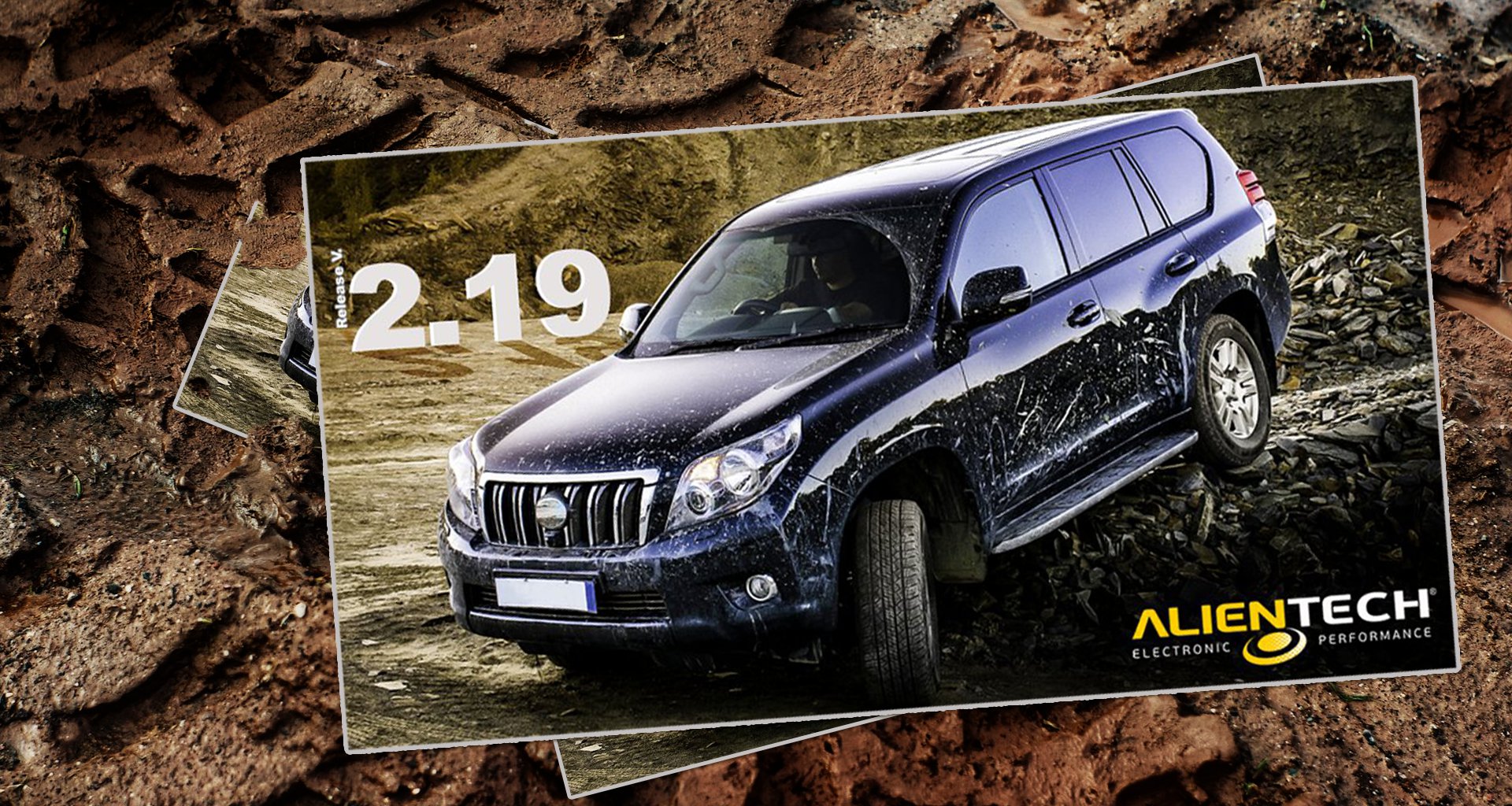 17 Nov 2015

K-Suite 2.19

As we promised, Alientech Research & Develop department is continuing to study the Toyota-Lexus ECUs: new microcontrollers will allow you to work on a larger number of vehicles and also to be the best among other experts thanks to the best tools.

We keep on working in the same way  we began few weeks ago: we study and test all Toyota-Lexus microcontrollers to increase our protocols and the vehicles on which you can work.

Our purpose is clear and focussed: it's to give you everything you need because your work is important and must be at its highest quality. We value your work and the best way to do it is to study, test, develop and give you the right tools. With this update, we go straight in that direction and you are with us!

During these weeks, we updated OBD protocol 517 that supports the following microcontrollers:

76F0070
76F0085
76F0038AGD
76F0038GD
76F0039GD

Update your tools – Master and Slave – to include this latest release in your K-Suite and in all your manuals.
New Protocols | K-TAG
Toyota Denso 175822-762 76F0038AGD
K-TAG – NEC NBD – 758
– Read: YES
– Write: YES
– Checksum Correction: YES
– Direct Connection: 14P600KT02, 144300T105
| Model | Model Name | Model Family | Engine | Engine Code | KW | HP | Fuel | MY | ECU | ECU Version |
| --- | --- | --- | --- | --- | --- | --- | --- | --- | --- | --- |
| Toyota | Avensis | (ADT250) | 2000 D-4D | 1AD-FTV | Diesel | 126 | 93 | 2006 | DENSO | 175822-762 |
| Toyota | Avensis | (ADT251) | 2200 D-CAT | 2AD-FHV | Diesel | 177 | 132 | 2006 | DENSO | 175822-762 |
Toyota Denso 175822-666 76F0040GD
K-TAG – NEC NBD – 759
– Read: YES
– Write: YES
– Checksum Correction: YES
– Direct Connection: 14P600KT02, 144300T105
| Model | Model Name | Model Family | Engine | Engine Code | KW | HP | Fuel | MY | ECU | ECU Version |
| --- | --- | --- | --- | --- | --- | --- | --- | --- | --- | --- |
| Toyota | Hilux | (KUN15) | 2500 D-4D | 2KD-FTV | Diesel | 156 | 100 | 2005 | DENSO | 175822-666 |
| Toyota | Hilux | (KUN26) | 3000 D-4D | 1KD-FTV | Diesel | 163 | 120 | 2006 | DENSO | 175822-666 |
| Toyota | Land Cruiser | (KDJ120) | 3000 D-4D | 1KD-FTV | Petrol | 163 | 120 | 2002 | DENSO | 175822-666 |
Toyota Denso 275036-2110 76F0038AGD
K-TAG – NEC NBD – 760
– Read: YES
– Write: YES
– Checksum Correction: YES
– Direct Connection: 14P600KT02, 144300T105
| Model | Model Name | Model Family | Engine | Engine Code | KW | HP | Fuel | MY | ECU | ECU Version |
| --- | --- | --- | --- | --- | --- | --- | --- | --- | --- | --- |
| Toyota | Aurion | (GSV40R) | 3500 VVT-i | 2GR-FE | Petrol | 272 | 200 | 2006 | DENSO | 275036-2110 |
Toyota Denso 275036-3560 76F0070
K-TAG – NEC NBD – 761
– Read: YES
– Write: YES
– Checksum Correction: YES
– Direct Connection: 14P600KT02, 144300T105
| Model | Model Name | Model Family | Engine | Engine Code | KW | HP | Fuel | MY | ECU | ECU Version |
| --- | --- | --- | --- | --- | --- | --- | --- | --- | --- | --- |
| Toyota | Tundra | (USK5) | 5700 V8 VVT-i | 3UR-FE | Petrol | 386 | 284 | 2007 | DENSO | 275036-3560 |
Toyota Denso 275922-022 76F0085
K-TAG – NEC NBD – 762
– Read: YES
– Write: YES
– Checksum Correction: YES
– Direct Connection: 14P600KT02, 144300T105
| Model | Model Name | Model Family | Engine | Engine Code | KW | HP | Fuel | MY | ECU | ECU Version |
| --- | --- | --- | --- | --- | --- | --- | --- | --- | --- | --- |
| Toyota | Hilux | (KUN25) | 2500 D-4D | 2KD-FTV | Diesel | 144 | 106 | 2005 | DENSO | 175822-022 |
| Toyota | Rav4 | (ALA30) | 2200 D-4D | 2AD-FTV | Diesel | 150 | 112 | 2009 | DENSO | 275922-022 |
| Toyota | Rav4 | (ALA49) | 2200 D-4D | 2AD-FHV | Diesel | 177 | 132 | 2013 | DENSO | 275922-022 |
| Toyota | Rav4 | (AUR20) | 2200 D-4D | 2AD-FHV | Diesel | 177 | 132 | 2009 | DENSO | 275922-022 |
| Toyota | Verso | (AUR20) | 2000 D-4D | 1AD-FTV | Diesel | 126 | 94 | 2009 | DENSO | 275922-022 |
| Toyota | Verso | (AUR20) | 2200 D-4D | 2AD-FTV | Diesel | 150 | 112 | 2009 | DENSO | 275922-022 |

Toyota Denso 211941-37910830 76F0038AGD
K-TAG – NEC NBD – 763
– Read: YES
– Write: YES
– Checksum Correction: YES
– Direct Connection: 14P600KT02, 144300T105
Toyota Denso 175822-773 76F0038GD
K-TAG – NEC NBD – 764
– Read: YES
– Write: YES
– Checksum Correction: YES
– Direct Connection: 14P600KT02, 144300T105
| Model | Model Name | Model Family | Engine | Engine Code | KW | HP | Fuel | MY | ECU | ECU Version |
| --- | --- | --- | --- | --- | --- | --- | --- | --- | --- | --- |
| Lexus | IS 220d | (ALE20) | 2200 D-CAT | 2AD-FHV | Diesel | 177 | 132 | 2006 | DENSO | 175822-773 |
Toyota Denso 175822-762 76F0039AGD
K-TAG – NEC NBD – 765
– Read: YES
– Write: YES
– Checksum Correction: YES
– Direct Connection: 14P600KT02, 144300T105
| Model | Model Name | Model Family | Engine | Engine Code | KW | HP | Fuel | MY | ECU | ECU Version |
| --- | --- | --- | --- | --- | --- | --- | --- | --- | --- | --- |
| Toyota | Avensis | (ADT251) | 2200 D-4D | 2AD-FTV | Diesel | 150 | 110 | 2008 | DENSO | 175822-762 |
Toyota Denso 175822-762 76F0038GD
K-TAG – NEC NBD – 766
– Read: YES
– Write: YES
– Checksum Correction: YES
– Direct Connection: 14P600KT02, 144300T105
| Model | Model Name | Model Family | Engine | Engine Code | KW | HP | Fuel | MY | ECU | ECU Version |
| --- | --- | --- | --- | --- | --- | --- | --- | --- | --- | --- |
| Toyota | Corolla Verso | (AUR10) | 2000 D-4D | 1AD-FTV | Diesel | 126 | 93 | 2006 | DENSO | 175822-762 |
| Toyota | Corolla Verso | (AUR10) | 2200 D-CAT | 2AD-FHV | Diesel | 177 | 132 | 2007 | DENSO | 175822-762 |
Toyota Denso 175822-762 76F0039GD
K-TAG – NEC NBD – 769
– Read: YES
– Write: YES
– Checksum Correction: YES
– Direct Connection: 14P600KT02, 144300T105
Toyota Denso 175822-773 76F0039AGD
K-TAG – NEC NBD – 770
– Read: YES
– Write: YES
– Checksum Correction: YES
– Direct Connection: 14P600KT02, 144300T105
Toyota Denso 275036-7780 76F0038GD
K-TAG – NEC NBD – 772
– Read: YES
– Write: YES
– Checksum Correction: YES
– Direct Connection: 14P600KT02, 144300T105
| Model | Model Name | Model Family | Engine | Engine Code | KW | HP | Fuel | MY | ECU | ECU Version |
| --- | --- | --- | --- | --- | --- | --- | --- | --- | --- | --- |
| Toyota | Prius | (NHW20) | 1500 VVT-i | 1NZ-FXE | Petrol | 78 | 57 | 2003 | DENSO | 275036-7780 |
Toyota Denso 175822-887 76F0040GD
K-TAG – NEC NBD – 774
– Read: YES
– Write: YES
– Checksum Correction: YES
– Direct Connection: 14P600KT02, 144300T105
| Model | Model Name | Model Family | Engine | Engine Code | KW | HP | Fuel | MY | ECU | ECU Version |
| --- | --- | --- | --- | --- | --- | --- | --- | --- | --- | --- |
| Toyota | Hilux | (KUN15) | 2500 D-4D | 2KD-FTV | Diesel | 120 | 88 | 2005 | DENSO | 175822-887 |
| Toyota | Hilux | (KUN25) | 2500 D-4D | 2KD-FTV | Diesel | 120 | 88 | 2005 | DENSO | 175822-887 |
Toyota Denso 175822-737 76F0039GD
K-TAG – NEC NBD – 776
– Read: YES
– Write: YES
– Checksum Correction: YES
– Direct Connection: 14P600KT02, 144300T105
Toyota Denso 175822-737 76F0038GD
K-TAG – NEC NBD – 777
– Read: YES
– Write: YES
– Checksum Correction: YES
– Direct Connection: 14P600KT02, 144300T105
Toyota Denso 275036-1152 76F0038AGD HWII TOYOTA
K-TAG – NEC NBD – 778
– Read: YES
– Write: YES
– Checksum Correction: YES
– Direct Connection: 14P600KT02, 144300T105
| Model | Model Name | Model Family | Engine | Engine Code | KW | HP | Fuel | MY | ECU | ECU Version |
| --- | --- | --- | --- | --- | --- | --- | --- | --- | --- | --- |
| Toyota | Rav4 | (ACA30) | 2000 VVT-i | 1AZ-FE | Petrol | 147 | 108 | 2006 | DENSO | 275036-1152 |
Toyota Bosch EDC17C73 GPT IROM TC1793
KTAG – Bootloader Tricore – 775
– Read: YES
– Write: YES
– Checksum Correction: YES
– Direct Connection: 14P600KT02, 14P600KT06
| Model | Model Name | Model Family | Engine | Engine Code | KW | HP | Fuel | MY | ECU | ECU Version |
| --- | --- | --- | --- | --- | --- | --- | --- | --- | --- | --- |
| Toyota | Avensis Touring Sports | (WWT271) | 2000 D-4D | 2WW | 106 | 143 | Diesel | 2015 | BOSCH | EDC17C73 |
VAG Bosch ME17.5.6 GPT IROM TC1767
KTAG – Bootloader Tricore – 780
– Read: YES
– Write: YES
– Checksum Correction: YES
– Direct Correction: 14P600KT02, 14P600KT06
– Connection using the positioning frame: 14P800ADB1, 14P600KT04, 14P600KT03, 14P600KT06
| Model | Model Name | Model Family | Engine | Engine Code | KW | HP | Fuel | MY | ECU | ECU Version |
| --- | --- | --- | --- | --- | --- | --- | --- | --- | --- | --- |
| Volkswagen | Passat | | 2500 20V | CBUA | 125 | 170 | Petrol | 2011 | Bosch | ME17.5.6 |
Renault Bosch EDC17C84 GPT IROM TC1782
KTAG – Bootloader Tricore – 790
– Read: YES
– Write: YES
– Checksum Correction: YES
– Direct Connection: 14P600KT02, 14P600KT06
– Connection using the positioning frame: 14P800ADB1, 14P600KT04, 14P600KT03, 14P600KT06
| Model | Model Name | Model Family | Engine | Engine Code | KW | HP | Fuel | MY | ECU | ECU Version |
| --- | --- | --- | --- | --- | --- | --- | --- | --- | --- | --- |
| Renault | Kadjar | | 1600 16V dCi | R9M | 96 | 130 | Diesel | 2015 | BOSCH | EDC17C84 |
Renault Hitachi MEC099
KTAG – Bootloader Tricore – 768
– Read: YES
– Write: YES
– Checksum Correction: YES
– Direct Connection: 14P600KT02, 144300T105, 144300T104
| Model | Model Name | Model Family | Engine | Engine Code | KW | HP | Fuel | MY | ECU | ECU Version |
| --- | --- | --- | --- | --- | --- | --- | --- | --- | --- | --- |
| Renault | Koleos | | 2500 16V | QR25DE | Petrol | 171 | 125 | 2014 | HITACHI | MEC099-XXX |
CAT A5M8 Caterpillar
KTAG – JTAG Nexus – 704
– Read: YES
– Write: YES
– Checksum Correction: YES
– Direct Connection: 14P600KT02, 144300T105
– Connection using the positioning frame: 14P800ADBO, 14P600KT02, 14AM00T06M, 144300T102
| Model | Model Name | Model Family | Engine | Engine Code | KW | HP | Fuel | MY | ECU | ECU Version |
| --- | --- | --- | --- | --- | --- | --- | --- | --- | --- | --- |
| Lindner | Geotrac 134 EP | | 4.4L Perkins | | 99 | 134 | Diesel | | CAT A5M8 | |
Kubota Bosch EDC17C55 IROM TC1767
KTAG – Bootloader Tricore – 773
– Read: YES
– Write: YES
– Checksum Correction: YES
– Direct Connection: 14P600KT02
| Model | Model Name | Model Family | Engine | Engine Code | KW | HP | Fuel | MY | ECU | ECU Version |
| --- | --- | --- | --- | --- | --- | --- | --- | --- | --- | --- |
| Kubota | L6060 | | 2.4L E-TVCS | | 46 | 62 | Diesel | 2013 | Bosch | EDC17C55 |
Ducati Bosch ME17.9.21 IROM TC1724
KTAG – Bootloader Tricore – 756
– Read: YES
– Write: YES
– Checksum Correction: YES
– Direct Connection: 14P600KT02
| Model | Model Name | Model Family | Engine | Engine Code | KW | HP | Fuel | MY | ECU | ECU Version |
| --- | --- | --- | --- | --- | --- | --- | --- | --- | --- | --- |
| Ducati | Multistrada | 1200 | 1198cc | E4 | Petrol | 160 | 118 | 2015 | BOSCH | ME17.9.21 |